The race for consumer 8K is a high profile one, but it looks like Sharp is the only company who will deliver it in 2019 – Canon, Sony and Nikon will all miss the 2020 Olympics, and Panasonic won't have it ready until the 2022 Olympics.
That's according to the latest round of rumors, as well as a report by one of Japan's leading business newspapers.
• Read more: What is 8K?
Despite Panasonic's claims two years ago that it was aiming to bring 8K to the masses by 2020, in time for the Summer Olympic Games in Tokyo, the company is now targeting 2022 and the Winter Olympic Games in Beijing.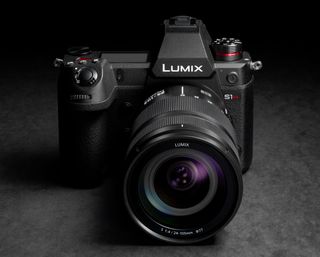 "Panasonic introduces the 8K digital camera to the 22nd Winter Olympics", reads the headline from Japanese daily Nikkan Kogyo Shimbun. Via machine translation:
"Panasonic is the prospect of the 2022 year, which will be held the Beijing Olympic Winter Games and Paralympic, and ultra-high-definition 8K video, and for the business consumer for a digital camera with a slow-motion playback function of the high-definition 4K (consumer) throw into."
That news should come as little surprise, following last month's reveal of the Panasonic Lumix S1H – the full-frame L-mount camera that features 6K video, which we suspect would have instead boasted 8K if Panasonic's tech was ready.
Indeed, successful deployment of 8K cameras for the consumer and prosumer markets is apparently proving a tricky one. There was anticipation that Sony would unveil its own 8K camera at CES in January, when it rolled out its wider 8K ecosystem, but this didn't materialize.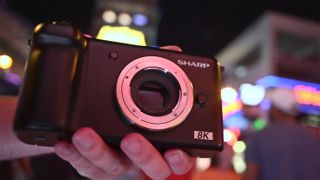 According to industry chatter, that's a trend that's just as true for Canon and Nikon as well.
"I know there is a lot of talk about 8K right now," posted Mirrorless Rumors. "Reliable sources told me you can forget to get any L-mount or R-mount or Z-mount or E-mount 8k mirrorless in 2019 or 2020. It's not going to happen folks!"
While full-frame mirrorless is struggling to deliver the ultra-ultra HD format, though, Micro Four Thirds isn't finding it nearly as difficult.
Indeed, the Sharp 8K Video Camera – which boasts a proprietary 33MP 16:9 Micro Four Thirds image sensor and Micro Four Thirds lens mount – has been in working public prototype form for much of the year and is still targeting a 2019 release.
While we can see Sharp's camera being delayed until next year, the fact that it already exists and has been used by the public means that it really won't be long before we see it. And with no competition until 2021, Sharp might be wise to leave it in the over a little longer until it's baked to perfection.
Read more:
What is 8K? And what does it mean to photographers and videomakers?
Sharp 8K Video Camera: 33MP Micro Four Thirds sensor, 10-bit 8K at 30fps
Pilot Era: 8K 360 VR camera with real-time stitching, touchscreen and Android OS