The world of 360 cameras is increasingly cramped and competitive, but the Pilot Era from Pisofttech – an innovative new 8K 360 VR unit with real-time stitching, touchscreen and a smartphone-like Android interface – looks set to shake things up.
Entering the final stretch on its crowdfunding campaign, the Pilot Era has raised $173,045 – smashing its $20,000 target by 865%.
We've seen some impressive new contenders this year, such as the Insta360 Evo and Vuze XR, but nothing else on the market offers the unique combination of features of the Pilot Era, which looks sure to make our list of best 360 cameras.
While it boasts four 1/2.3-inch Sony 12MP sensors, capable of recording 360-degree video at 8K resolution, the camera's main selling point is that it enables you to do everything in-camera, as if you were using a smartphone.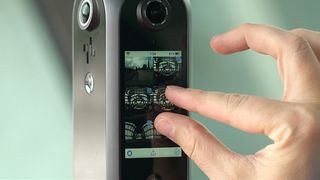 This starts with the 3.1-inch touchscreen, which gives you full control and a live preview of your footage using an Android operating system. The killer feature, though, is that the Pilot Era stitch footage 100% in-camera – and even in real time.
The real-time stitching is limited to 6K video at 15fps, but that's still a remarkable feature – and a real game-changer for 360 shooting.
While 8K video can't be stitched in real time, the Pilot Era can still stitch 8K footage at 24fps in-camera. It does so super fast, too; according to 360 Rumors it takes about 2 minutes to stitch a minute of 8K video, in comparison to the Insta360 Pro that takes 14.4 minutes.
With 512GB of integrated storage that can record 6.5 hours of 8K footage, and a huge (literally and figuratively) 7,200mAh battery that lasts up to 3.5 hours, it can be used for marathon recording sessions.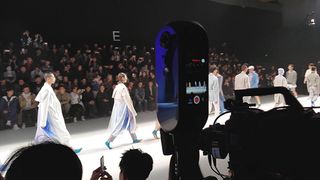 The Pilot Era can live stream over a Wi-Fi, 4G (or 5G modules) or ethernet without needing a computer connection – and it can record while it does so, making it a great option for streaming live events and then uploading full-quality footage after the fact.
It's also Google Street View-ready, with GPS technology and one-click Google Maps uploads enabling users to create native Street View with blue lines on the map.
In addition to 9-axis gyroscopic stabilization, it also features AI stabilization and Pisofttech plans to add further AI features including face and gesture recognition, and the ability to create depth maps from 2D 360 footage.
The Pilot Era has four days left to run on its Indiegogo campaign, where it's available for an Early Bird price of $1,999 – a $600 discount on its $2,599 retail price. It's due to start shipping in June and we already have a review unit in hand, so we'll deliver our full verdict soon.
Read more:
The best 360 cameras in 2019
How to take 360-degree videos and photos
Insta360 Evo review