UPDATE: Official product images of the Panasonic BGH1 cinema camera have been leaked, revealing the upcoming C4K 60p in all its boxy glory.
This is our first proper look at the Panasonic BGH1, following the initial leak of a very obscured photo (see below) at the start of October. We can now see that this square, modular camera is a more conventionally shaped cinema camera – unlike the new Canon EOS C70, which takes a more DSLR-like form factor.
• Read more: Best cinema cameras
In addition to giving us a detailed look at the new camera, Nokishita also leaked full specs (most of which are covered below) along with a purported release date, noting that Panasonic intends to launch this camera on 19 November.
At this rate, by then there won't be a lot left to announce that we haven't already seen – but we're keen to get our hands on this new camera, which will hopefully breathe new life into the Micro Four Thirds format.
UPDATE (08 October): Pricing and further specs have leaked for the Panasonic BGH1, the upcoming Micro Four Thirds cinema camera that appeared online recently.
According to the latest reports, the Panasonic BGH1 will cost just $1,997.99 upon launch – which will make it instantly appealing to videographers, especially with the touted specs.
Featuring a 10.2MP image sensor capable of 13 stops of dynamic range, the BGH1 can shoot unlimited footage in any video setting – including 10-bit 4:2:2 C4K at 60p, both standard and anamorphic.
It also boasts dual native ISO for clean video with minimal noise and excellent low light performance – ISO160 / 800 in Normal, ISO400 / 2000 in V-Log L, ISO320 / 1600 in HLG, and ISO160/800 in Cinelike D2 or V2.
Unlike the Panasonic S1H and Canon EOS C70, the BGH1 will feature a traditional cinema camera-style body measuring 93 by 93, and 78mm in depth. The below image, shared by 43 Rumors, is gave us our first look at the camera (albeit an obscured one).
The full leaked specifications, shared by Nokishita, can be read here.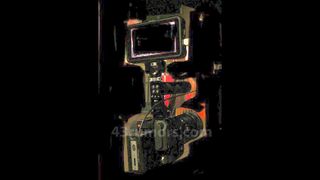 ORIGINAL STORY (06 October): Panasonic is due to announce a new cine camera soon, according to the latest rumors. Apparently, this new cinema camera will be called the Panasonic Lumix BGH1 and will come with a 10.28 million effective pixels Micro Four Third sensor and an accompanying Micro Four Thirds mount, which will mean users should be able to use their old Panasonic lenses.
This new Panasonic cine camera is rumored to be capable of C4K60p 4:2:2 10-bit RAW video out HDMI output and C4K60p 4:2:0 10-bit (H.265 / HEVC) internal recording.
The Panasonic Lumix BGH1 is an interestingly similar name to the acclaimed mirrorless camera Panasonic Lumix GH5s, which could perhaps denote some similarities between the two cameras. However, it doesn't seem that this cine camera will be considered an official update to the GH5 line.
As reported by 43 Rumors, this upcoming Panasonic cine camera will also feature dual native ISO and a double SD card slot. It will also feature Wi-Fi and Bluetooth and will have an optional 11,800mAh VBR battery as well.
The Panasonic Lumix BGH1 will weigh 545g body only and will have the approximate dimensions of 93 x 93 x 78mm. There don't seem to be any leaked images as of yet, so we'll have to wait to see what exactly this new Panasonic cine camera looks like. However, you can see a more detailed list of the specs below, courtesy of Nokishita via 43 Rumors.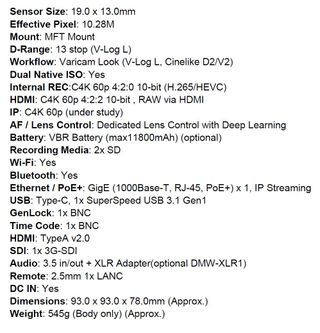 Read more
Best on-camera monitors: external screens and video recorders for filmmakers
Best cine lens for filmmakers
Best 4K camera for filmmaking for photographers, vloggers, pros