British tripod manufacturer 3 Legged Thing has released two L-brackets tailored specifically for the Canon EOS R5 and R6 full-frame mirrorless cameras.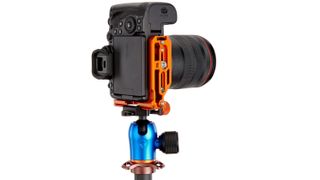 The best L-brackets are particularly useful when using a tripod and switching from portrait to landscape orientation, as they enable you to do so without repositioning the tripod head, and you can maintain the same focal plain and weight distribution. Extra mounting points on the bracket itself also allows for easy fitment of accessories, making L-brackets ideal for videographers.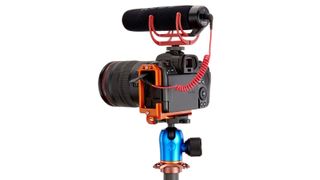 Named 'Roxie', 3 Legged Thing's latest L-bracket has been designed to perfectly fit an R5 or R6 camera body, allowing full access to the camera's ports and buttons, and it doesn't obstruct the battery door or strap mounting points. A specially positioned cut-out even allows the rear LCD screen to hinge out so the monitor can still be used in its upright or tilted positions for greater compositional flexibility.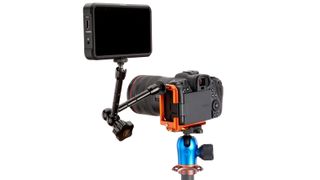 When positioned in landscape orientation, the vertical side of the Roxie L-bracket features two ¼"-20 threads so you can attach accessories like lights or a small external video monitor. A third mounting point on the base of the L-bracket lets you fit a sling strap or holster clip.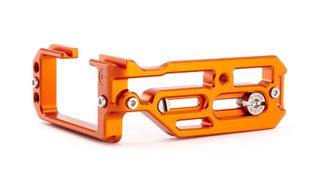 Roxie is attached to your camera via a stainless steel 'Stagsden' camera screw, and the base includes an additional locator pin that fits into the bottom of the camera to stop the bracket from rotating. Both the vertical and horizontal sides of the bracket feature steel security pins for additional security when attaching to a tripod.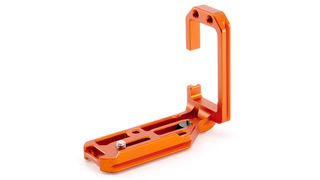 The Roxie L-bracket is machined from aircraft-grade magnesium alloy and is finished in two color options: Copper, and Metallic Slate Grey. Both versions are on sale now at B&H in the US for $99.99, and at Wex in the UK priced £89.95.
Read more:
The best L-brackets
The best Canon cameras
The best Canon lenses
The best tripods