Xiaomi has announced a belief-beggering 108-megapixel camera phone. By far the highest resolution mobile device ever, this phone will also have a higher megapixel count than any commercially available "proper camera" on the market.
The as-yet unnamed Xiaomi Mi handset will use the brand new 108MP Samsung Isocell Bright HMX – and it will do so before Samung integrates the sensor in its own product line, with the Samsung Galaxy S11.
If we're going by resolution alone, this will be far and away the best camera phone ever; the sensor possesses even more megapixels than the 102MP medium format image sensor in the Fujifilm GFX 100 (which is intriguing, as Samsung and Fujifilm recently partnered to produce next-gen Isocell Plus image sensors).
• Read more: The 10 highest-resolution cameras you can buy today
In fact, the new Xiaomi would place second on our list of the highest resolution professional cameras – it packs more pixels than anything from Fujifilm, Hasselblad, and even the upcoming 61MP Sony A7R IV.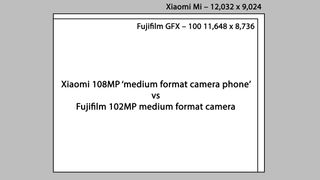 To put things into context, the Fujifilm GFX 100 captures 102MP images with a resolution of 11,648 x 8,736 pixels; the Xiaomi camera will capture 108MP images with a resolution of 12,032 x 9,024 pixels.
Xiaomi made the announcement at its Images of the Future Conference, which seemed timed to gazump the Samsung Unpacked event during which the Samsung Galaxy Note 10+ was unveiled.
Of course, it also gazumped Xiaomi's own announcement of its new 64MP phone, which will be arriving before the 100MP affair.
"WHOA! #100MP camera," tweeted Manu Kumar Jain, Xiaomi's global vice president. "Yes, we've been working on 100MP camera flagship phone! Beginning of 2019, we launched #48MP, & today all flagships use it. We'll soon disrupt the market again with #64MP camera. And then #100MP"
With camera phone sales slumping in the same way that traditional camera sales have done, it's interesting to see manufacturers engage in the same kind of megapixel war. It will be fascinating to see how Sony – which still has a stranglehold on both phone and camera sensors – responds…
Read more:
The best camera phone in 2019: ultimate smartphone cameras compared
Could this Samsung/Fuji sensor challenge Sony's dominance?
Samsung Galaxy S11 to feature Samsung's 108MP sensor, 6K video, 10x optical zoom