It's been 10 years since Sony first launched the A7 and A7R, the first full-frame mirrorless cameras that led the revolution and reshaped the photography landscape.
Where has the time gone? It feels like only yesterday that Sony came out with the very first iteration of full-frame mirrorless cameras. The Sony A7 and the A7R pioneered the changing of the guard from mirrored to mirrorless.
• Take a look at the best Sony cameras on offer today
Many in the photography community saw it as a fad that would never take off but, over the past ten years Sony has proven the naysayers wrong, leading the migration to mirrorless.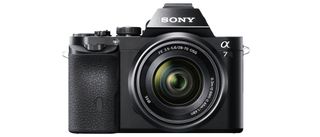 The early focus on mirrorless camera systems thrust Sony atop the hierarchy of manufacturers, and during the last decade it has continued to develop new bodies and features for mirrorless systems.
The ability to house the same specs as a top DSLR in a smaller and more lightweight body was the first key factor. Sony's camera systems offer top-of-the-market video and stills, and it has become one of the best hybrid camera manufacturers around today.
During the last ten years, Sony has pushed the boundaries of photographic technology by introducing new full-frame mirrorless lines, each specializing in different areas.
From the A7s series, which has a main focus on video and low light, to the A9 (and now A1) line that focuses on fast-paced sports and wildlife, Sony has covered all bases, providing new and exciting technology for all. You only have to take a look at these milestones to appreciate Sony's commitment to innovation: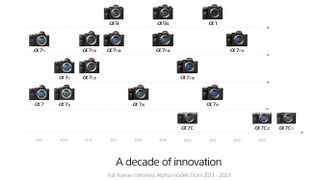 Key milestones:
• 2013: The photographic landscape was revolutionized with the introduction of the world's first mirrorless full-frame cameras – Sony's A7 and A7R. These pioneering models marked the start of an ongoing evolution for the Alpha series.
• 2014: In less than a year after, Sony introduced the 'S' variation, setting new standards for low-light performance at high ISO settings and 4K video recording.
• 2015: The A7R II, featuring a groundbreaking 42.4MP back-illuminated full-frame sensor, continued to redefine photography standards.
• 2017: The A9, launched in 2017, offered blackout free continuous silent shooting at an impressive 20 frames per second, giving sports photographers a competitive edge over their DSLR-shooting counterparts.
• 2020: Sony announced the A7C – the world's smallest and lightest full-frame camera. Uncompromised performance in a compact design
• 2021: The A1, the world's first full-frame mirrorless camera to combine a high-resolution 50.1MP sensor with 8K video recording capabilities and much more, groundbreaking for both photographers and videographers and marked a new era in professional imaging.
• 2022: The A7R V, the first Alpha camera with an AI processing chip for autofocus. The state-of-the-art AI processing uses detailed information about human form and pose estimation to dramatically improve recognition accuracy beyond systems that only detect face and eye, also includes several subject types such as animals, vehicles, and insects.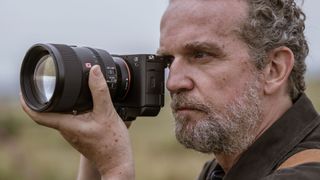 To celebrate this decade of innovation, Sony has produced a flickbook of images that showcase how far it has come as a manufacturer of photographic equipment. They exude quality and give an example of how Sony considers its users, covering all conceivable genres. Images from Sony cameras have always felt deep and rich, with great color and sharpness.
There is no denying that Sony has become a dominant force in the camera industry, with no signs of slowing down, and I am excited to watch how it continues to push boundaries. Happy Birthday, Sony full-frame mirrorless!
Check out the best Sony lenses, including the best Sony wide-angle lenses and best Sony telephoto lenses.