The Sony A7C answers a burning question. What if you could have the full frame sensor of Sony's A7 mirrorless cameras but in the more compact rangefinder-style body of the APS-C A6000 cameras? It looks like that's what you get, but things aren't always what they seem.
The Sony A7C is like a compact version of the Sony A7 III with some advances in design, ergonomics and autofocus. The resolution is the same, however, at 24 megapixels, and the video tops out at a relatively unambitious 4K 30p.
Sony is aiming the A7C at a new, younger market, but placing its faith in a steady evolution of its digital capture technologies rather than any headline-grabbing technical breakthroughs.
The biggest news around the Sony A7C is its design, which is like a fusion of the Sony A7 III and the Sony A6600. Lots of people have made lots of fuss over how small this camera is. It's true that the rectangular body is smaller than that of the A7 III but bigger and thicker than Sony's APS-C cameras.
The flip-out screen is a major ergonomic leap forward, though, and the A7C also has a brand new retracting 28-60mm kit lens to go with the camera's downsized dimensions.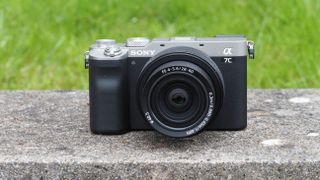 Sony A7C specifications
Model number: ILCE-7C
Sensor: 24.2MP full frame Exmor R CMOS BSI
Image processor: BIONZ X
AF points: 623-point phase AF, 425-point contrast AF
ISO range: 100-51,200 (exp. 50-204,800)
Metering modes: Multi-segment, Center-weighted, Spot, Avg., Highlight
Video: 4K UHD up to 30p
Viewfinder: EVF, 2,359k dots
Memory card: 1x SD/SDHC/SDXC, UHS-II
LCD: 3-inch vari-angle touchscreen, 921k dots
Max burst: 10fps, 115 raw, 223 JPEG
Connectivity: Wi-Fi
Size: 124.0 x 71.1 x 59.7mm
Weight: 503g (body only)
Sony A7C key features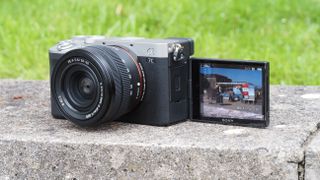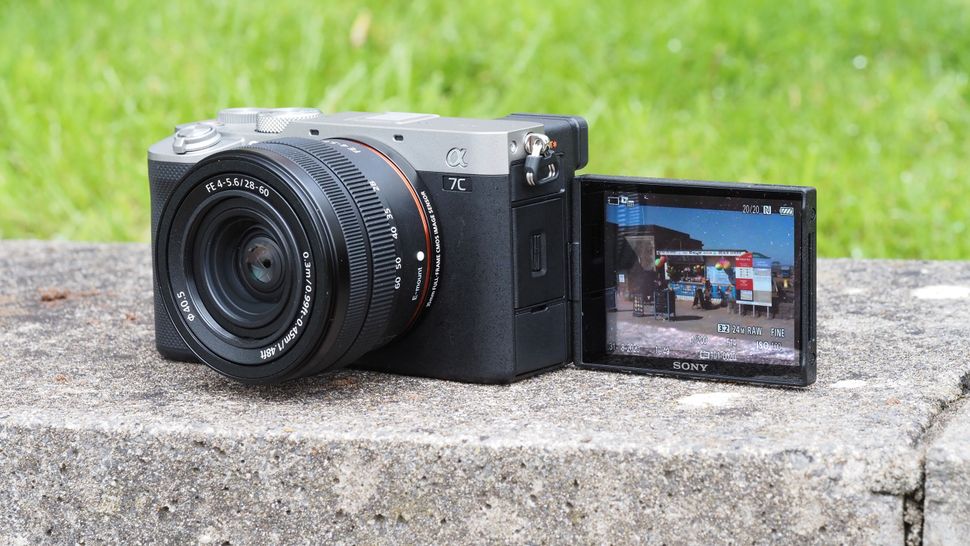 From the outside, the Sony A7C is radically different to the regular Sony A7-series cameras. The viewfinder housing on the top is gone, replaced by a viewfinder eyepiece in the top left corner of the body on the rear. The rear LCD screen now flips sideways via a vari-angle pivot that gives a much wider range of movement, and the camera's two-tone black and silver finish is very different to the all-black livery of the other A7 models – though Sony says a limited-edition all-black version is coming.
Inside, though, the A7C is rather conventional. The 24MP sensor is the same as (or a close relative of) the sensor in the A7 III, and the video is capped at 8-bit 4K at 30p. By today's standards this is very ordinary indeed, though Sony says the bit depth has been kept to 8-bit to produce manageable file sizes for capture and editing. The relatively low processing demands mean the A7C does at least have no recording limits – and its 4K video is 'oversampled' full width 6K, so the quality should be good.
You do at least get Sony's S-Log2, S-Log3 and HLG modes, together with both mic and headphone sockets, not to mention 120p full HD.
What you also get is Sony's latest and best autofocus technologies, with 693 phase AF points and 425 contrast AF points, between them covering 93% of the frame. Sony's AF system is arguably the most advanced and effective on the market, and this one has the Real Time Eye AF, human/animal, left/right eye and Real Time Tracking seen on the flagship Sony A7R IV, and the AF speed and sensitivity adjustments of the new Sony A7S III.
The A7C is just as effective at stills photography, especially if you shoot sports and action. Its 10fps continuous shooting speed is pretty impressive, but its buffer capacity – the number of shots it can take before slowing down – is better still. Sony says it can capture 115 raw files or 223 JPEG images in a burst; 115 raw files is 3-4 times more than most general-purpose cameras can manage.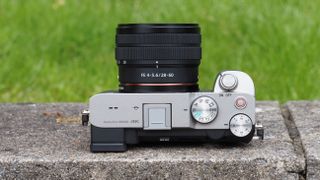 Build and handling
There's no denying The A7C appears compact, for a full frame camera. However, and this is where it gets subjective, it's not pretty. It does have a magnesium alloy body, but the silver finish makes it look and feel plastic.
And although the A7C is smaller than other A7 cameras when you compare the measurements, if you put it side by side with a regular A7 body, the difference doesn't seem that great. The A7C is smaller, for sure, but you still couldn't call it a small camera. Imagine an A7 III with the top viewfinder housing removed and a thinner grip, and bar a few millimetres here and there you've got the A7C.
We tried an experiment. We put the A7C and its kit lens alongside an A7R II and Sony's 24-105mm lens. As you'd expect, there's a big size difference. Then we put the 24-105mm on the A7C and the new retracting kit lens on the A7R II – the size disparity now favors the A7R II by almost as great a margin.
The fact is, it's the new 28-60mm kit lens that makes the A7C seem small. Put any other regular Sony zoom on it and any size advantage the body might have becomes largely academic.
The vari-angle screen is a welcome feature, however, especially for vertical shooting – and the A7C now supports vertical video, so if you shoot video for smartphone or tablet display, it stays vertical – you don't have to rotate it later in post production.
There is a prominent Record button on the top of the camera, but no front control dial on the front grip. Instead, you control the camera with a single rear control dial and a beefed-up multi-function dial/navigation pad on the back. We'd rather have two dials.
The grip on the front of the camera gives you a reasonable hold without protruding too far from the camera body, though it doesn't feel as 'grippable' as a regular A7 camera. The Menu button feels a bit of stretch for your thumb, positioned over the rear screen, but the EV compensation dial on the top plate is useful to have.
The menu system has the same rather complex and long-winded layout as other A7-series cameras, and Sony says it would have taken too much hardware re-engineering to bring it in line with the new menu structure on the Sony A7S III – which supports our assumption that the A7C is more of a physical reskinning (of the A7 III) rather than a brand new camera from the ground up.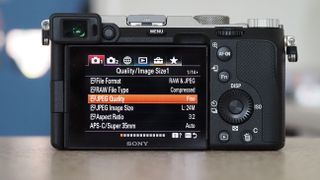 The A7C is not bad to hold, handle and operate, but it's not as small as it looks. Sony has used that old design trick of using a slim silver top plate on a black camera body that's actually a good deal thicker. This may be, as Sony says, the smallest, lightest full frame camera with in-body-stabilisation yet, but it doesn't particularly feel it.
The retracting/extending action of the new 28-60mm kit lens is nice, though. It has a mechanical action with no locking button but a well-weighted locking/unlocking detente that's quicker to use and very positive – and so much better than electrically-powered zooms.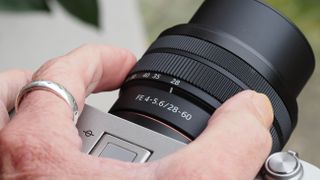 Performance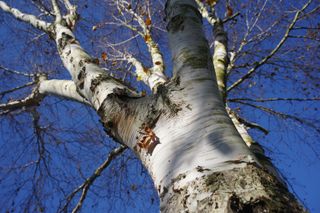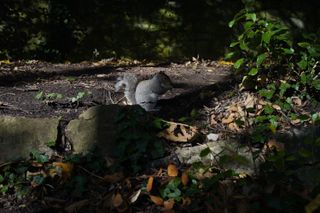 The Sony A7C has the same impressive performance as the Sony A7C before it, which is not surprising given that so much of the technology is the same. And while a retracting kit lens doesn't sound like a recipe for optical excellence, the FE 28-60mm f/4-5.6 delivers edge-to-edge sharpness right across the zoom range.
This is a pleasant surprise, and contrasts with the Sony E 16-50mm pancake zoom you get with Sony APS-C cameras, which isn't very good at all.
The FE 28-60mm f/4-5.6 performs really well – though its specifications aren't that demanding. Most kit lenses offer a 3x zoom range, and many offer more than that. But this lens has a pretty restrictive 2.1x zoom range, so while it's sharp enough, it doesn't have the versatility that you might expect from an all-purpose walk-around lens. In this respect, it's like the equally restricted but somewhat wider 24-50mm kit lens for the Nikon Z5.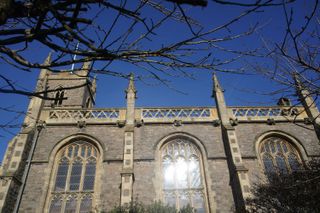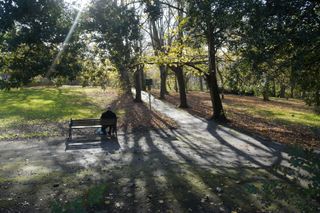 The autofocus, as we've come to expect from Sony cameras, is stellar. The 28-60mm kit lens focuses quickly and silently, both for stills and video, and the camera's AF system is extremely effective, especially for vlogging use, where it refocuses rapidly but smoothly between the speaker's face and objects held close to the camera, or between the speaker's face and the background if they speak to the camera and then move out of the frame.
The in-body stabilisation mechanism has had to be redesigned for the smaller A7C body, but still delivers up to 5 stops of compensation and 5 axes of movement. It works well for handheld shooting if you are not moving, but for walking and shooting you will still need a gimbal.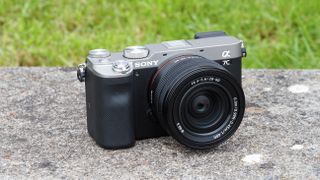 Video
Video performance will be a key part of the Sony A7C's appeal, as a camera aimed strongly at vloggers and content creators. The 4K video specs may be unadventurous by today's standards, but the Sony produces sharp, detailed video and has an very responsive autofocus system – though it may take you a while to find the settings you need in the long and complex menu system, particularly the face and eye-tracking options.
You can see some sample clips and comments in the video below:
The in-body stabilization works well for static handheld shots, but for any which require any kind of camera movement you'll need a gimbal or a slider. The Sony's SteadyShot system is good at managing 'jitters' but not larger camera movements.
If you want to keep things simple and predictable by selecting an AF point you'll find the A7C delivers a fast but smooth refocusing action, or you can trust to luck and use the auto area AF to let the camera figure out what to focus on – that could be the best option for rapid, unpredictable movement.
Lab data
Resolution: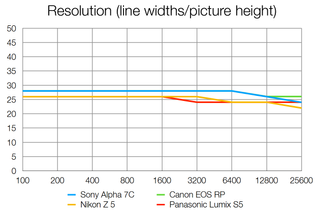 Resolution is measured in line widths/picture height, a widely used standard for resolution measurement that's independent of sensor size.
Sony's A7-series cameras have traditionally been strong when it comes to resolving fine detail, even when compared to other full-frame cameras with a similar megapixel count. The A7C is no exception here, and only the Canon EOS RP is able to match it in our test.
Dynamic range: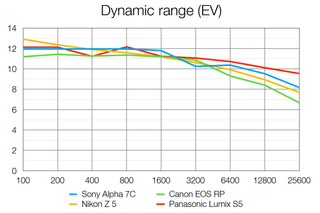 Dynamic range is measured in EV (exposure values, or 'stops'). It's a measure of the camera's ability to record detail in extremely bright and dark areas of the scene; the higher the value, the better.
The A7C performs strongly in this test as well, with consistently wide dynamic range from ISO 100 through to ISO 1600. The new Sony can't quite match the Panasonic S5 for dynamic range at high ISOs, however, though the difference is marginal at all but ISO 25600.
Signal to noise ratio: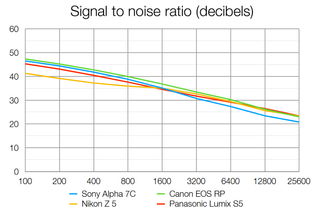 Our signal to noise test measures image clarity – specifically the ratio of the actual image 'data' you want to capture versus the image noise that you don't want, but will inevitably be visible when shooting at higher ISO sensitivities. The higher the score at a given ISO sensitivity, the better.
Here all four comparison cameras are closely matched. The A7C never quite gives the cleanest images of the bunch at lower sensitivities, with the EOS RP setting the benchmark for noise control. At ISO 3200 and beyond, we see the A7C producing slightly higher levels of image noise than its rivals, meaning low light shots will be marginally grainier than equivalent shots taken by the Z 5, S5, and EOS RP.
Sony A7C verdict
The Sony A7C performs well, especially in our lab tests, but is disappointing on a number of levels. It's smaller than a regular A7 but not by enough (in our opinion) to make up for the worse viewfinder. Its size advantage really comes from the new 28-60mm kit lens, not from the new body design. Its specifications are unambitious to say the least, particularly in terms of its video capabilities, but its practical performance, from its handy vari-angle screen to its excellent AF system, make it very effective at what it's designed to do.
We will leave it to you to decide if its two-tone design is appealing, but for us it does not have the quality 'feel' of the other A7 models. It currently costs more than Sony's existing entry-level A7 III and, apart from the vari-angle screen, it feels like a step back in appearance, materials and design, and it lacks any kind of technical ambition.
Read more:
• Best Sony camera
• Best cameras for vlogging
• Best mirrorless cameras
• Best full frame mirrorless camera