GoXtreme is a German company that specialises in budget action cameras, and the Rebel and Reef are its two latest models. They're being sold in the UK at Sainsburys and Argos respectively, and at prices which could make them the best action camera for anyone scared off by the prices of GoPros and Garmins.
The Rebel is the tough dude of the two, and you certainly get a lot of protection for the price. It comes with a rugged mud-proof and waterproof casing which can be used at depths of up to 30m, which is getting into pretty serious deep diving territory.
It can also be mounted on a variety of objects for adventure/action shots on dry land, coming with a shield mount, bike mount, helmet mount and tripod adaptor. There's a 2-inch screen for composing and playing back your video and stills, and built-in Wi-Fi offers live view and image transfer via a free smartphone app. Images are stored on microSD cards up to 32GB in size.
At this price, it's obvious that something has to give, and it's the news that the Rebel has a tiny 1-megapixel sensor. This is enough for 720p video at 30fps (or 1080p interpolated), but stills resolution is strictly limited, with any image size of 2 megapixels or more requiring interpolation. So don't get your hopes up. While the Rebel matches big-name action cams for toughness, it's a long way behind in resolution.
But still, at just £49 from your local Sainsburys it's a pretty low-risk purchase if you're just giving this whole action cam thing a whirl.

• The best budget action cameras in 2020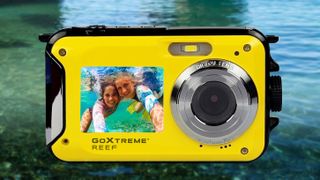 GoXtreme Reef
GoXtreme's second camera launch is designed more for splashing about in the surf rather than deep exploration. With a depth rating of 3m it's designed for underwater videos and selfies and sounds perfect for beach-beach-side holidays.
Available in blue or yellow, the Reef comes with a 2.7-inch front screen and 1.8-inch rear screen so that you can get in on your pictures too. It can record video at 720p (standard HD) and its 8-megapixel sensor captures images up to 20 megapixels using interpolation. With face detection, image stabilisation and a 4x zoom function, it's looks a much more adept stills shooter than the Rebel.
The Reef is freeze resistant down to -10 degrees and comes with a wrist strap so that you don't accidentally lose it in the ocean depths.
You can get the GoXtreme Reef at Argos stores, priced £69.99
READ MORE: