The new GoPro Hero9 Black delivers 5K video and 20-megapixel photos, and even allows the grabbing of high-resolution 14.7-megapixel stills photos from videos.
However, visually the most surprising thing about the new Hero9 Black is the inclusion of a 1.4-inch front-facing color display. Aimed at vloggers wanting to frame themselves in a shot, its presence will allow GoPro to more easily challenge the DJI Osmo Action and Akaso Brave 7 LE action cameras, both of which have front-facing screens. The Hero9 Black also has a removable lens cover.
At 2.27-inches, the rear's touch screen is also bigger than that found on the Hero8 Black, though the Hero9 Black is all-round physically bigger at 158g. Its battery – not compatible with older GoPro products – is, at 1720mAh capacity, 30% bigger and designed to cope better with cold weather, said GoPro.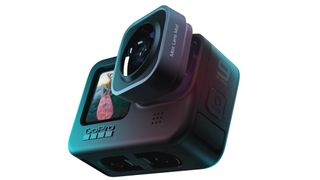 The Hero9 Black's buttons have been upsized slightly, and now protrude a bit more, to make them easier to operate with gloved hands.
The new camera also gives a few nods to the brand's GoPro Max 360º camera, with built-in gimbal-like horizon levelling that works in-camera in real-time. GoPro also announced that in October it will launch a new Max Lens Mod accessory (US$99.99/UK£89.99/AU$159.95) that brings Max HyperSmooth video stabilization and Max SuperView ultra-wide-angle photo and video to Hero9 Black. A new Hero9 Black-specific version of the Media Mod ($79.99/£79.99/AU$129.95) is also now available.
Other upgraded features on the Hero9 Black include upgraded HyperSmooth 3.0 video stabilization, TimeWarp 3.0 and HDR Night lapse video, though for videographers it's the inclusion of 5K at 30 frames per second (fps) that will most excite. It uses a bitrate of 100Mbps as does the stepdown 4K 60fps mode. The Hero9 Black can also be used out of the box as a webcam for videoconferencing.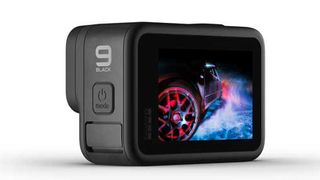 As well as being the biggest and the highest resolution GoPro so far, the Hero9 Black is also the most expensive. HERO9 Black is available globally for $449.99/£429.99/AU$699.95, or $349.98/£329.98/AU$599.95 with a one-year subscription to GoPro. Existing GoPro subscribers can also take advantage of the $349.98/£329.98/AU$599.95 pricing.
Hero9 Black also signifies a change of packaging for the brand. Instead of the thick transparent plastic 'window box' packaging that GoPro has used in the past, the Hero9 Black features a soft nylon carry case for the camera plus accessories, with just a cardboard wraparound.
"Reducing as much plastic as possible from our business is a priority for us," said Nicholas Woodman, GoPro's founder and CEO. "We're excited to package HERO9 Black in a high-value travel case instead of traditional wasteful packaging, and we're committed to doing the same with the rest of our cameras by the end of 2021."
GoPro Hero9 Black specs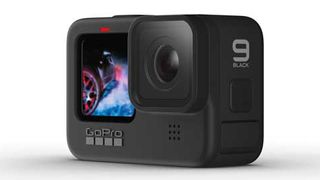 Video resolution: 5K30, 4K60, 2.7K120, 1440p120, 1080p240 and more
Photo resolution: 20MP
Displays: New 1.4" front color display with live preview and status modes. Larger 2.27" rear touch display with touch zoom
Battery: New 1720mAH battery with 30% more battery life than HERO8 Black with improved cold-weather performance
Key features:
HyperSmooth 3.0 with in-camera horizon levelling
TimeWarp 3.0 featuring Real Speed and Half Speed
1080p Live Streaming
1080p Webcam mode
SuperPhoto + HDR Night lapse video
RAW photos
Digital lenses
Voice control with 14 commands in 11 languages + 6 accents
3 microphones with advanced wind-noise reduction
Stereo + RAW audio
Larger speaker for improved audio playback
Removable lens cover
Built-in folding mounting fingers
Power Tools: HindSight, LiveBurst, Scheduled Capture and Duration Capture
Waterproofing: Rugged + waterproof to 33ft (10m)
Compatible Mods: Max Lens Mod, Light Mod, Display Mod and Media Mod for HERO9 Black
See also
Best action cameras in 2020