In this GoPro Hero 7 vs 8 comparison guide we help you pick the best option from the top two action cameras in the GoPro range – and help you find the best price.
The GoPro Hero 7 Black was at one time the top dog in terms of features and functionality, until of course the GoPro Hero 8 Black came along at the end of 2019. While a new addition to the range doesn't always mean you need to instantly upgrade, if you don't yet own either and you're considering which is top amongst this twosome for your own purposes, then you've come to the right place. Do be aware that the GoPro Hero 9 has now launched - so this means neither of these is top dog, but it does mean there are more deals to be had on the older flagship models.
Perfect for adrenalin junkies wanting to capture imagery in ways which would have previously been considered impossible – and in scenarios where a smartphone or dedicated digital camera dare not be risked – the GoPro range has long been the 'go to' for action photography of all shapes and sizes. While it's a brand synonymous with capturing just about any rough 'n' tumble image-capture antics that you can throw at it, its cameras are more practical than they are pretty. And yes, these rugged, rubberized units – including the former flagship GoPro Hero 7 Black and its Hero 8 Black successor we're examining here – can be placed more or less anywhere, including on the front edge of a surfboard, to deliver a unique visual perspective on proceedings.
Looking very similar to the Hero 7 Black from the outside, stability, as well as great video, is what we said the Hero 8 Black had in spades – partly due to a built-in mount that can be folded away neatly. Despite only packing one optical field of view it also serves up four focal lengths – with the Hero 8 Black adding a new 'Narrow' 27mm-smartphone lens like option alongside SuperView, Wide and Linear. Said lens is also protected by smash resistant glass, said to be 2x stronger than that of the Hero 7.
When a new camera comes along, it goes without saying there are typically great deals to be had on earlier generations. So the shiny version '8' may not be automatically better than the prior '7' unit when every aspect is considered – as we're doing here.
So without further ado let the GoPro Hero 7 vs 8 showdown commence…
GoPro Hero 7 vs 8: Sensor and processor
Why you can trust Digital Camera World Our expert reviewers spend hours testing and comparing products and services so you can choose the best for you. Find out how we test.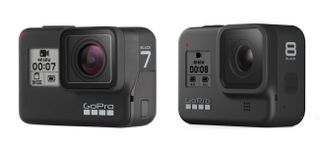 GoPro Hero 7 Black: 12 megapixel CMOS sensor (with SuperPhoto function)
GoPro Hero 8 Black: 12 megapixel CMOS sensor (with SuperPhoto function)
Diminutive cameras mean small sensors – here a bog standard 1/2.3-inch sized chip for each – so we're not expecting results from either to match those of interchangeable lens DSLRs, or mirrorless cameras. A better comparison, perhaps, would be that smartphone in your pocket.
Despite such 'limitations', the GoPro Hero 7 and Hero 8 offer users the double punch of 4K video and 12 megapixel stills in both Raw and JPEG, with the addition of a timelapse mode to sweeten the deal.
What makes everything possible here is the combination of a 12MP CMOS sensor and GP1 processor. Photographers also get the advantage of a SuperPhoto mode, first introduced on the 7th generation of this flagship unit, which claims to provide intelligent scene analysis and therefore optimised shots. It achieves this by automatically deploying the likes of high dynamic range (HDR) – claimed to have been improved on the Hero 8 model, when compared to the Hero 7 – to tone mapping and noise reduction. The effect of this is that highlight detail is regained that's otherwise lost, while shadow detail is enhanced. On the Hero 7 Black selfie fans also gota Portrait Mode designed for sharing to Instagram Stories or Snapchat, while further Face, Smile and Scene Detection modes also work with GoPro's QuikStories app that assembles clips and montages – again, for easier sharing on social media, so this unit would seem to be perfect for online bloggers.
The Hero 8 doesn't buck the trend set by its predecessor in also offering 12 megapixel stills. Its SuperPhoto feature, in our humble opinion, captures better dynamic range images with more pop than most action camera snapping modes, while night photography significantly betters the video performance in similar scenarios. There is also traditional HDR and Raw support too, while exposures of up to 30 seconds duration are possible.
GoPro Hero 7 vs 8: video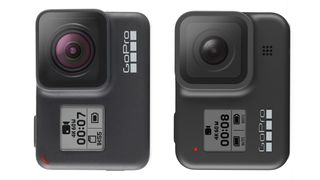 GoPro Hero 7 Black: 4K video at up to 60fps
GoPro Hero 8 Black: 4K video at up to 60fps
Both the GoPro Hero 7 Black and the Hero 8 Black offer up the must have of 4K video and a frame capture rate of up to a cinematic 60fps. Alternatively, if instead using Full HD video mode, its users can shoot slow motion footage at up to 240fps; which is 8x slower than normal.
One of the additional selling points for videographers on both the '7' and the '8' is what its maker calls its its 'HyperSmooth' image stabilization function – a combination of hardware and software fix (on the Hero 8 model we get a version 2 of this feature – see below for more). This 3-axis system is said to function underwater and in high shock, high wind shooting scenarios.
Another funky feature is a 'TimeWarp' mode, distilling long time-lapse video sequences into conveniently shareable clips just a few seconds long. The thinking here obviously is that such files will be easier to share on social media. For those seeking to record sound with their footage, the unit processes the sound from three built-in microphones to provide stereo audio. Great video isn't much good without great sound; fortunately GoPro offers up the top quality WAV audio format.
While we get USB-C connectivity with the Hero 7 Black, unlike different coloured models further down the Go Pro range, the GoPro Hero 7 Black also offers an HDMI port.
When we tested the Hero 8 Black in particular, we were also mightily impressed that this model included a range of video enhancements that in our opinion delivered the smoothest action we've ever seen – so quite some benchmark! Once again, and as with the Hero 7 Black, footage can be captured across multiple resolutions, starting at 1080P and 240fps and going through to 4K at 60fps. With a choice of either 4:3 or 16:9 aspect ratios, we believe it betters the competition in being able to capture what GoPro is calling on this model 'Hypersmooth 2.0', to deliver stabilized footage across all resolutions. There's additionally a new 'Boost' feature, for situations where stability is more important than clarity/fidelity. Users can select either high, standard or off.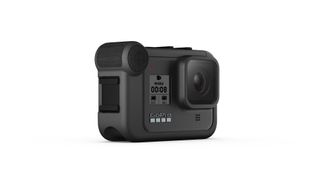 Furthermore, one of a series of extra optional 'Mods' for this camera includes a Media Mod, claimed to improve the production value of your videos further, while a Light Mod provides an LED light – something which once again may come in handing when shooting videos. While both these Mods obviously cost extra, it shows GoPro is always improving the versatility of its action cameras.
Incidentally, for those who want to use it as a camera for streaming, it's worth noting that this facility is available at 1080P resolution on the Hero 8 Black, whereas on the Hero 7 Black it's at the lower 720P.
GoPro Hero 7 vs 8: Burst shooting (fps)

GoPro Hero 7 Black: Up to 30fps at 12 megapixels
GoPro Hero 8 Black: Up to 30fps at 12 megapixels
Impressively, the GoPro Hero 7 Black model can attain bursts of 12 megapixel stills at up to 30fps, and can also capture RAW format images. It also has the greatest number of user selectable burst rates of the three, as well as offering the ability to shoot time-lapse photos.
On the Hero 8 Black we get the advantage of a LiveBurst mode, which captures 1.5 seconds before and after the shutter is fully depressed, enabling users to select their preferred image from 90 still images, which is obviously a real boon when shooting action. Alternatively three-second 4K video clips can be shot instead of stills in the same mode.
GoPro Hero 7 vs 8: Screen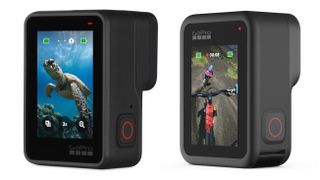 GoPro Hero 7 Black: 2-inch LCD touchscreen
GoPro Hero 8 Black: 2-inch LCD touchscreen
The GoPro Hero 7 Black offers 2-inch LCD screen in 16:9 format as well as an overhauled user interface (or UI) when compared to its direct predecessor. The fact that it is also a touch screen means that navigating available features is fairly intuitive. A front mounted display panel with key settings further aids use. The 2-inch screen on this model enables Touch Zoom functionality, which therefore allows for more precise framing of subjects and shooting scenarios. It does act like a digital zoom, however, degrading image quality.
On the back of the Hero 8 Black the screen hasn't changed much at all, being small and responsive to the touch, with a bright enough view in all but the sunniest of conditions. Its aspect ratio is somewhere between the camera's photo and video capture dimensions, thereby giving photo and video takers a middle ground.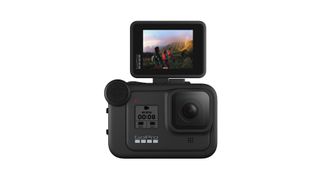 We'd have really liked the Hero 8 Black's screen to be slightly larger, which would have made this option near perfect in our opinion. Also, there is no selfie screen, which could be another possible enhancement. We do get a familiar monochrome display at the front, however, and, as mentioned earlier, there is a new series of bespoke optional extras for this camera known as 'Mods'. We're particularly fond of the Display Mod, which potentially adds a second monitor, thereby making the camera perfect for vloggers and addressing our earlier gripe.
GoPro Hero 7 vs 8: Build & waterproofing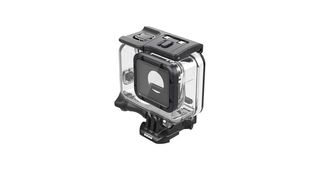 GoPro Hero 7 Black: Waterproof to 10 metres (33ft)
GoPro Hero 8 Black: Waterproof to 10 metres (33ft)
Both of our GoPro options here feature a toughened build that makes them fit for their action-ready image-taking purpose. While that means that GoPro Hero 7 and 8 aren't the sleekest looking image capture devices around – inevitably they're distinctly boxy and functional – as noted at the outset of this comparison, practicality takes preferences over good looks.
Take for example the build of the GoPro Hero 7 Black, that allows for it to be submerged for up to 10 metres deep without the need for any additional housing (though additional housing can indeed be purchased, if desired).
Despite being very similar looking at first glance, the Hero 8 Black is a little taller and thinner than its predecessor, while still being of compact enough proportions to enable it to be squeezed into the pocket of your jeans. Weighing a very manageable 126g, it's likewise waterproofed to a depth of 10 metres. It seems its maker has taken the 'if it ain't broke, don't fix it' approach in this respect.
GoPro Hero 7 vs 8: Additional features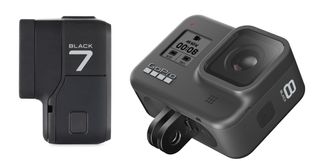 As you'll probably have gathered by now, the GoPro Hero 7 Black may be the older model but it still boasts plentiful bells and whistles. It features the expected connectivity options of Wi-Fi, NFC and Bluetooth, plus the added bonus of GPS. It can also be controlled via voice command, thus allowing for hands-free usage, with 14 languages supported. Since you might be mounting the device where it will rattle around (on a helmet or handlebars for example), an anti shake facility feels like a must and, as we've noted earlier, that's what the GoPro Hero 7 Black (and Hero 8 Black) delivers via a mix of hardware and software fixes collectively dubbed 'HyperSmooth', along with image capture functions including face, smile and scene detection.
YouTube-rs and Facebook Live fans will also love the GoPro Hero 7 Black's live streaming capabilities with 720p output – being the first GoPro camera to feature such live-streaming facilities – said footage being backed up to the camera's provided microSD card slot. Also worth a mention is its SuperPhoto feature which claims to reduce instances of image noise in shots.
On the Hero 8 Black, one very smart shooting mode is TimeWarp 2.0, which is in effect a time-lapse mode, but which cleverly allows the user to tap the screen to smoothly slow down the footage to real time, or tap it again to speed footage up. This feature works at up to the camera's 4K 30fps resolution. And, if resolution is what is important to you, take note that the Hero 8 Black also captures 100Mbps 4K video – a specification which is over and above the 78Mbps footage captured by the Hero 7 Black.
GoPro Hero 7 vs 8: Battery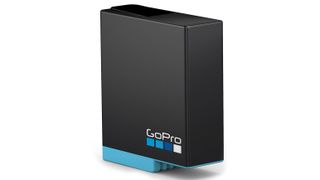 The Hero 7 Black betters models lower down in the series (like the Hero 7 Silver and Hero 7 White) by virtue of its battery being removable, so it's not a case of tying up the camera every time you want to recharge it, as with alternatives lower down the Go Pro range which are charged via USB port only. This also means you can carry a spare GoPro battery, or two
Though the Go Pro Hero 8's removable battery has the same capacity and physical size as the Hero 7, so can be used in the Hero 7. However, the Hero 8 Black's power management is slightly different, which means that if you attempt to use a battery from an earlier model in this device you'll get an on-screen alert that some features may not work. As for the battery's capacity, it's claimed to last up to 50 minutes of continuous use.. In practice, this translates as being sufficient for a day's use, shooting up to two-minute duration clips here and there. Furthermore we get the ability to plug the device into a power bank to enable us to shoot for longer in one go than its battery affords.
GoPro Hero 7 vs 8: Verdict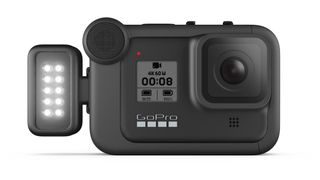 While it's clear that the GoPro Hero 7 Black was the top dog on launch, if you really want all the bells and whistles available to today's action camera user, including the aforementioned 'Mods', then the range topping Hero 8 Black is the obvious choice – and might very well be the best action camera available right now. In short, this fully featured successor seems to be its manufacturer's attempt to keep its crown of 'the best action camera out there right now' in place and secure.
That said, there are those who'll involuntarily flex a Roger Moore-style eyebrow raise at the fact it's priced the same as an entry level DSLR. Plus also consider the fact that it's not worth paying extras for features you'll possibly never use, which means that last year's model in the Hero 7 Black may be a safer – and less expensive – bet. If you feel you need 360° photography however, do take a look at another camera in the range in the GoPro Max.
In conclusion, luckily there is a GoPro solution to fit every budget as well as whatever use you intend to put it to.
See also
GoPro Hero 7 Black vs Silver vs White