In this GoPro Max vs Hero 8 comparison guide we help you pick the best option from the top two cameras in the GoPro range – and help you find the best price.
When discussing action cameras, we all know that the GoPro range has long held its position as the industry leading 'go to' brand – with the GoPro Hero 8 Black being the 2019 flagship in the range (which is now better value after the launch of the larger, higher resolution GoPro Hero 9 Black). However, does the dramatically named GoPro Max trump it, courtesy of adding on the ability to capture 360° video in the round?
As well as essentially refining the innovations included in earlier generations, both the Hero 8 Black and the Max handily feature a built-in mount that can be folded away neatly when not required. The cameras also serve up four possible focal lengths, while their lenses are protected with smash resistant glass
While it may be top of the tree currently for dedicated action cameras, one thing the Hero 8 doesn't do however is offer its users the ability to shoot 360° in the round. If you are looking for the best 360 camera, then immediately the GoPro Max, in replacing its manufacturer's first generation GoPro Fusion, seems like the best choice.
However, it may also prove to a preferred option even if 360° shooting isn't immediately what you're seeking out an action camera to provide. Without giving too much away before you've read our feature below, the GoPro Max proves itself to be no mere one trick pony and in fact something of a 'two in one' option. We'll explore the reasons why in the copy that follows, of course…. So read on as we bring you a comparison of the features, performance and specification of GoPro's two latest leading lights when it comes to the action camera market…
See also GoPro Hero 8 Black review • GoPro Hero Max review
GoPro Max vs Hero 8: sensor & processor
Why you can trust Digital Camera World Our expert reviewers spend hours testing and comparing products and services so you can choose the best for you. Find out how we test.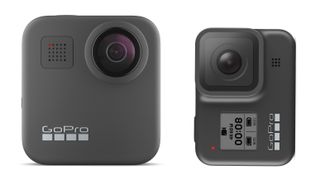 GoPro Max: 1/2.3-inch dual sensors
GoPro Hero 8 Black: 1/2.3-inch single sensor
Diminutive cameras mean small standard 1/2.3-inch sensors – here both units make use of the same GP1 chip – but despite that, we admire that the Hero 8 offers users the double punch of 4K video and 12 megapixel stills in both Raw and JPEG formats, with the addition of a time-lapse mode to sweeten the deal. What makes everything possible here is the combination of a 12MP CMOS sensor and GP1 processor.
On the GoPro Max, traditional 4:3 photographs are shot at 5.5 megapixels and, as one might expect, look poor if shot indoors or at night, but much better in well lit or preferably outdoor environments. Unlike the Hero 8 Black we don't get the option of Raw photos, but, primarily of course, this camera is all about 360° shooting and here 16.6MP stitched 360 photos are derived from their 18MP source. Users also have the option of 270° panoramic photos at 6.2 MP.
Circling back to the Hero 8 Black, photographers also get the advantage of a SuperPhoto mode, - not a feature of the GoPro Max – first introduced on the 7th generation of this flagship unit, which allows for intelligent scene analysis and therefore optimized shots.
It achieves this by automatically deploying the likes of high dynamic range (HDR) to tone mapping and noise reduction. The effect of this is to regain highlight detail and enhance shadow detail. On the Hero 8 Black there is also traditional HDR support too – something the 'Max' doesn't provide – while exposures of up to 30 seconds duration are achievable. But then it's swings and roundabouts with these two cameras; the Hero 8 Black can't provide 360° imagery, of course.
GoPro Max vs Hero 8: video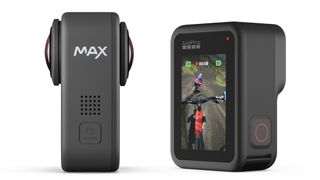 GoPro Max: 5.6K video at up to 30fps
GoPro Hero 8 Black: 4K video at up to 60fps
We would have loved the addition of 4K single camera capture – in addition to purely 360° capture – on the GoPro Max. But alas it is not to be. What this option does function as, however, is a solid selfie 'vlogging' camera nevertheless, with rear camera and screen capable of working in tandem with a whopping six microphones for a fuller, omni-directional audio capture.
The big selling point with the GoPro Max, though, is of course that it shoots 5.6K footage in all directions. This 5.6K footage – captured at 6K resolution and stitched to 5.6K says GoPro – gives scope for comfortable 720P grade capture, with a fair bit of cropping in, and the colors delivered are commendably rich.
Moreover the great thing about 360° capture is that stabilization looks sensationally steady, and, with the ability to edit footage via an improved GoPro app, there is the ability to hit record and forget about framing – within reason. Users can now edit across 360° scenes on their smartphone, zooming in and out – so there's not the need to lug around a VR headset if wanting to get the most out of omnidirectional footage. While we don't get an HDR mode on the 'Max', as colors are rich already straight out of the camera, it's not something in fairness we missed.
As with the majority of 360° cameras, detail is sharpest towards the centre of each lens, and weakest towards the stitch line, so while users can be relaxed with their framing to an extent, they'll still want to be mindful of that fact. Also, we noticed that chromatic aberration can creep in on occasion, with purple fringing visible between contrast-y areas of the image – the branches of a tree set against the sky being a prime example. In low light we also noticed some judder creeping in, so you'll probably want to utilise a tripod in such circumstances; though we did manage to get usable results walking through well-illuminated city streets at night.
Rounding off 360° capture options is Max TimeWarp, a time-lapse mode which can be edited in much the same way as the GoPro Max's standard footage. This provides all the impact of pans, zooms and tilts with the added bonus of compressed time.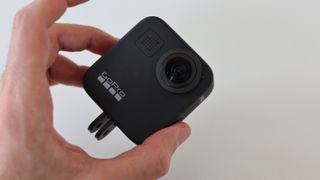 While, when compared to the Hero 8 Black, the GoPro Max can't stack up as a 'traditional' action camera, with its resolution maxing out at 1080P in 16:9 widescreen or 1440P in 4:3 standard ratio, as mentioned earlier we do also get four different digital focal lengths to choose from in 13mm, 16mm, 19mm and 27mm. Despite its not-quite-class-leading resolution, Full HD video still looks strong, with a respectable level of clarity. Another bonus is smart horizontal leveling, which ensures that if the camera is thrown in the air and spun, content is always facing the 'right' way and the picture doesn't even tilt. This commendably results in footage that looks like it was shot with a gimbal, but wasn't.
By contrast with the 'Max', the Hero 8 Black gives us the must have of 4K video and a frame capture rate up to a cinematic 60fps. Alternatively, if instead using Full HD video mode, we can shoot slow motion footage at up to 240fps; i.e 8x slower than normal.
One of the additional selling points for videographers on the '8' is what its maker calls its its 'HyperSmooth' image stabilization function – a combination of hardware and software fix (on the Hero 8 model we get a version 2 of this feature). This 3-axis system can still function underwater and in high shock, high wind shooting scenarios.
Another funky feature is a 'TimeWarp' mode, distilling long time-lapse video sequences into conveniently shareable clips just a few seconds long for sharing on social media. Sound here is captured via three built-in microphones to provide stereo audio and we get top quality WAV audio format too.
One of the things that impresses us most about the Hero 8 Black is that it features a range of video enhancements that deliver some of the smoothest action we've ever seen. Footage can be captured across multiple resolutions, starting at 1080P and 240fps and going through to 4K at 60fps. With a choice of either 4:3 or 16:9 aspect ratios, this latest model additionally features a new 'Boost' feature, for situations where stability is more important than clarity/fidelity. Users can select either high, standard or off. Furthermore, one of a series of extra optional 'mods' for the '8' includes a 'Media Mod', said to improve the production value of your videos further. There's also a Light Mod providing an LED light – something which once again may come in handing when shooting videos. While both these mods obviously cost extra, it shows GoPro is always improving the versatility of its action cameras. Incidentally, for those who want to do live streaming, it's worth noting that this facility is available at 1080P resolution on the Hero 8 Black. Nice!
GoPro Max vs Hero 8: burst shooting (fps)
GoPro Max: Not applicable
GoPro Hero 8 Black: Up to 30fps at 12 megapixels
On the Hero 8 Black we get the advantage of a LiveBurst mode, which captures 1.5 seconds before and after the shutter is fully depressed, enabling users to select their preferred image from 90 still images, which is obviously a real boon when shooting action. Alternatively three-second 4K video clips can be shot instead of stills in the same mode. There's no LiveBurst option at all on the GoPro Max, sadly.
GoPro Max vs Hero 8: LCD screen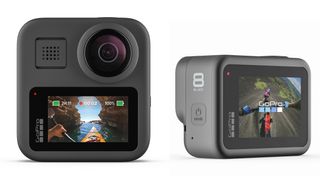 GoPro Max: 1.7-inch LCD touchscreen
GoPro Hero 8 Black: 2-inch LCD touchscreen
The GoPro Max's screen is a little on the small side. Yes it offers a widescreen ratio of 16:9 but, however, is just 1.7-inches in size. More positively, not only is this screen responsive, it's bright with it, making use of the camera a cinch whether you're indoors or out.
The Hero 8 Black's back screen is likewise small yet responsive to the touch, with a bright enough view in all but the sunniest of conditions. Its aspect ratio is somewhere between the camera's photo and video capture dimensions, thereby giving photo and video takers a middle ground.
We'd have really liked the Hero 8 Black's screen to be slightly larger, which would have made this option near perfect in our opinion. Also, there is no selfie screen, which could be another possible 'mod' enhancement. Luckily an optional extra is the Display Mod, which potentially adds a second monitor, thereby making the camera even more suitable for vloggers. There are at the time of writing no modular extras available for the Max in the same way as there are for the '8'.
GoPro Max vs Hero 8: build & waterproofing
GoPro Max: Waterproof to 5 metres
GoPro Hero 8 Black: Waterproof to 10 metres (33ft)
Both of our GoPro options here features a toughened build that makes them fit for their action-ready image-taking purpose. While that means that GoPro Max and 8 aren't the sleekest looking image capture devices around – inevitably they're distinctly boxy and functional – as noted at the outset of this comparison, practicality takes preference over curb appeal.
Like the Hero 8 Black, the Max has a rubberized matt black body, with a lens on either side for 360° capture, but a screen on just one. However it's waterproof to a relatively modest five metres – which in fairness is probably deep enough for most amateur snorkelers. There is also the ability to add on a couple of half orb lens guards to further protect the unit from rough and tumble – should you see fit – though this will impact the quality of the video captured. We would say, however, that overall the 'Max' is generally less rugged than a traditional GoPro.
The Hero 8 Black is a little taller and thinner than its Hero 7 predecessor, while still being of compact enough proportions to enable it to be squeezed into the pocket of your jeans. Weighing a very manageable 126g, it's waterproofed to a deeper depth of 10 metres. This hasn't changed from the previous generation, but does make it the victor out of the two in this particular category.
GoPro Max vs Hero 8: additional features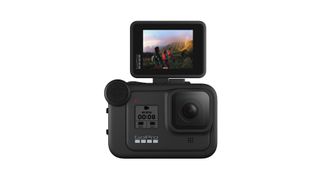 On the Hero 8 Black, one very smart shooting mode is TimeWarp 2.0, which is in effect a time-lapse mode, but which cleverly allows the user to tap the screen to smoothly slow down the footage to real time, or tap it again to speed footage up. This feature works at up to the camera's 4K 30fps resolution. And, if resolution is what is important to you, take note that the Hero 8 Black also captures 100Mbps 4K resolution video.
As we noted in our introduction, both the Hero 8 Black and the GoPro Max feature what looks to now be standard issue flip-out mounting feet, hidden away within the base of the unit and doing away with the need for additional add-ons in that regard.
What the 'Max' doesn't offer compatibility with, however, is the modular add-ons available exclusively for the Hero 8 Black, as we noted earlier. That being said, the Max already has a selfie screen and with six built in microphones, so arguably there's therefore less need for optional 'extras'. More positively, we do get GPS and Wi-Fi on board with the Max, with the ability to live stream at up to Full HD resolution direct to YouTube, just like the Hero 8 Black.
GoPro Max vs Hero 8: battery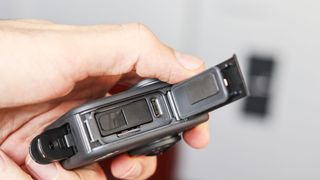 GoPro Max: Removable 1600mAh lithium-ion
GoPro Hero 8 Black: Removable 1220mAh lithium-ion
Though the Go Pro Hero 8's removable battery has the same capacity and physical size as its Hero 7 forebear, its power management is slightly different, which means that if you attempt to use a battery from an earlier model in this device you'll get an on-screen alert that some features may not work. As for the battery's capacity, it's claimed to last up to 50 minutes of continuous use, as per the 360° capturing GoPro Max. In practice, this translates as being sufficient for a day's use, shooting up to two-minute duration clips here and there. Furthermore we get the ability to plug the device into a power bank to enable us to shoot for longer in one go than its battery affords
On the GoPro Max, the battery flap is also where users will also locate the microSD card slot and USB-C port (there's no HDMI port here, though the Hero 8 Black offers this via a 'mod'). As for battery life, the GoPro Max's battery capacity once again has its users covered for around a day of 360° shooting, vlogging and smartphone pairing provided you're shooting short clips – a few one to two minutes every hour or so. For more sustained use, a spare or USB-C laptop power bank is advised.
GoPro Max vs Hero 8: verdict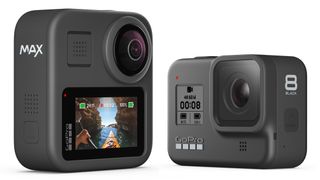 We said at the time of our initial review that the GoPro Hero 8 Black is an obvious choice for the best action camera available right now.
If you feel you need 360° photography however, do take a look at the GoPro Max, which while it isn't trying to be the best action camera on the market, nevertheless could well be the only camera you'd want to take with you on an adventure. It does give 360° photography/videography a new lease of life, adds some action camera elements to the mix (even if we don't get the ability for 4K single camera capture) and is a solid 'win' for GoPro and content creators everywhere.
See also