This amazing twin-lens deal from John Lewis in the UK goes straight to the top of oiur list of the best Black Friday camera deals! The X-A5 has only just been superseded by the newer X-A7, but it's a 24-megapixel APS-C mirrorless camera with a tilting selfie touchscreen, and it still ticks all the boxes.
The most amazing thing is the price this camera is being sold at, given that you don't just get a Fujifilm XC 15-45mm kit lens but the XC 50-230mm telephoto zoom lens too. At this price, we can't imagine this deal will be around long! (Read our original Fujifilm X-A5 review for more info on this camera.)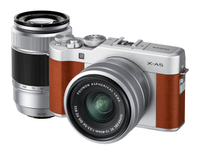 The Fujifilm X-A5 would make a great camera for beginners, especially at this price. The XC 15-45mm kit lens is a retracting power zoom type which takes up little space, while the XC 50-230mm telephoto zoom makes it easy to shoot distant subjects like sports and wildlife.
Other standout UK Black Friday mirrorless camera deals right now:
• Fujifilm X-T30 + 15-45mm – was £869, now £509
• Olympus OM-D E-M1 Mark II + M.Zuiko 30mm f/3.5 lens + Power Battery Holder, just £1,199
• Sony A7 III body – £1,454 after £300 cashback
Read more:
The best Black Friday camera deals in 2019: here are all the biggest savings!
See more Black Friday mirrorless camera deals