If you thought that analog was dead or that instant camera fever is dying off, you're very much mistaken. Fujifilm has just registered its newest instant film camera: the Fujifilm instax Mini 11.
The Fujifilm instax Mini 11 is the successor to the monstrously popular instax Mini 9, which we rank as one of the very best instant cameras on the market – as does most of the population, it would seem, given how many people actually own one of these miniature marvels.
The registration was spotted by Japanese camera sleuth Nokishita, which saw that the camera had been submitted for certification by an overseas authentication organization (which appears to be Russian).
Nothing else is known about the new camera, other than the fact that it is called the instax Mini 11. Which obviously raises a question: if it's the successor to the instax Mini 9, then why isn't it called the instax Mini 10? Is Fujifilm doing a Samsung Galaxy S20 and changing the way it names its product line?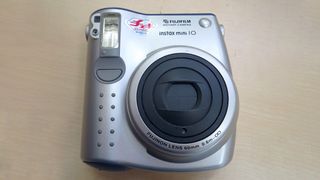 Nope, that's not the case. The truth is that the Fujifilm instax Mini 10 already exists; in fact, it was the first ever instax camera, launched way back in November 1998. At that time, film and Polaroid cameras were on the brink of extinction, but it was this camera – pictured above and at the top of the page – that turned things around.
Indeed, website Camera Go Camera even jokingly compared it to a Bronica ETR-C. "This really isn't the kind of camera I buy. It only takes ten shots, it is bulky, poor and small photos….and then I remembered the bronica. That is big, bulky and only takes 15 shots..good shots, but still only 15, plus I had to buy a new scanner to use it."
We're huge instant camera fans here at DCW, and we own a number of instaxes among us, so we can't wait to find out more about the Mini 11!
Read more:
The best instant cameras in 2020: instant photos perfect for the party season!
instax deals: instant camera & instant film discounts
instax photo albums: the best ways to store for your instant prints