This is easily the best deal we've seen all year: the Olympus OM-D E-M1 Mark II with the M.Zuiko 12-40mm f/2.8 Pro and M.Zuiko 25mm f/1.8 lenses for just £1,100 – that's a monumental saving of £1,128.99!
While we're expecting some serious savings at Amazon next week in the Prime Day Camera deals, we think this is going to blow them all out of the water – it's a better than 50% saving on the £2,228.99 price of buying them all individually!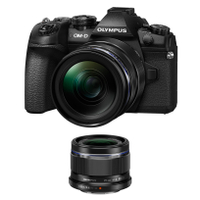 The Olympus OM-D E-M1 Mark II is the brand's flagship model – it was replaced by the newer Olympus OM-D E-M1 Mark III last year, but the newer camera brings mostly modest refinements to the already stellar specs offered by the Mark II.
Its 20.4MP Micro Four Thirds image sensor is small but mighty, enabling the body to remain small while packing in serious resolving power – which, thanks to the High Res Shot mode, can take 80MP RAW files on a tripod. It's also capable of blistering 60fps continuous shooting speeds, and can capture 4K and C4K video up to 30p, all with rock-solid phase detect autofocus and 6.5 stops of shake compensation thanks to the in-body image stabilization.
You're also getting two of the best Micro Four Thirds lenses into the bargain, with the fantastic and weather-sealed M.Zuiko 12-40mm f/2.8 Pro trinity lens (which is a 24-80mm full-frame equivalent) along with the pocket-sized nifty fifty, the M.Zuiko 25mm f/1.8 (50mm equivalent).
Read more:
Olympus OM-D E-M1 Mark II review
Olympus OM-D E-M1 Mark III review
Best Olympus cameras
Best Micro Four Thirds cameras