There is a fantastic deal on the older 10-inch Facebook Portal this Month, which gets you this much-talked-about bit of tech for a massive £90 discount. The deal lasts until 7 November, and is from Facebook direct (opens in new tab) - and billed as its headline Black Friday camera deal (opens in new tab). There are offers on other Portal models too…
Best Black Friday camera deals
The Facebook Portal is best known as an easy way to enjoy video calls with friends and family. The service is set up to use the Facebook Messenger service, allowing to make video calls to your contacts - through a large LCD screen that can sit on your kitchen or desk – or get carried from room to room. The big 10-inch screen is an appeal for group chats – but it is also really popular with people who don't have a smartphone or a laptop. So if you have an elderly relative, say, who misses out on family video chats – this is the perfect device for getting them included in the conversation.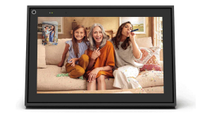 (opens in new tab)
Facebook Portal was £169|now £79|Save $100 (opens in new tab)
Amazing less-than-half-price deal on the Facebook Portal with its 10-inch screen. Use this for Facetiming friends and family. Turn it into a portable gallery to display your favorite family snaps, or your best photos. And use Alexa to keep you entertained and informed.
UK deal
Other stores where the Black Friday discounts have already started include:
• Wex Photo Video – Great deals from the UK's biggest camera outlet (opens in new tab)
• Park Cameras – Amazing savings from the imaging specialist (opens in new tab)
• John Lewis – The latest deals from one of the most trusted retailers (opens in new tab)
• Jessops - Cashback and coupon deals from the iconic camera store (opens in new tab)
• Amazon – Get your camera kit delivered fast with Amazon Prime (opens in new tab)
• Adobe - 39% off the Creative Cloud all-apps plan (opens in new tab)
• Apple – Check out the latest iPhones and Macbooks direct from Apple (opens in new tab)
• Dell – Save up to £300 on XPS & Inspiron laptops (opens in new tab)
• Microsoft – Save up to £500 on select Surface Pro (opens in new tab)
• Mixbook – Up to 50% off all items, including photo books & calendars (opens in new tab)
But what people don't realize, is that the Facebook Portal is a great digital photo frame (opens in new tab) – giving you a screen that can display your favourite photographs when you are not using the device for video calls.
This amazing offer is on the version of the Portal which has a 10.1 inch screen – and which is available at this £90-off-price in either black or white. It will allow you to make calls via Messenger or WhatsApp, but also works as an Alexa device. That means you can use this Portal to check on indoor security cameras (opens in new tab) and outdoor security cameras (opens in new tab), to play music, listen to the radio - and a whole lot more
Read more:
Best digital photo frames (opens in new tab)
Best photo books (opens in new tab)
Best photo albums (opens in new tab)