Canon has leveraged the power of its RF mount to produce the world's first super-telephoto zoom lens that boasts a reach of 800mm: the Canon RF 200-800mm f/6.3-9 IS USM.
Launched alongside two other remarkable lenses – the ultra-wide Canon RF-S 10-18mm f/4.5-6.3 IS STM and the mind-boggling Canon RF 24-105mm f/2.8L IS USM Z – the RF 200-800mm is also compatible with Canon's RF 1.4x and 2x teleconverters, giving it a supreme reach of an astounding 1600mm.
While this is one of Canon's "Big White" telephoto lenses, possessing weather sealing and a white exterior coating for heat dissipation, it is not an L-series lens. Instead, it is an affordable super-telephoto that sits between the Canon RF 100-400mm f/5.6-8 IS USM and the Canon RF 600mm f/11 IS STM – offering an incredible focal range without an incredible price.
That reach is bolstered by a robust optical image stabilization system, offering up to 5.5 stops of compensation lens-only, with up to 7.5 stops when mounted to a camera featuring in-body image stabilization.
The lens can focus as close as 0.8m at 200mm, adding flexibility to your shooting, and boasts a Nano USM motor for quick and quiet focusing. It features UD (ultra low-dispersion) elements with a low refractive index to minimize chromatic aberration, complemented by a Super Spectra lens coating to reduce ghosting and flare.
It's all contained in a package that's surprisingly compact, at 314mm in length (unextended) and weighing in at 2,050g.
Canon sees it as an ideal companion for high end cameras like the Canon EOS R3, R5 and R6 Mark II, as well as APS-C bodies like and R10 and particularly the R7 – being a popular choice for wildlife photography, thanks to its 1.6x crop factor, giving a maximum potential reach of 2,560mm with a 2x teleconverter!
(When using the 2x teleconverter with a full frame body, the AF coverage of the image area is reduced to approximately 40% horizontal and 60% vertical coverage. When the 2x converter is used with an APS-C body, the AF area is reduced to some 60% horizontal and 80% vertical. When the 1.4x teleconverter is used, the area becomes approximately 90% horizontal and 100% vertical on all bodies.)
The Canon RF 200-800mm f/6.3-9 IS USM goes on sale in December priced at $1899 / £2,299 / AU$3,499. Take a look at our hands-on Canon RF 200-800mm f/6.3-9 IS USM review to see if this superzoom is as souped-up as advertised.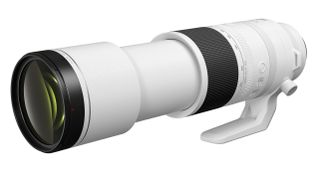 The 200-800mm seems destined to join the ranks of the best Canon RF lenses. Take a look at the best Canon Black Friday deals to see what's on offer, or check out the best Black Friday camera deals from all the brands.