Since it first came onto the scene, the RF-S mount has struggled a little to find its place. With Canon's need to fill out its lens lineup for its professional RF mount cameras, lenses specifically made for the RF-S mount have been few and far between – and some have even speculated that it might end up meeting the same fate as the EF-M mount used by EOS-M cameras.
The Canon RF-S 10-18mm f/4.5-6.3 IS STM, however, has come along to fill a much-needed hole in the existing lineup for a compact, wide-angle lens for photography and vlogging that gives RF-S cameras a boost.
Canon RF-S 10-18mm: Specifications
Autofocus: STM
Lens construction: 12 elements/10 groups
Special Optics: 2x UD, 1x PMO
Diaphragm blades: 7
Aperture: f/4.5-6.3 (max), f/22-32 (min)
Close focusing distance: 0.14m (AF), 0.086m (MF)
Maximum magnification: 0.23x (AF), 0.5x (MF - 10mm)
Image stabilizer: 4 stops (OIS), 6 stops (OIS+IBIS)
Filter diameter: 49mm
Size (diameter x length): 69 x 46.3 mm (2.72 x 1.82 in)
Weight: 150 g (5.29 oz)
Out of the only three Canon RF-S lenses that have been launched before this one, the Canon RF-S 18-45mm f/4.5-6.3 IS STM has been the widest lens available for the RF-S mount used by cameras including the Canon EOS R50 or Canon EOS R7. Although I don't think anyone would consider the 18-45mm lens exactly a true wide angle, with an approximately 29-72mm focal length in full frame equivalence.
Luckily RF-S cameras are also able to take on RF lenses, so the Canon RF 15-30mm f/4.5-6.3 IS STM and Canon RF 16mm f/2.8 STM have offered slightly wider angles – although not by all that much, equivalent to 24-48mm and 26mm respectively.
Thankfully the Canon RF-S 10-18mm has come to answer the prayers of wide-angle Canon shooters, as well as vloggers itching to get a wider lens for arms-length video. With a full frame equivalence of 16-29mm, the RF-S 10-18mm lens does offer the broadest perspective yet, matching the considerably more premium Canon RF 10-20mm f/4L IS STM.
When it comes to price, although this is still a very affordable lens, at $329 / £379 (AU$599), the RF-S 10-18mm does cost slightly more than the 18-45mm's $299 / £339 price tag – and making the buying decision even trickier is the $299 / £339 Canon RF 16mm, with its much wider aperture. This makes for a difficult decision of whether you would rather have the wider angle of the 10-18mm, or superior low light performance and background blur of the 16mm. But a more important question first: is the RF-S 10-18mm actually worth buying?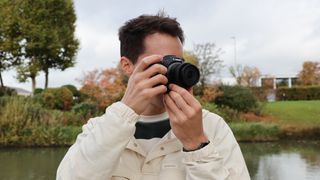 Canon RF-S 10-18mm: Design & Handling
The Canon RF-S 10-18mm follows Canon's recent collapsable lens designs, which enable the lens to be remarkably compact when not in use. Although even when I popped the front of the lens out to the first zoom marker, it's still one of the shortest zoom lenses I have used; the entire zoom range only moves the front of the lens in and out a couple of millimeters. This lens is the perfect pocketable-sized companion for a camera like the Canon EOS R50 or Canon EOS R100.
Build quality is good as always with Canon. The lens is made of robust-feeling plastic, although at this price don't expect to find any weather sealing. The zoom ring is small, but I found it easy enough to turn, with a rigged surface to the plastic, but no rubber or more grippy material.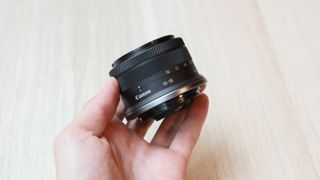 The lens also has a control ring that can be switched to perform manual focus duties when necessary. It is skinnier than on other larger lenses, but I found it easy enough to locate by feel alone with its diamond pattern. The lens has no manual switches, with all the functions being controlled through the camera, although I don't really miss them on a lens like this.
The 10-18mm has an STM motor, which makes for smooth silent focusing in videos, locking on to subjects quickly for stills in my testing. Like some of Canon's most recent designs, you can achieve a better close focusing distance by switching the lens to manual focus, and also get a much higher magnification of half macro size, although I am not sure I would use a lens of this focal length for macro unless I wanted some unique results.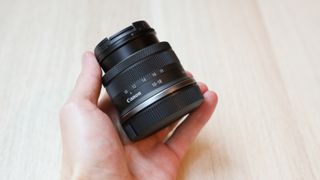 Canon RF-S 10-18mm: Photo Performance
The RF-S 10-18mm puts in a strong performance for a lens of its class, and I was pleasantly surprised by the results of such a tiny optic. The photos are sharp with a good amount of contrast.
I was testing on a very gloomy day, and in some dark environments, which was hindered a little by the narrow aperture of the lens pushing the ISO up to compensate. I am looking forward to testing this under better lighting.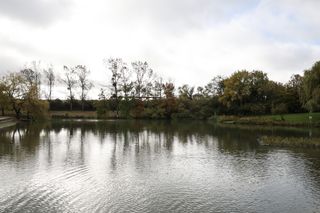 Diving into the RAW files, the distortion is not quite as bad as some recent lenses, but the lens does suffer from peripheral distortion, especially at 10mm. Based on recent experience and the tiny size of this optic, I did expect the lens to have heavier distortion than it does, but potentially down to the smaller image circle, it isn't actually too bad.
Saying that, though, the CR2 files from the Canon EOS R5 I tested will need to be corrected in editing software before I can think about using them. Nonetheless, JPEGs and video can be automatically corrected in the camera, and the correction looks pretty flawless.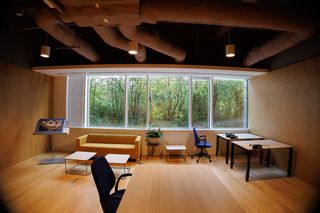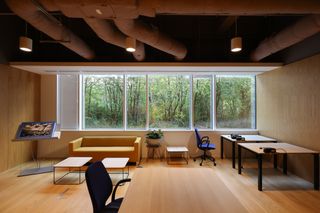 Sharpness looks great across the frame, at either end of the lens focal range, with only the very edges of the photos looking a little blurry with odd artifacts. The sharpness isn't going to rival bigger more expensive lenses, but for the size and price it is more than acceptable.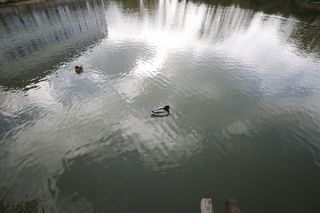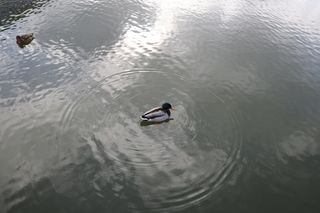 Canon RF-S 10-18mm: Early Verdict
The Canon RF-S 10-18mm f/4.5-6.3 IS STM is the perfect wide-angle lens for Canon's littlest EOS R cameras. The lens is so tiny and compact, paired with something like the EOS R100, it makes an almost pocketable combination. The RF-S 10-18mm is likely the new best Canon RF lens you can buy for vlogging, although faces some stiff competition from the Canon RF 16mm f/2.8 with its wider aperture.
Image quality is great for a lens of this size and class, and photos from the 10-18mm are sharp with good contrast. However, the lens does have some issues with distortion (especially at the wide end) but these can be effortlessly corrected in-camera or with minimal work later in editing, so aren't significant concerns. The narrow aperture is also a bit of an issue in low light, pushing the ISO higher than I would have liked.
The price is competitive, and won't break the bank, making this a great option for anyone starting out in vlogging, video, or wide-angle photography.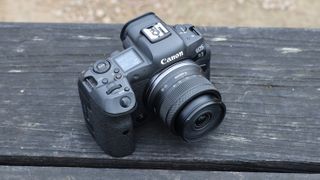 ✅ Buy this if...
You want a great vlogging lens
You want an affordable wide-angle lens
You want a super compact lens for your RF-S camera
🚫 Don't buy this if...
You need a big zoom range
You are looking for maximum image quality
You shoot a lot in low light
You might also like...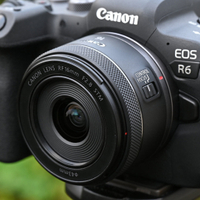 The Canon RF 16mm f/2.8 STM's wide aperture might make up for its narrower field of view. A wider aperture will let you shoot better quality images in low light, as well as offer a shallower depth of field for more professional-looking footage. Many people also find the simplicity of primes and a constant aperture easier to work with. The downside, you lose optical image stabilization, which is important if you move and shoot a lot.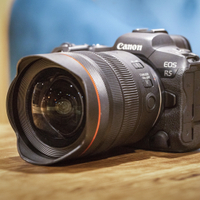 If you are a discerning professional or just money is no object, then look no further than the Canon RF 10-20mm f/4L IS STM, which our reviewer called one of the best wide-angle lenses ever made. Sure it is significantly more expensive and much much larger than the RF-S 10-18mm, but this is a different league in terms of pure image quality.