The sheer number of Canon RF-mount super-telephoto lenses puts Nikon to shame. The RF 100-400mm joins a powerful yet easily manageable pair of RF 600mm F11 IS STM and RF 800mm F11 IS STM primes, along with the more pro-spec Canon RF 100-500mm f/4.5-7.1 IS USM zoom lens. Canon also has a pair of heavy-duty RF 400mm F2.8L IS USM and RF 600mm F4L IS USM on its books, at a time when the Z 100-400mm f/4.5-5.6 S is the solitary Nikon Z-mount super-tele on the market.
Ultimately, the RF 100-400mm is ideally suited to mirrorless shooting, being impressively compact and weighing just 635g, despite its powerful maximum reach. However, with an aperture gearbox that only shifts between f/5.6 and f/8, can this lens really deliver for the sports, wildlife and all-purpose shooters at whom its aimed?
Canon RF 100-400mm f/5.6-8 IS USM: Specifications
Mount: Canon RF
Full frame: Yes
Lens construction: 12 elements in 9 groups
Diaphragm blades: 9
Minimum aperture: f/32 at 100mm, f/45 at 400mm
Closest focusing distance: 0.88m
Maximum magnification: 0.41x
Filter size: 67mm
Weather sealed: No
Stabilization: Yes, 5.5 stops (6 stops with IBIS bodies)
Dimensions: 79.5 x 164.7mm (247mm when extended to 400mm)
Weight: 635g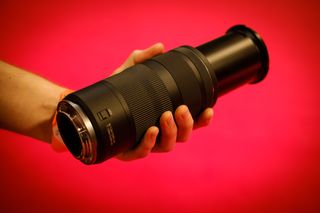 Canon RF 100-400mm f/5.6-8 IS USM: Key features
Despite its relatively small and lightweight build for a super-telephoto zoom, the RF 100-400mm packs a lot into its diminutive construction. Fast and virtually silent Nano USM autofocus is snappily rapid for stills yet enables smooth focus transitions during movie capture. There's a 5.5-stop optical image stabilizer, the performance of which is boosted to 6-stops when used in conjunction with the in-body stabilizers of later EOS R-series cameras including the R5 and R6. Typical of many Canon RF-mount lenses, a dedicated, customisable control ring can be assigned to functions like ISO, aperture, and exposure compensation.
The optical path includes 12 elements in total, featuring one aspherical element and one UD (Ultra-low Dispersion) element, along with a well-rounded 9-blade aperture diaphragm and Super Spectra Coating to reduce ghosting and flare.
A distinctive feature is an uncommonly short minimum focus distance for a super-telephoto lens, at just 0.88m, which gives a sizeable maximum magnification ratio of 0.41x. As well as being good for close-ups, the lens is also compatible with Canon's RF 1.4x and 2x Extenders, or tele-converters, if you feel the need to boost the telephoto reach. However, the already modest aperture rating shrinks by a further f/stop or two, respectively.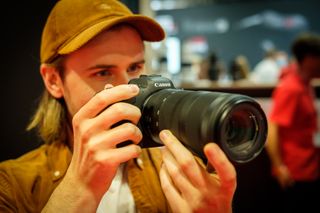 The telephoto lens is constructed from 12 elements arranged in 9 groups and the aperture has a 9-blade design, so should deliver smooth circular bokeh in out-of-focus highlights. At its widest focal length the lens measures just 164.7mm, and extends to 247mm when zoomed to the maximum 400mm focal length.
There is a lens lock on the barrel that can be set to stop the barrel creeping forward at the 100mm mark. This is useful when you're stowing the lens away to travel – though it would have been nice to be able to lock it into focal lengths such as 135mm, 200mm, 400mm and so on, if you intend to shoot at a specific focal length for long periods.
Also on the side of the lens you'll find switches for auto / manual focus, and another switch to engage or disengage the Optical Image Stabilization. There are also large and grippy zoom and focus rings, with a ridge in the zoom ring that makes it easy to find and turn when looking through the viewfinder.
There's also the RF Control Ring closest to the front element that, after setting up in the camera menu, can be used to quickly change shutter speed, lens aperture, ISO or Exposure Compensation.
With its f/5.6-8 aperture rating, the RF 100-400mm certainly isn't 'fast glass' but this helps to enable the compact, lightweight build as well as keeping costs down. Further cost-savings are assured by a distinctly consumer- rather than pro-grade build, which lacks any weather-seals but still feels reasonably robust.
As usual with non L-series lenses, Canon sells the hood separately as an 'optional accessory'. This time it's the bucket-shaped ET-74B which, although basic, is a pricey item in the UK at £76, although it's more reasonably priced in the USA at $45.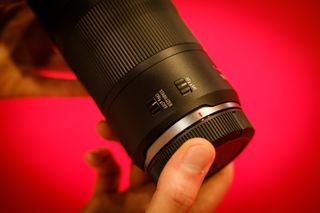 Canon RF 100-400mm f/5.6-8 IS USM: Performance
The Nano USM autofocus system lives up to its billing, delivering rapid response and sure-fire tracking for moving targets, especially with the EOS R5, R6 and later cameras that feature superior AI-based Servo modes for the likes of people, animals and birds. Sharpness is impressive throughout the entire zoom range and unwanted aberrations are minimal, even with in-camera corrections switched off. Optical image stabilization lives up to Canon's 5.5-stop claims, helping to ensure consistently sharp results in handheld shooting, while the lightweight build of the lens enables solid tripod support without the need for a mounting ring, usually required for super-telephoto lenses.
Canon RF 100-400mm f/5.6-8 IS USM: Sample images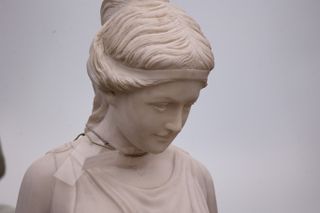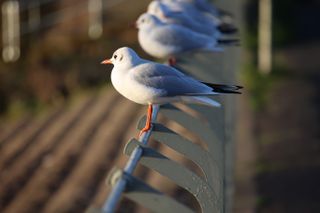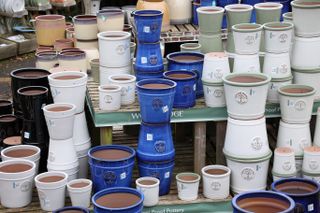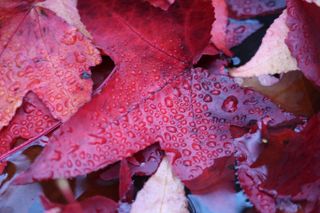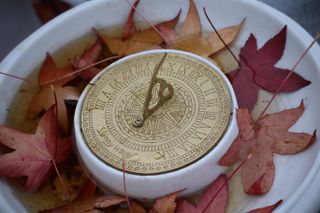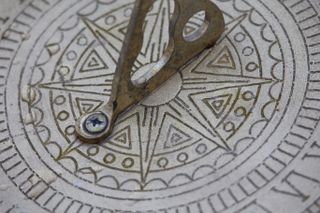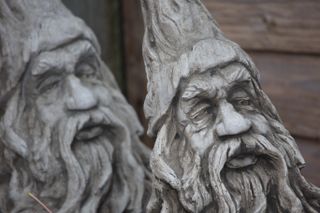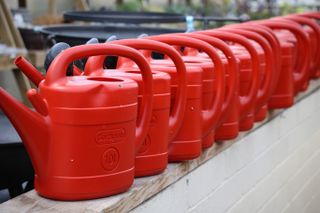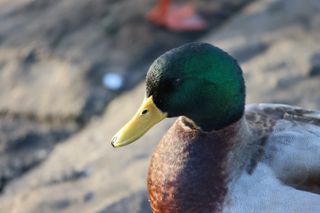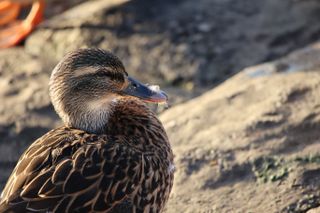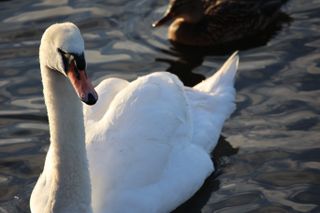 Canon RF 100-400mm f/5.6-8 IS USM: Lab results
Sharpness:
The sharpness scores in the two graphs below are produced by shooting a monochrome test chart covered in multiple sharp boundaries between black and white. This image is then assessed by specialist software, with the extent of blur on the contrast boundaries at the centre, mid and edges of the image converted into a spatial frequency value to determine how many line widths per picture height the lens is capable of resolving. A higher spatial frequency corresponds to a greater number of finer lines over a given distance that the lens can resolve - this number is the sharpness score.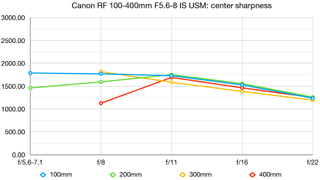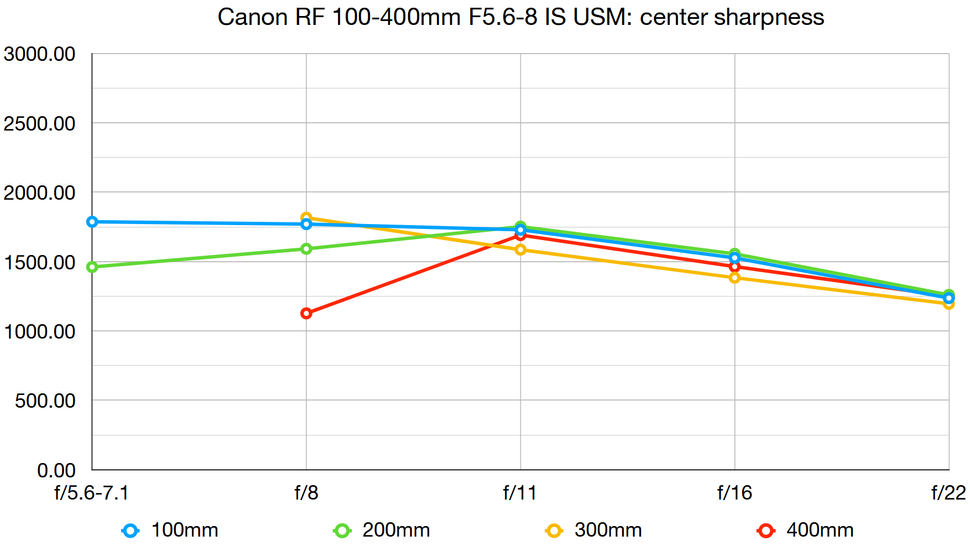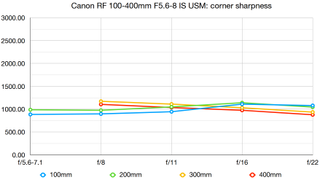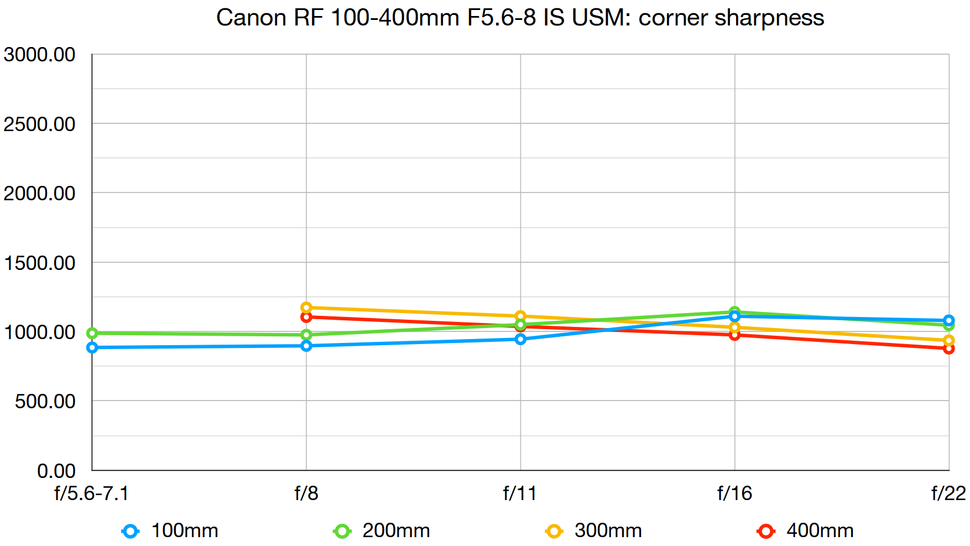 Center sharpness is very good at all focal lengths and apertures, apart from a small blip wide open at 400mm. Corner sharpness is much less convincing, however, with the lens being noticeably softer regardless of focal length or aperture.
Fringing:
The chromatic aberration scores are calculated using the same chart we use for measuring sharpness. This time the processing software assesses the sharp black-white contrast boundaries and determines the width in pixels of the colour fringe that divides black from white - the larger the width of the fringe, the greater - and worse - the fringing score.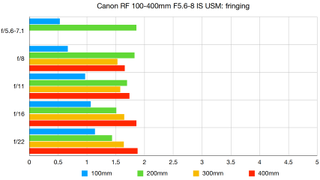 Lateral chromatic aberration is visible with in-camera corrections disabled, from 200mm upwards. It's noticeably better controlled at 100mm, though.
Distortion:
At the top and bottom of our lens test chart are horizontal black bars that run its full width. A lens that bulges these lines towards the edges of frame produces barrel distortion, the degree of which is indicated by a negative score. Shrinking (pincushion) distortion, usually produced by a telephoto lens, produces a positive score. The higher the number - positive or negative - the greater the distortion. A score of zero indicates no distortion.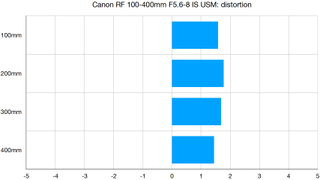 Pincushion distortion is pretty mild, again even with in-camera correction disabled, and it's very consistent throughout the whole zoom range.
Canon RF 100-400mm f/5.6-8 IS USM: Verdict
If you've been waiting for a typically compact 70-300mm telephoto zoom to come along in RF mount, you can forget about that now. The RF 100-400mm is about the same size and weight but gives extra telephoto reach, coupled with a rapid autofocus system, 5.5-stop image stabilization and impressive all-round performance and image quality. It's a cracker of a lens that won't break the bank, or your back when you're carrying it around. It doesn't have the fastest of aperture ratings but, overall, it's a win-win super-tele zoom. With a $649.99 / £699 / AU$1,379 price tag this is an almost irresistible telephoto lens that democratizes long-range shooting with Canon glass.
Read more:
Best Canon RF lenses
Best Canon telephoto lenses
Canon RF 100-500mm f/4.5-7.1 IS USM review
Hands on: Canon RF 16mm f/2.8 STM review
Canon EF 100-400mm f/4.5-5.6L IS II review
Canon EOS R review
Canon EOS RP review
Canon EOS R3 review
Canon EOS R5 review
Canon EOS R6 review