Every so often, a new big superzoom telephoto lens pops up to grab everyone's attention. Mostly it's third-party lens makers like Sigma and Tamron, duking it out over different stratospheric focal lengths or huge apertures. It seemed like Canon was content to focus on sensible quality and let other companies make the headlines. But no longer! The Canon RF 200-800mm f/6.3-9 IS USM has arrived on the scene as a serious challenger to the superzoom throne.
Canon RF 200-800mm: Specifications
Autofocus: Nano USM
Lens construction: 17 elements/11 groups
Special Optics: 3x UD, Super Spectra
Diaphragm blades: 9
Aperture: Max f/6.3-9 / Min f/32-54
Closest focusing distance: 0.8m (200mm) 3.3m (800mm)
Maximum magnification: 0.25x (at 200mm) 0.2x (at 800mm)
Image stabilization: 5.5 stops optical (7.5 stops at 200mm with IBIS)
Dust/moisture resistance: Yes
Filter diameter: 95mm
Size (diameter x length): 102.3 x 314.1 mm (4.03 x 12.37 in)
Weight: 2050 g (0.55 lbs)
In the realm of full-frame superzoom lenses, there are a few different priorities. There is simply the longest lens in terms of maximum reach, like the Nikkor 1200-1700mm f/5.6-8P IF-ED, or there is the widest aperture superzoom like the battlefield-ready Sigma APO 200-500mm f/2.8 EX DG, or there is the widest zoom range, like the Sigma 60-600mm f/4.5-6.3 DG OS HSM Sport and its broad 540mm of reach.
The Canon RF 200-800mm offers a (potentially) record snatching 600mm difference in focal length from wide to tele, and manages to achieve this in a body weighing just over 2kg and just 31cm long. There are, however, compromises to be made, with the maximum aperture being limited to f/6.3-9, which puts it considerably narrower than other rival lenses with slightly less ambitious focal lengths.
The RF 200-800mm is designed for full frame cameras, but its reach can be extended even further if paired with a Canon APS-C camera like the Canon EOS R7 with its 1.6x crop factor, which makes the lens a whopping 320-1280mm! The lens is also compatible with Canon's 1.4x and 2x teleconverters, although you have the penalty of losing one or two stops in maximum aperture respectively.
The RF 200-800mm is an expensive lens, but not unreasonably so, with Canon clearly banking on its massive reach offering enough to set this above cheaper lenses with a shorter zoom. However, Canon's restrictive practices around its mount mean that this is one of the only true superzoom lenses available for the RF system.
Sigma's closest EF lens – the Sigma 150-600mm f/5-6.3 DG OS HSM Sport, comes in considerably cheaper bundled with a Sigma 1.4x teleconverter, and while you then have to use another mount adapter, this might be a worthwhile trade-off for a substantial saving.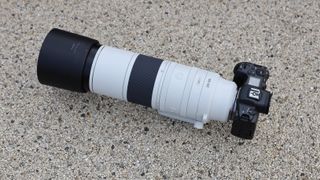 Canon RF 200-800mm: Design & Handling
On my first impression of the lens, I was initially struck by the size – this is not a compact lens, but I was expecting it to be so much larger and heavier. When you remember just how much focal length it covers, the overall size actually is very remarkable. Although the smaller maximum aperture can likely be thanked for this reduction.
Unusually the lens is in white, which is normally reserved for Canon's more premium L-series lenses, but it has been employed here as it reflects more heat off the quite substantial surface area of the lens for better performance. This does also have the psychological benefit of making me subconsciously assume it's going to be a more optically impressive lens – if that was intentional then smart move, Canon.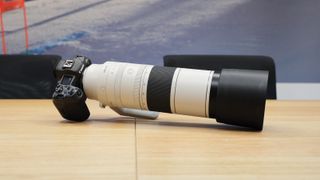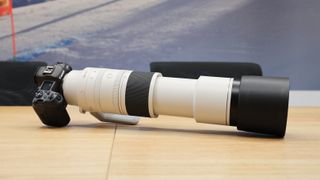 For its huge 200-800mm range, the lens is surprisingly lightweight, at just over 2kg. I was using the lens exclusively handheld for around an hour in my testing while attached to the Canon EOS R5, and the weight was not really troublesome.
At 31.4cm (12.4in) in total length when collapsed, the lens should slip into a decent-sized camera backpack alongside a camera with no issue, so wildlife and sports photographers can be saved from a little less back pain.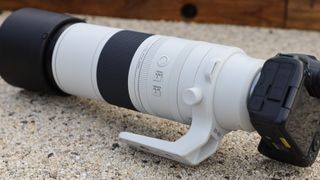 The lens comes with a built-in tripod foot, and an additional carry strap, and unusually for a non-L lens the hood is included – although for the price of the lens, throwing in a plastic lens hood is a small concession from Canon.
The lens hood is in black (unlike the white lens), and doesn't match the same quality as the hood included with lenses like the Canon RF 70-200mm f/2.8L IS USM, but again, it is nice to have.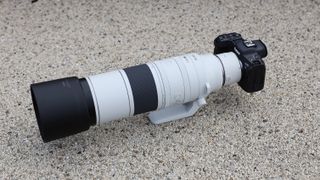 In terms of the lens features, the switches on the 200-800mm are relatively simplistic, with one for AF-MF and a second for OIS on or off, there are no options for different stabilization modes or focus limits on this lens. I don't know if this is an engineering decision in terms of what was possible to achieve with the lens, or just a costing decision to keep the price affordable.
You do, however, have two custom function buttons on the lens as well as Canon's customizable control ring, which also does double duty as the manual focus ring when required.
Canon RF 200-800mm: Photo Performance
Unfortunately, I only had a limited time to get photos with the lens, and only in one location, so I am looking forward to spending a bit more time with the lens for the full review and being a bit more thorough in testing it. However, on first impressions alone, combined with the Canon EOS R5, the lens seems very impressive.
Down at the 200mm end, things are very sharp with good contrast and colors, this continues through the lens, with shots around the 400-600mm length also being very impressive. It isn't until you get up to the headline 800mm focal length where, in my testing, things began to decline just a touch.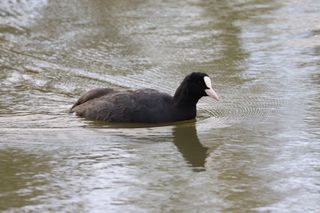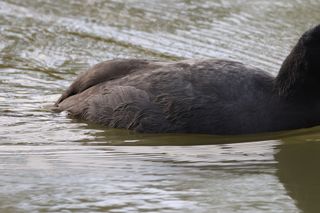 At 800mm the sharpness just isn't quite there compared to lower numbers in the focal range, with the finest of details being lost in patterns such as the bird's feathers or in the tree leaves. Don't get me wrong, the photos are still very usable, but they don't seem to quite have the same crisp clarity.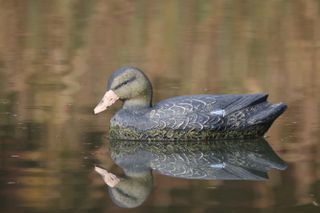 Throwing the 1.4x and the 2x converter on the lens, I could not notice any perceptible drop in quality to my eye caused by the converter at the low end of the focal range.
Matching the lens alone, the lower end of the telephoto range combined with the teleconverter still produced cleaner and sharper images, with the lens at 1600mm (800mm with the x2 converter) looking softer.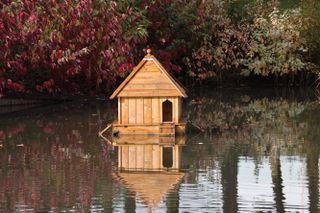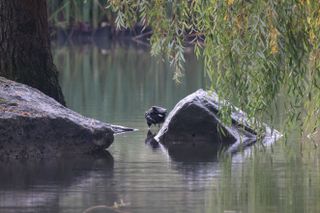 Canon RF 200-800mm: Early Verdict
If you want a lens that covers the absolute widest range of telephoto focal lengths possible, then the Canon RF 200-800mm f/6.3-9 IS USM is an easy decision. This is (at the time of writing) the reigning champion of all the superzooms for focal range. It is also remarkably light and compact for the massive focal length, so shooting wildlife all day with this lens should be a walk in the park (pun very much intended). And it should fit into most decent-sized camera bags, too.
The downside, however, is the maximum aperture is less than what you get on other less ambitious superzoom lenses. At focal lengths as long as this, background blur and subject isolation are great, although the lens will suffer in lower light conditions. In good light, the lens is impressively sharp throughout most of the zoom range – and although sharpness and contrast could have been a little stronger at 800mm in my initial testing, the autofocus was lightning-fast and accurate.
While the lens is hugely impressive, the price is quite a lot to pay unless you really need the additional reach. You can pick up the Canon RF 100-400mm F5.6-8 IS USM for about a quarter of the price if you can make do with the shorter length – and it can be paired with the 2x converter, a combination that still comes in cheaper than the 200-800mm alone.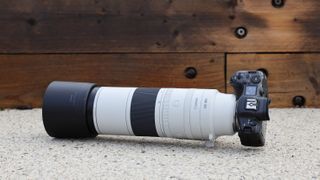 ✅ Buy this if...
You take a lot of wildlife or sports photography
You want the biggest zoom range around
You don't want to use mount adapters
🚫 Don't buy this if...
Your subjects are usually closer than the top end of this zoom
You want a more compact superzoom lens
You are on a restricted budget
You might also like...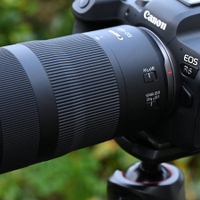 If you want some serious reach on your RF system, but don't have a lot of money to spend, then the Canon RF 100-400mm F5.6-8 IS USM is the best you can get. Although the top length pales in comparison to the 200-800mm, 400mm will still get you very close to the action, and you can boost this even further on an APS-C camera with a 1.6x crop like the EOS R7.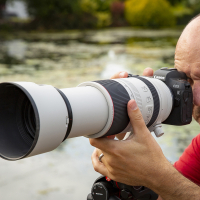 The Canon RF 100-500mm f/4.5-7.1L IS USM again doesn't have nearly the reach of the 200-800mm lens, but if you want Canon's zoom lens with the absolute best quality then this might be the one for you. Although you will pay a premium, with the 100-500mm lens coming in several hundred dollars more expensive. The lens is also compatible with Canon's 1.4x and 2x teleconverters.