With Canon having just unveiled full details on its 8K EOS R5, and Sony about to launch the A7S III, Australian video specialists Blackmagic Design has gone four steps better by unveiling a 12K video camera. Using its own sensor, the Blackmagic URSA Mini Pro 12K rewrites all the current rules for cinema shooting – and will do so for under $10,000/£10,000 (AU$19,745 in Australia).
The high-quality output outperforms other cameras in its class by some margin – and is likely to be particularly useful to filmmakers for cropping the footage in postproduction for 4K or 8K output. 12K captures around ten times more detail than 4K, and about 2.5x more detail than 8K.
The new cinema camera becomes the third generation of the URSA Mini Pro, and the family resemblance is obvious from the outside. But this camera has been completely rebuilt from the outside - and Blackmagic have produced their own 12K sensor with a massive 80 megapixel resolution. The sensor uses an array in which there are equal numbers of Red, Green and Blue photosites.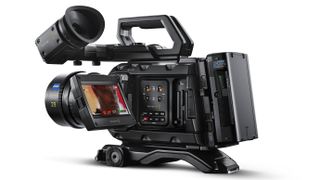 The company boasts that the camera has been built for a RAW workflow using the companies own Blackmagic RAW format and its own DaVinci video editing software. The result is that despite the resolution, the video can be edited on a laptop.
The key features of the camera include:
• 80 megapixel sensor, with native resolution of 12,288 x 6480
• The non-Bayer Super 35 sensor design allows you to switch from 4K, to 8K and to 12K in camera - without cropping or changing your field of view
• The new 12K sensor has equal amounts of red, green and blue pixels
• 14 stops of dynamic range
• 4K shooting at up to 220fps. 12K shooting at 60fps, and 8K at up to 110fps
• RAW compression of options of 5:1 (578 MB/s), 8:1 (361 MB/s), 12:1 (241 MB/s) and 18:1 (160 MB/s)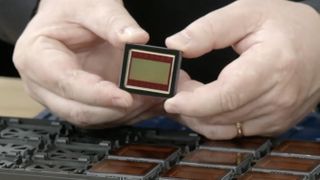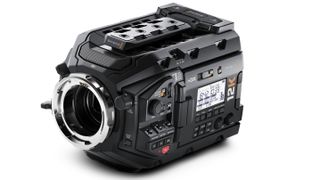 • Built-in dual CFast card slots, and dual UHS‑II SD card slots.
• SuperSpeed USB‑C expansion port for recording to fast SATA and NVMe drives at 10 Gb/s
• Wireless Bluetooth control via an iOS or Android device
• Ships with Arri PL lens mount - but can be switched to Canon EF or Nikon F lenses.
• Built-in ND filters
• Ships with DaVinci Resolve Studio video editing software
• Measures 5.78 x 7.95 x 8.23in. Weighs 5.1lbs.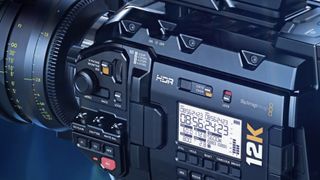 The Blackmagic Design URSA Mini Pro 12K will go on sale from this month for $9,995 / £9,714 / AU$19,745.
• Pre-order the Blackmagic URSA Mini Pro 12K at B&H Photo
• Pre-order the Blackmagic URSA Mini Pro 12K at Adorama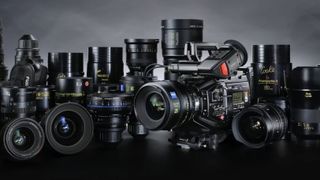 Read more
Best cine cameras in 2020
The best cine lenses
Best cameras for filmmaking