Easter is just around the corner. So if you're looking for the perfect chocolate-free present for photographers, family or friends alike, the Instax Mini 9 is a great choice.
One of the best instant cameras ever, the Instax Mini 9 is a modern classic – and right now not only is it £30 off, but you get a free 10-shot pack of film into the bargain as well! Now that is what we call a great camera deal!
Right now you can buy the Instax Mini 9 with film for just £43.30 – a £30 plus saving on its regular £74.99 price tag. This reduced price is for the Flamingo Pink option, but it's also available in other colours if you don't mind paying extra.
The 10-shot pack of film will be enough to get you started, but it's always worth picking up some extra instant film to keep you shooting!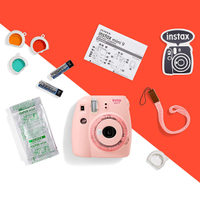 Instax Mini 9 with 10-shot film: £43.30 (was £74.99)
Save £31 and get a free pack of film with this Instax Mini 9 deal. Produce credit card-sized prints with built-in flash and automatic exposure – just point, snap, share and celebrate!
UK deal - limited time offer
The Instax Mini 9 has been superseded by the Instax Mini 11, but both models are pretty much identical when it comes right down to it – so the Mini 9 offers better value for money. Especially with this deal!
It produces credit card-sized instant photographs, using Instax Mini film, with automatic exposure and a built-in flash so your shots are guaranteed to come out no matter what the lighting is like. It's even got a selfie mirror and close-up lens attachment to take instant self-portraits!
Read more:
Instax Mini 11 review
The best instant cameras – from best instax to best Polaroid cameras
Best digital instant cameras: hybrid cameras and instant printers
Best pink cameras