Fujifilm has successfully led the charge the past decade for a return to the joys and gratification of instant cameras. Thanks to cameras like the Instax Mini 11, it's arguably just as familiar to today's millennial generation as fellow 'heritage' brands like Polaroid.
Launched in 2020, the Instax Mini 11 doesn't exactly re-invent the wheel – point and shoot simplicity is very much instant cameras' raison d'etre after all – so, yes, we can pick this one up, and, once we've navigated how to load the film cartridge correctly, begin using it straightaway. A 10-year-old could do the same – which is why is is one of the best cameras for kids.
• Instax Mini 12 vs 11 - which version is the best choice?
But whatever your age there is pure gratification and 'theater' of its cogs turning noisily and a print ejecting, the blank sheet slowly and magically revealing a captured images. Never quite knowing what you'll get – and having to wait a minute or more to see what you've got – the anticipation and the realization is all part of the thrill. And anything that gives us a thrill is something worth paying for.
Luckily then, compared to their digital counterparts and the latest must-have smartphone, instant film cameras like the Instax are relatively affordable, making them suitable for gifting as well as encouraging that impulse purchase.
We were sent the black version of the Instax Mini 11 – which Fuji itself calls 'charcoal grey'. There are four other pastel colors available that are distinctly more feminine and fun looking. The expectedly plastic-y camera itself is just slightly larger than a purse or wallet and, although chunky looking, is softened slightly by its curved edges, while still being portable enough to squeeze into a large jacket pocket, or shoulder bag, from where it can be quickly retrieved for that spur-of-the-moment snap.
Instax Mini 11: Key features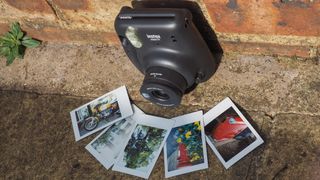 Results from instant cameras have typically been hit and miss over the years – and yes, not knowing if our image will be a hit or a dud, especially with no preview screen provided, is part of the appeal. Fuji claims to have minimized chances of wasted film courtesy of the Instax Mini 11's on-board auto exposure mode, which reads the level of ambient light when the shutter release is pressed, optimizing shutter speed and/or flash output accordingly.
Naturally there's a small mirror provided adjacent to the lens on this Fuji, thus allowing for users to perfect their 'selfie' game. But beyond that, the camera provides a selfie mode of sorts by advising users to pull out the front edge of the lens after powering the camera on.
Portraits do seem to be the main 'focus', quite literally of this camera, as a 60mm lens is provided, while an f/12.7 aperture suggests this is one to be used when there's plenty of light – though in practice the flash automatically fires whatever the conditions.
Instax Mini 11 vs 9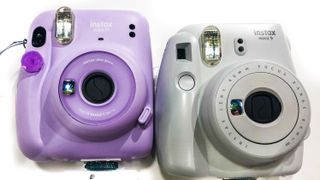 In comparing the Instax Mini 11 to the previous Instax Mini 9 model, while the former's design sticks closely to the latter's, this newbie focuses closer than its predecessor – as 'close' as 0.3 meters rather than the half-a-metre of old – making it theoretically more capable at self portraits. The result? Less film wastage – and better selfies.
Suggesting, as does the choice of pastel colors the Instax Mini 11 camera is available in, that the young female (and influencer?) market is firmly in Fuji's sights, its shutter button can this time around be customized via two glitzy stickers – one a fake jewel, the other glow in the dark – provided a bit of extra bling straight out of the box.
Finally, another point of difference between old and new cameras is that the Mini 11 offers a more sophisticated shutter speed range from 1/2 to 1/250 sec, while the Instax Mini 9 sports a fixed shutter speed of 1/60 sec. In theory the broader range this time around should make the camera more adept at delivering the goods in a wider selection of shooting scenarios, which is no bad thing.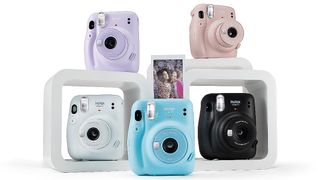 With the Mini 9 still being on sale in some places, one key thing that may still sway you in the Instax Mini 11 vs 9 debate is the slightly different choice of colors. The Mini 9 is available in Cobalt Blue, Ice Blue, Flamingo Pink, Lime Green and Smoky White – plus some special editions like the Frozen 2 and Star Wars versions. The Mini 11 comes in Blush Pink, Sky Blue, Charcoal Gray, Ice White, or Lilac Purple color options.
Instax Mini 11: Specifications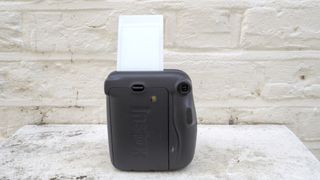 Film type: Fujifilm instax mini instant film
Lens: 60mm
Closest focusing: 0.5m (0.3m in selfie mode)
Shutter speeds: 1/2sec - 1/250sec
Film developing time: 90 secs
Print size: 54×86mm (2.1 in × 3.4 in)
Printed image size: 62x46mm (1.8 in × 2.4 in)
Prints per film pack: 10
Power: 2x AA batteries
Dimensions: 107.6×121.2×67.3mm
Weight: 293g (without batteries, strap, and film)
Available colors: Blush Pink, Sky Blue, Charcoal Gray, Ice White, and Lilac Purple
Instax Mini 11: Build and handling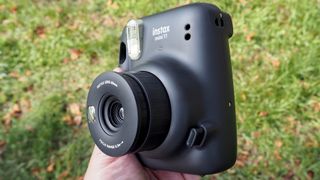 As mentioned in our intro, the camera looks and feels plastic-y, which is no surprise given that this product is inexpensively priced and designed primarily for its user to have fun. It is, however, commendably robust feeling despite this, especially with batteries and film pack locked and loaded.
The Fuji Instant Mini 11 weighs a manageable 293g without batteries, while its dimensions are 107.6x121.2x67.3mm. Regarding the aforementioned selfie mode: You have to pull the rim of the lens forward quite firmly to get it to respond with a resounding 'clunk'. Over time, given the plastic build, however, we're not sure how well the camera will stand up to repeated selfies and the eagerness of smaller, potentially less careful, hands.
The Instax Mini 11 is powered by two regular bog standard AA alkaline batteries that slot into a compartment on one side; but as ever do make sure there are no prying little fingers that are otherwise tempted to open the back while the film cartridge is still loaded to replace dead cells.
Loading the film packs is a cinch; all the user has to do is marry up the yellow line stamped on the pack with a continuation of said line in the 'belly' of the camera itself. An initial press of the shutter release button ejects the plastic protective cover of any new pack, meaning the second shot from cold is the first that will actually have an image on it. So far, so standard issue.
Instax Mini 11: Performance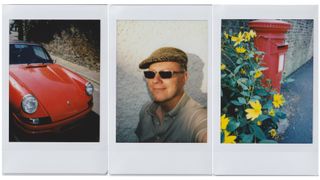 Nobody is going to claim their creative goal is natural looking results when using an instant camera. The minute and a half wait for 'instant' delivery is the selling point here – with photographic quality coming second. Indeed, the typically either under-or-over-exposed look of an instant print, the marginally out-of-focus results (0.3 metres is the closest you can get to a subject) and the fact that a lot of the time the photographer won't have got things 100% perfectly framed is a large part of instant cameras' naïve charm.
And here the Fuji Instax 11 Mini is no exception, with its images displaying all of the above quirks, while remaining perfectly usable despite this. As with any camera of its ilk, it's a case of taking an image, seeing what has worked or what hasn't, and taking a second shot to try and improve on the first, perhaps by re-framing or by moving into a spot where there is better light. Most users though will just be happy with the immediate 'aide memoire' the instant print delivers – we're not sizing up a DSLR for its purchase potential here after all!
The print in question is ejected from the top of the camera almost as soon as the flash has fired – and here it always fires, even in strong sunlight, as there appears to be no way to disable it, as we occasionally can on higher end instant models. Science has found that the instant print doesn't develop any faster if you 'shake it like a Polaroid picture', so we have to wait the typical 90 seconds for the finished result. Incidentally, the Instax Mini 11's effective flash range is up to a very fair 2.7 metres, with a 6.5 second wait between flashes. To be honest, an instant camera isn't one for rapid-fire use, so that sort of delay is scarcely going to be an issue.
To help users keep track of the number of shots remaining, a counter is shown via a porthole type window on the camera back, while we can remind ourselves and check there's a film pack loaded if we haven't used the camera for a while because a yellow stripe is also shown in an identically sized window further up the camera back. It's all very 'old school', but that lack of sophistication is what we're buying into.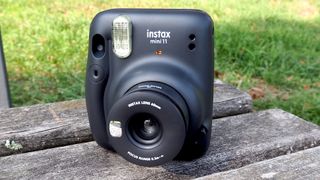 Instax Mini 11: Verdict
You'll already know what you're getting here without us needing to spell it out more than we have done: occasionally fuzzy, occasionally over-exposed credit card sized prints from a purse-sized camera for a near pocket money price. This isn't in any way a criticism, obviously, as the charm here rests in those 'low fi' images and the camera's low-tech operation, making it great for kids in particular who will love having instant pictures of fun times with their friends to stick in an album or diary. Sometimes we don't need to re-invent the wheel, and here Fuji has simply stuck with what works. And work perfectly within its self-restricted parameters is exactly what the Instax Mini 11 does.
Read more
Best instant cameras
Cheap instax film deals
Best instax camera cases
Best digital instant cameras & hybrid cameras
The best Instax photo albums