Just when you thought retro-styled Polaroid cameras couldn't get any cooler, there's the Stranger Things version of the OneStep 2. And when you thought that couldn't get any cooler, the price gets slashed by £30 for Amazon Prime Day 2020!
At its cheapest price ever, the Polaroid OneStep 2 Stranger Things is just £89.99 – a price that's enough to turn your world upside-down!
Even without the ultra-cool colourway and Stranger Things branding, the OneStep 2 is one of the best instant cameras you can buy. Just don't forget to pick up some instant film to go with it!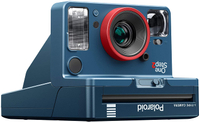 Polaroid OneStep 2 Stranger Things; £89.99 (was £119.99)
This special edition of this Polaroid instant camera is a tribute to cult scifi TV series Stranger Things – with an upside-down design that makes you question whether you are holding the camera the right way up. Uses Polaroid i-type instant film.
Ends 23:45 on 13 October BST

Read more:
Canon EOS 250D review
Amazon Prime Day 2020
Best Canon cameras
Best Canon lenses