Considering we've seen the Canon EOS R3, EOS R7 and EOS R10 cameras launch since the EOS R6 mirrorless came out in July 2020, it subjectively feels like it's been much longer. Despite the two years in between, the price of the R6 hasn't dropped, showing that not all tech products age the same way – this is a camera with staying power.
Whether it's wildlife or sports, this so-called enthusiast-level snapper is currently one of the best mirrorless cameras you can buy right now. We say 'so-called' because it's got the specs of a far more advanced snapper than what would typically be considered 'enthusiast level'.
It's capable of snapping away at 12fps with the mechanical shutter and a top of 20fps with the electronic shutter. There's a whopping 6,072 autofocus points to choose from, so you know you'll have your subject in sharp focus anywhere in the frame. And its tracking capabilities match Canon's pro sports shooters like the EOS 1D X Mark III.
If the EOS R6 sounds like it suits your shooting needs, then this is your chance to save AU$300 on a single-lens kit when shopping on Amazon right now. There's the option of choosing the RF 24-240mm f/4-6.3 zoom or the RF 35mm f/1.8 prime, and both bundles get the same discount.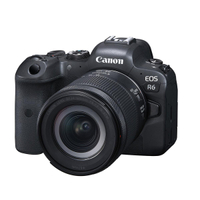 Canon EOS R6 + RF 24-240mm f/4-6.3 IS USM | AU$5,477 AU$5,175 (save AU$302)
Considering the R6 body retails for AU$4,299 at full price and the lens at the AU$1,400 mark, that's a total of about AU$5,700 when purchased separately. Even without a discount, Amazon sells the kit for AU$5,477. Throw in the additional discount during the Big Smile Sale and that's a pretty decent offer all told.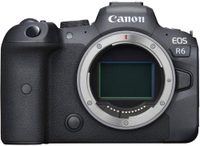 Canon EOS R6 + RF 35mm f/1.8 Macro IS STM | AU$4,836 AU$4,536 (save AU$300)
Following the same logic as the above kit, the total cost of the camera body and the lens purchased separately at full price will be just under AU$5,100 – the lens costs AU$799 by itself. Amazon's list price is already less than that, and then there's the additional AU$300 off, making this a decent option if you prefer a prime lens with macro capabilities.
Despite being overshadowed by its more expensive EOS R5 sibling, the R6 is equally capable, just as fast and as precise as the more higher-end Canon RF-mount full-frame cameras. You'll just need to decide if 20.1MP resolution is sufficient for you.
Since the launch of the 32MP EOS R7, that resolution might not feel sufficient on paper – especially since the R6 costs a pretty premium AU$4,299 at full price these days (AU$200 less than its original launch price) – but you have to keep in mind that a full-frame camera comes at a much heftier price than an APS-C format one.
But don't scoff at its 20.1MP sensor – it performs extraordinarily well.
You're not going to get 8K video here but the EOS R6 wasn't meant to be a pro-level camera. Still, you do get 4K video at up to 60fps.
In all though, if speed and performance is what you're after from a camera, these discounts on Amazon make the EOS R6 well worth considering.
Read more:
Best cameras to buy right now
Best full-frame mirrorless camera
Best Canon cameras
Best Canon lenses