Canon and Nikon are the two big names in DSLR photography, so it's easy to forget that Ricoh Imaging is still hanging on in there with some interesting, Pentax-branded APS-C DSLRs. Perhaps more importantly, its flagship model is the well-regarded, full-frame K-1.
Launched in February 2016, the K-1 was Pentax's first is full-frame DSLR. Two years on, Ricoh Imaging has launched the new K-1 Mark II version with an accelerator unit for better high ISO performance and a new Dynamic Pixel Shift Resolution mode, together with improvements to its autofocus algorithms. It's also adding a steady stream of new Pentax lenses for this larger full frame format.
These are not major changes, then, but they do represent some useful improvements to a camera that's already an interesting and strong rival to other, better-known, full-frame options. The K-1 Mark II's key selling points are its 36.4MP sensor, its powerful Shake Reduction II system and its sturdy build. It also has some interesting and innovative controls, including a scissor-action articulating rear screen and extended exposure modes.
Key features
Sensor: 36.4MP full-frame CMOS, 35.9 x 24.0mm
Image processor: PRIME IV
AF points: 33-point phase detect AF (inc. 25 cross-type)
ISO range: 100 to 819,200
Max image size: 7,360 x 4,912
Metering zones: 86k-pixel RGB sensor
Video: Full HD at up to 60i/50i/30p/25p/24p
Viewfinder: Optical, approx 100% coverage
Memory card: 2x SD/SDHC/SDXC (both UHS-I)
LCD: 3.2in vari-angle, 1,037,000 dots
Max burst: 4.4fps
Connectivity: Wi-Fi, GPS, USB 2.0
Size: 136.5 x 110.0 x 85.5mm
Weight: 1,010g (with battery and memory card)
While the K-1 Mark II's 36.4MP sensor isn't as high in resolution as those inside other full-frame models like the Nikon D850 and Canon EOS 5DS, this pixel count and a price tag well under £2,000/$2000 means that it still offers a lot of image quality for the money. In its price range, the K-1 Mark II is competing with the 24-megapixel Nikon D750 and Sony A7 III, as well as the 26MP Canon EOS 6D Mark II.
The new accelerator unit effectively gives the K-1 Mark II a processing boost to deliver better image quality at high ISO settings. Indeed, this camera now has a impressive maximum sensitivity of ISO 819,200, although quite whether it can deliver quality results at these settings we'll see later in this review.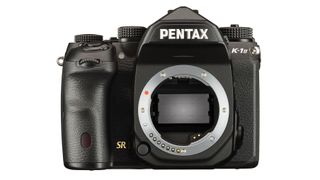 Pentax was an early pioneer of in-body image stabilisation systems, but the SR II (Shake Reduction II system) built into the K-1 Mark II does much more than control camera shake. It's also used to provide anti-aliasing simulation, moving the sensor by a microscopic degree during the exposure to give the effect of an optical low-pass filter.
Low-pass filters are used on most cameras to slightly blur ultra-fine detail and prevent moiré or interference effects with fine patterns or textures, which show up as false colour effects under magnification. A number of cameras – the K-1 Mark II included – either does without this optical low-pass filter, or has a separate cancelling filter alongside, so that fine detail is slightly crisper. With this camera, if you're shooting a subject where moiré is a problem, you can enable the anti-aliasing option.
Pentax's SR II mechanism can move the sensor in response to other shooting conditions. It can, for example, be used to automatically straighten slightly skewed horizons, or for minute adjustments to the composition when the camera is on a tripod and the movement required is too fine for a regular tripod adjustment.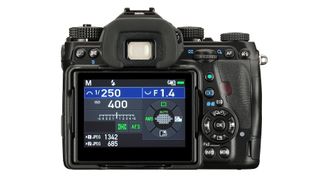 One of the system's most amazing tricks is its ASTROTRACER mode, where the camera uses the sensor-shift mechanism in conjunction with its built-in GPS sensor to render stars and other stationary subjects in the sky without any streaking during long exposures. The length of the exposure is limited because the sensor shift mechanism will eventually run out of movement, but it's still a clever way of capturing star fields and other celestial objects without the need for a motorised mount.
For regular photography, however, it's the Pixel Shift Resolution System II mode that's likely to be most interesting. Here, the camera takes four exposures in quick succession, moving the sensor by one pixel at a time so that each pixel captures full red, green and blue colour data (rather than this data having to be interpolated from neighbouring pixels, which is how it ordinarily works). You need a tripod for this to work best and a reasonably static subject, but in theory it should produce even sharper fine detail and fewer colour artefacts.
The Pentax K-1 Mark II, however, gets a new Dynamic Pixel Shift Resolution mode that's designed for handheld use. This works differently, combining four images taken in quick succession before merging these into one, in order to deliver superior detail, noise and overall image quality.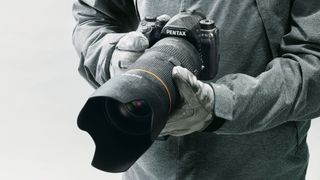 Other features include a weather-sealed magnesium alloy body with 87 weather seals, together with an optical viewfinder with approximately 100% coverage and an interesting articulated rear screen that allows up-and-down tilt and a degree of side-to-side movement too.
The Pentax K-1 Mark II uses the same 33-point SAFOX 12 system as its predecessor, though with improved AF algorithms for tracking moving subjects. With no hybrid phase-detect AF system for its live view mode, however, and with only Full HD video capability, the K-1 Mark II is not going to be a first choice for video specialists.
Thanks to a relatively pedestrian maximum continuous shooting speed of 4.4fps, it's not a sports specialist either. In this respect, the K-1 Mark II does lag a little way behind its other full-frame rivals, though this burst rate does increase to 6.4fps in its APS-C crop mode when using Pentax's smaller-format APS-C lenses.
Read more:
• The best Pentax lenses to get right now
With its build, the Pentax K-1 Mark II is certainly no lightweight. The body alone weighs a whisker over a kilogram, and when you fit a constant-aperture, pro-grade lens like the HD Pentax-D FA 24-70mm f/2.8 ED SDM WR, the combination feels solid and weighty.
There are plenty of photographers who won't mind that one bit. It's a big camera that lets you get a good, solid grip, and it leaves enough space for the external controls and dials – and there are a lot of them. This is a camera that will take a little learning, but that offers a lot of direct hands-on control.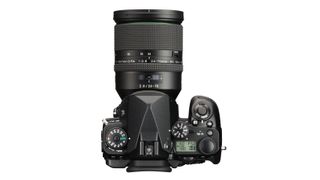 There are two items of particular interest on the top plate. One is the Smart Function dial, located just to the right of the pentaprism. You rotate this to select one of a number of different settings, including EV compensation, ISO, drive mode, bracketing mode and HDR mode among others, and then use the unmarked control dial to its right to change that setting. It's a way of making quick changes to a variety of different camera modes and leaving that setting active if it's one you're likely to want to change repeatedly during a shoot.
The other interesting control is the main mode dial over on the far left. This has all the usual Program AE, Aperture-priority, Shutter-priority and Manual modes, but it adds two more. In Sensitivity (Sv) mode you choose the ISO and leave the camera to select the other settings, while in Shutter speed/Aperture-priority (TAv) mode, you are free to set whatever shutter speed and aperture setting you want, with the camera adjusting the ISO to give you the correct exposure.
To be honest, it's difficult to see what these two modes do that you can't achieve with regular ISO/auto ISO settings, but it does at least put the ISO setting alongside the aperture and shutter speed controls on the mode dial (this trinity often dubbed the 'exposure triangle').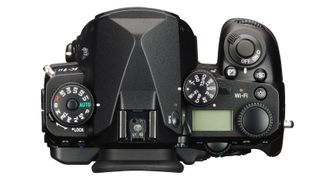 All of this doesn't leave much room on the top plate for the K-1 Mark II's monochrome status panel, but at least it has one. As we'd expect, there's a backlight button to make it more visible in darkness, but this is only part of the K-1 II's low-light repertoire. It also has a red 'night vision' mode for the rear LCD screen so that your eyes aren't blinded by the regular display when shooting at night, and, as on the previous K-1, small LED lamps to illuminate the lens mount, rear display, memory card slots and cable terminal at night. It's a great idea, and you can turn these off if you don't need them.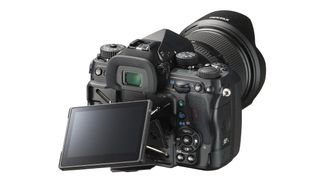 The articulating rear screen is an interesting idea. Pentax says it's designed its complex-looking scissor mechanism to offer both tilt and sideways movement while keeping the screen on the lens's optical axis. It does work, but the sideways movement is limited and it's very easy to end up with a combination of tilt and side movements that leave the screen skewed. It's a tough and practical mechanism, but might need a little getting used to. It also lacks touch-functionality, something that's offered on many rival models.
Other controls include front and rear control dials and four-way navigational buttons on the back that double-up as shortcuts to the LCD brightness, white balance, drive mode and picture style, the latter applied to in-camera JPEGs. You can, of course, shoot Raw files, in a choice of Pentax PEF or widely supported Adobe DNG formats.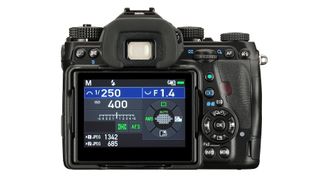 Overall, the K-1 Mark II is a solid, traditional-feeling DSLR, with an intelligent control layout and some clever features. It wouldn't be your first choice for video or live view work, but as a conventional stills camera it handles rather well.
The K-1 Mark II is not really a camera for sports or video. Up to a point it can do both, but its AF system and 4.4fps shooting speed limit its potential here. For video users, the lack of fast phase-detect AF and being limited to Full HD capture mean that there are plenty of more appealing rivals. The K-1 Mark II can shoot Full HD footage at up to 60/50fps, but only in interlaced mode, which is something we haven't seen for a while.
For regular static photography, however, the camera works very well. The autofocus system is good and, with the right lenses, fast and quiet into the bargain. It certainly performed well with the HD Pentax-D FA 24-70mm f/2.8 ED SDM WR supplied with the camera.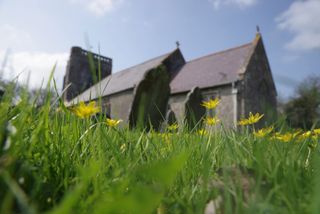 It's not too bad in live view mode either. Here, it works best on a tripod, since it uses simple contrast-detect AF in this mode and it takes a little longer, but it's perfectly usable for more considered photography, rather than quick-fire shooting.
Performance-wise, where the K-1 Mark II really scores is in its image quality. Two stand-out areas are its resolution and its dynamic range. Resolution, of course, also depends on the lens you're using, but provided it's a high-quality one – such as the aforementioned 24-70mm lens – you'll get every ounce of detail from the 36.4MP sensor. Not only that, but its DNG Raw files render very well in Adobe Camera Raw, with very low noise and high sharpness. Raw converters can work well or badly with different camera models, but this combination works very well indeed.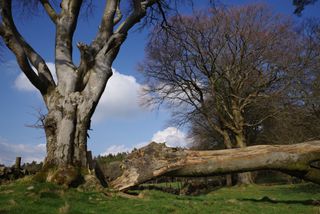 We also tried out the Pixel Shift Resolution mode and the new Dynamic Pixel Shift Resolution mode. The standard Pixel Shift Resolution mode works best on a tripod, but is quite fast, taking just a couple of seconds to capture and process the high resolution image. It still has the same number of pixels as a regular image, but fine detail is rendered much more crisply. In fact, it's almost too crisp, to the point where it can look a little artificial or pixellated under magnification. Any subject movement can produce pixel-sized artefacts, too. From regular viewing distances, though, it is effective.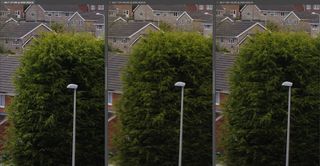 The Dynamic Pixel Shift mode works differently, taking four successive exposures rather than a single pixel-shift exposure. It also takes longer to combine the images – around 30 seconds in our tests. We could see some differences in image quality compared to regular single exposures, but, at least in our tests, the differences were small and hardly seemed to justify the wait.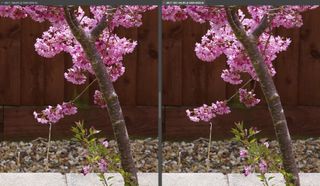 The K-1 Mark II's dynamic range performance is also very strong. Our lab tests were carried out without the camera's optional Shadow and Highlight correction settings to maintain our standard test conditions, and even here the camera turned in a good set of results against its rivals. With the dynamic range correction applied, however, it proved even better at holding on to extended brightness information in Raw files, especially the all-important highlight detail. In some of our landscape shots we were able to pull back deep sky detail simply not visible in camera JPEGs or unprocessed Raw files. The dynamic range correction does not seem to be a simple JPEG fix too, since the histograms of its Raw files show extended brightness information.
Even the high ISO performance is good, presumably thanks to the K-1 II's new pre-processing accelerator unit, although the maximum sensitivity of ISO 819,200 is somewhat optimistic. Both Raw and JPEG images show major noise and a magenta colour shift at the top three sensitivity settings, and results are only really usable at ISO 51,200 and below. Having said that, this is still a very high usable ISO setting for a camera with this kind of resolution, and very good compared to its rivals. Ignoring the unusable super-high settings, the K-1 Mark II really does deliver superior high-sensitivity images.
While the K-1 Mark II may not be particularly fast, its all-round image quality is excellent. Photographers mainly shooting static subjects such as landscapes, portraits, close-ups and so on will be getting a lot of image quality for a relatively modest outlay.
Pentax K-1 II lab tests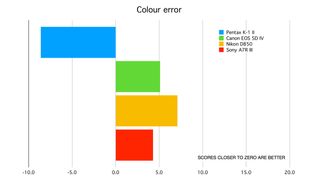 Colour error
We tested the Pentax K-1 Mark II against three key rivals: the Canon EOS 5D Mark IV, Nikon D850 and Sony A7R III. In our colour error test it returned a negative error, indicating slight undersaturation, but most users of full-frame cameras like this will be shooting Raw files and making their own colour adjustments.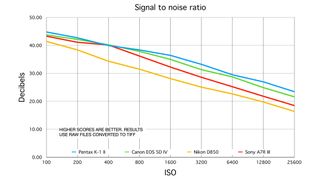 Signal-to-noise ratio
The new accelerator unit certainly seems to work. It narrowly beats the EOS 5D Mark IV across most of the ISO range for noise, and leaves the D850 and A7R III trailing. It's only at the highest settings (ISO 51,200 and beyond) that the quality becomes unacceptable.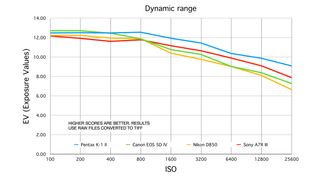 Dynamic range
The dynamic range figures from the camera are even more impressive, easing ahead of its rivals from medium ISO settings onwards – and that's without the added effect of the optional Shadow and Highlight correction modes.
Verdict
The Pentax K-1 Mark II initially looks and feels like a bit of a throwback to an earlier time, but its blunt, weighty handling and solid, intelligent controls actually provide some welcome relief from today's touch-screen interfaces and digital miniaturisation. Furthermore, its excellent all-round image quality and the clever use of its Shake Reduction II system provide a range of features and a level of image quality that makes the price seem even more reasonable.
You wouldn't chose it for sports photography or for video, but if what you want is a solid, powerful, high-quality stills camera at an affordable price, the Pentax K-1 Mark II deserves some serious attention.
Pentax K-1 Mark II rivals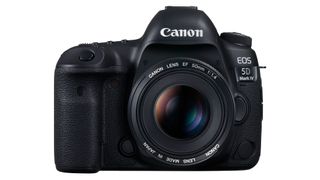 Canon EOS 5D Mark IV
With faster continuous shooting, better autofocus and 4K video, the EOS 5D Mark IV looks better on paper than the K-1 Mark II, although for outright still image quality, the much cheaper K-1 Mark II edges ahead.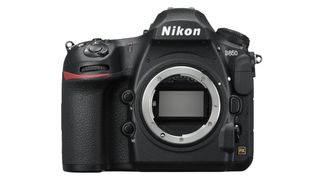 Nikon D850
It's a more accomplished all-rounder than the K-1 Mark II, especially for video and action, but the Nikon D850 is also getting on for twice the price.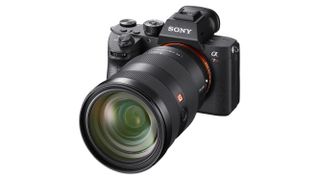 Sony A7R III
Sony's mirrorless maestro does everything brilliantly, but unless you need 4K video and high-speed shooting, its advantages over the Pentax K-1 Mark II are modest.