Seeking the best Logitech webcam? We've brought together the top models from this brand, so you can find the one that suits your budget the best.
And it really is worth doing so. Because however expensive your laptop or desktop computer is, the in-built webcam is unlikely to be up to much. So buying the best webcam from a third party will instantly raise the quality of your sound and picture... and Logitech is widely considered a leader in this field.
When choosing between the best Logitech webcams, picture resolution is an obvious spec to look for, but also look at maximum frame rate – games casters often prefer 60fps, for example. Audio features, of course, are just as important. Note there are options in our list above for those who need longer-range microphone pick up, or to position your webcam further from noisy computers.
In the article below, we've picked the best Logitech webcams on the market today, and give you the facts and figures you need to choose between them.
The best Logitech webcam in 2023
Why you can trust Digital Camera World Our expert reviewers spend hours testing and comparing products and services so you can choose the best for you. Find out how we test.
Want an external webcam but don't want to spend too much money? Then here's our top choice. It's not too pricey but will still instantly raise the quality of your webcam experience beyond most in-built laptop webcams.
It's also very easy to set up, simply plugging into most modern computers and being recognized by them. The folding clip doesn't turn, but will work on laptops and desktop screens. The camera sports Logitech's proprietary 'RightLight 2 ' exposure correction technology. There's noise cancellation for users within a meter. And the plastic lens is more than adequate for everyday conferencing.
See also: best budget webcams.
Need 4K resolution? Then we recommend the Brio Stream. But not just because it offers this high level of picture resolution: there's a lot more to like besides.
First of all, the Logitech design team have also acknowledged the growth of USB-C and moved the tripod screw to the camera body and made the hinged grip detachable. That, and the removable lead, makes placing the camera nice and easy, whether you're using a screen grip, mini-stand or photographer's tripod.
The camera has a more up-to-date version of RightLight, which achieves HDR-like output. There are software choices for the field of view, from 90-65 degrees (what anyone else might call 5x digital zoom). Beyond that, there are plenty of options to affect the style of live video via a program called LogiTune. This camera is also compatible with "Windows Hello" facial recognition.
If you're gamecasting at high frame rates, it makes sense to match the game world with the real one. The C922 boasts a 78-degree field of view camera and stereo mics capable of handling some noise cancellation. It can also capture 60fps video (at 720p), fast enough to keep up with game streaming.
Other streamers (or at least those who haven't switched to ARM-powered Macs) can also use Logi's own surprisingly powerful streaming app which is well suited to screencasting all kinds of apps.
The StreamCam has been designed from the ground up to serve the needs of the modern livestreamer. For a start it looks super cool in both white or graphite gray, managing to hide dual microphones behind the fabric lens surround. Importantly for many platforms, the supplied stand can be used vertically or horizontally, and to our eyes looks most at home atop a tripod, though of course it'll work on a screen too.
Again, concentrating on the user, there is the option of face-based autofocus using Logitech Capture – the livestreaming software for Windows and Intel Macs – while the 60fps 1080p video will suit gamers or others wanting a high frame rate. Finally the fact this defaults to a USB-C cable (to match most modern laptops) means there's one less little adaptor for most of us to lose.
The Logi Brio 505 is designed with the office environment in mind. a simple USB-C connection, Full HD picture, built-in stereo microphone, and integrated privacy shutter. That's not to mention its host of useful smart features, including a variety of zoom, viewing angle, and autofocus options to customize the image you put out to your colleagues or customers.
The Brio 505 is essentially identical to the Brio 500 model, but comes with a detachable cable and a three-year warranty – unlike the fixed cable and one-year warranty of the 500. Its adjustable field of view – going up to a 90-degree angle – means you can fit in a few colleagues in a squeeze, and even change the viewing angle on the fly.
Another neat feature is Logitech's Show Mode, which inverts the camera when tilted downwards, allowing colleagues on the call to read notes, sketches or diagrams you've been doing on your desk. See our full Logitech Brio 505 review
The C270 HD is a very modestly-priced fixed-focus camera which simply plugs into a standard USB-A port and works with all the popular calling platforms. The folding design rests on a thin laptop screen allowing angle adjustment, and can sit atop a thicker desktop monitor too. From a visual perspective the camera's light correction (Logitech calls this 'RightLight 2') sets the exposure to prioritize the face over the background, and tweaks the contrast so images aren't over-saturated and grainy in low light. The built-in microphone is omni-directional with a pick-up range of about 1m (3ft) and noise cancelling.
The C920 is a 1080p camera that affords a sharp image and for those who like to talk with their hands, or have an element of show-and-tell to include; the relatively wide 78-degree field of view makes that possible.
The C920S is a slight varient with a plastic door which might not do anything for the camera's appearance, but should reassure those concerned about privacy and hacking that the camera definitely can't see them. Both these models are supported by the Logi Capture streaming app on Windows / Intel Macs, meaning it's easily used to manage live-streaming with either. The inclusion of a tripod screw in the base of the hinge is also handy for setting up a stream.
The C925e is ideal for making regular video calls, whether your connection is perfect or not, thanks to the way it encodes video. Certified by Skype and Microsoft Teams, among others, and compatible with Zoom, Google and many more, the H.264 video and Scalable Video Coding system mean that the camera is quicker than most to ensure the maximum quality video is sent to the meeting platform because the compression work is being handled by the camera so there is less data to send. The discrete built-in privacy shutter and dual microphones also make for a practical and high-quality camera.
Stylistically the C505 series have a good deal in common with the more modestly priced C270 (they're essentially identical), but the C505 is better suited to larger rooms where you might want two or three of you on camera at once.
The single noise cancelling microphone will pick up natural speaking voices from up to 3 meters (10 feet) away and the standard USB-A cable is a more generous 2m so there is a lot of flexibility when it comes to positioning.
The camera component is a slightly better 1.2 megapixel than the C270 too, which will help out the light correction but the device itself is restricted to the useable but unexciting 720P. The only difference between the C505 and the C505e is in the packaging, with the latter being more environmentally friendly.
This PTZ (Pan, Tilt, Zoom) camera can be connected to a computer using the same plug-and-play USB connectivity as other webcams, with a significant difference: the device itself can be repositioned on the fly, typically using the supplied IR remote control.
With 10x zoom, the camera can be set up away from or in the centre of a meeting table, and set up with what amounts to 4 preset positions (3 + home).
As webcams go, it produces good quality 1080p at 30fps and boasts H.264 compression with SVC, as well as a handy tripod thread, however it will also need to draw power from the mains so positioning will need to be taken seriously – luckily it can be wall mounted too.
Now this is a niche product, but if you've invested in an Apple Pro Display, you'll likely want a high spec webcam that doesn't detract too much from the lines and meets your tech standards. The 4K Pro Magnetic Webcam is pretty much that, sharing a lot of specs with the Brio Ultra HD Pro like RightLight 3, the dual microphones and software image controls.
In addition it simply snaps magnetically to the top of the Pro Display (worry not, this isn't the CRT era). It'll even hold it in place in portrait mode (i.e. to the side of the screen). Plus we like that Logitech supply both a short (30cm) USB-C cable and a long (2m) one so you can choose where you want to connect the camera.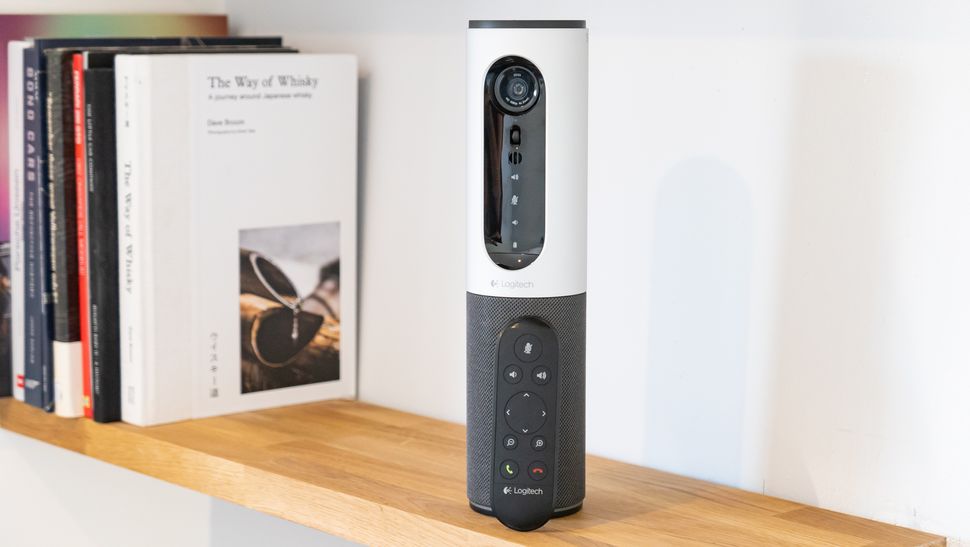 With a built-in rechargeable battery and Bluetooth connectivity, the Logitech Connect's wireless connectivity makes sense in a lot of environments where fixing a camera might not. For example, many offices have more meeting rooms than they have conferencing cameras. Or you might want to take one to conduct a site meeting and share it live with the main office.
All but the most intensive meetings should cope with the 3 hours of video or 15 hours audio the battery will provide. (Don't worry, though, Logitech still provides plugs). The remote control, when not serving as a magnetically attached lens cover, provides pan, tilt and zoom, though there are no auto-tracking features. And other advanced features include NFC and the ability to communicate with Chromebooks as well as Macs and PCs.
Overall, this is an elegant device that will not disappoint in rooms up to six people. However, if you appreciate Logitech's tech but would like to save on wireless functionality, check the Logitech BCC950 below).
Not every conference takes place in a huge room. If you're in a smaller space, Logitech's BCC950 conference room webcam provides a good quality webcam and speakerphone base with the option to position the electronic eye that bit higher, if needed, by inserting the included extension pole.
This means its more likely your remote collaborators are looking you in the eye and getting to hear the discussion, which also benefits from Logitech's proprietary noise cancelling system. This webcam connects via USB, and works with most platforms.
Read more
The best webcam for home working
Best Mac webcam
Best conference webcams
The best camera for streaming
Best projection screens
Best film scanners
Best all-in-one printers