The best PTZ camera will help boost the quality of your streaming, web conferencing, or video production. We have tried cameras from the pinnacle of broadcast standards to more accessible (and portable) options, and this guide will help you choose the best Pan/Tilt/Zoom camera for your needs, at the best possible price.
Best PTZ cameras - SHORTCUTS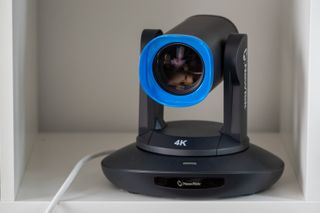 1. Best Overall
2. Best for Event Spaces
3. Best Ultra Compact
4. Best with NDI
5. Best for Remote Control
6. Best for Studio
7. Best for Sports
FAQs
Including how we test PTZ cams
PTZ cameras come with motorized stands which allow for remote control, AI automatic operation, or both. Their popularity has boomed in recent years, and that's no surprise. Almost any scenario where a webcam can be useful, including Zoom calls with presentations and streaming content on social media, can benefit from a camera that can follow you – especially if you like to use the whole space.
Alongside the growth of small studio streaming, many bigger venues, from churches to board rooms have also seen the benefits to be had of reaching a bigger audience – and doing so well. This list has PTZ options for every need (save for our best security cameras list, which is separate). Mounting options are one important thing to consider. Resolution is another. Connectivity is critical, too: you'll want to know what quality video signals you can get out via what sockets, and whether it's possible to attach a microphone for pro-quality sound. This is especially important if you're using the PTZ camera to create a live stream over IP.
Below, we've listed the best PTZ cameras available today, for a range of uses. We've included the facts and figures you'll need to choose between them, plus links to the best prices, updated in real-time.
Top Picks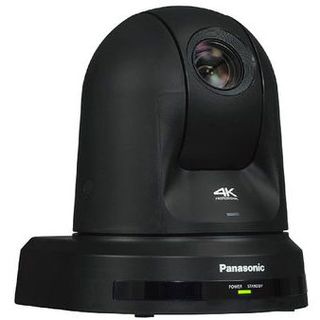 Best overall
This is a very flexible and powerful camera with 24x optical zoom and great connectivity leaving it suited to most jobs.
Read more below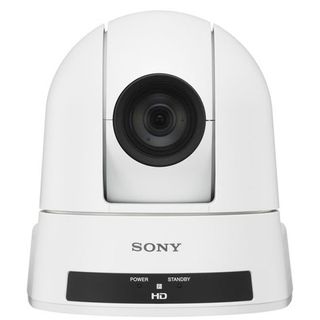 Best for event spaces
Perfect for a large event space like a theatre or a church, with fantastic low-light performance and dependable auto-focus.
Read more below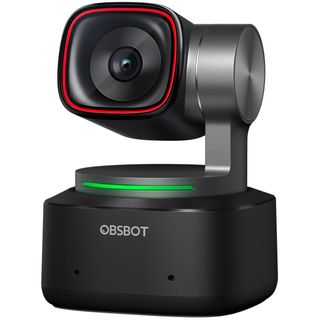 Best ultra-compact
With good quality AI that follows you, and a big image sensor, this camera works in home studios as well as a smart webcam.
Read more below
The best PTZ cameras in 2023
Why you can trust Digital Camera World Our expert reviewers spend hours testing and comparing products and services so you can choose the best for you. Find out how we test.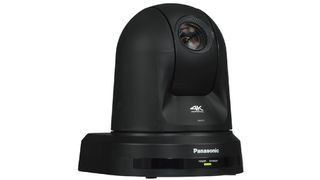 The AW-UE50 is an excellent camera well-suited to the needs of the modern broadcaster thanks to the inclusion of IP, USB-C, and SDI video output. With a subtle dome-like design, it's compact, manages 24x optical zoom, and can even be operated via a single (PoE+) cable.
The wide-angle field of view (74.1˚ horizontal at the wide end) means smaller venues aren't an issue, and there's a variety of control systems. Its near-silent motor system genuinely impresses with its subtlety. And the dark UI makes operating the camera from the web interface without distraction practical.
NOTE: If this model is too expensive for you, its similar sibling, the AW-UE40, lacks only a 3G-SDI connector so might make a cheaper alternative.
Read our full Panasonic AW-UE50 PTZ review for more details
Best for event spaces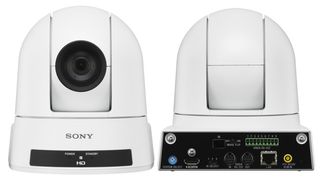 The SRG-300H is an excellent camera with one of Sony's EXMOR sensors, operable in light down to 1.4 LUX (f/1.6). This offers a wide dynamic range and, paired with Sony's XDNR digital noise reduction and 30x optical zoom, produces great streaming-friendly video.
Despite the generous optical zoom, Sony's mechanism maintains autofocus as you zoom, resulting in much more professional-looking footage than many PTZ systems which need to hunt again after zooming. Indeed a broadcaster-friendly version with lockable SDI connectors is available (the Sony SRG-300S).
Ceiling, desktop, or tripod mount are no problem, and some may find the physical switch for image mirroring handy. There are some thoughtful aspects to the design, too, which sit more discretely in a corporate environment (or reality TV set) than some, and the truly style conscious can opt for black or white.
Overall, this is a top-notch system that doesn't disgrace a brand much loved by broadcasters. And this tells in both build quality and operation (even the IR remote feels robust).
Best ultra-compact PTZ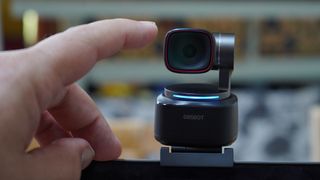 If you're looking for an overpowered webcam that can lock its framing on you, even if you need to move around a little, then you've found it; the Obsbot Tiny 4K. This is the third in the generation of webcams from Obsbot – a company founded on AI tracking cameras including the Tail. Last time the big new feature was 4K, which this still offers, but the latest upgrade is a larger dual-ISO sensor that produces excellent image quality.
Obsbot exists thanks to the enthusiasm of Indiegogo backers and they have continued to develop a very effective AI system. Operation is as simple as plug and play and the 4K 30fps output beat most webcams. Streamers will in essence get a camera operator they can direct, even using voice commands, ideally suited for live events via OBS or Twitch.
The HDR and other qualities can also be seen as a benefit for home workers with inconsistent lighting. Support of scaleable H.264 encoding keeps quality good, while tracking is engaged and disengaged by hand gestures or voice control. An LED lets you know the AI understood it, which quickly becomes natural to use. Even more instinctive is the privacy mode; just grab the camera and point the lens down! We also appreciate the included hard case so you can use it wherever you go.
See our full review of the Obsbot Tiny 2 (or the predecessor the Obsbot Tiny 4K review )
Best with NDI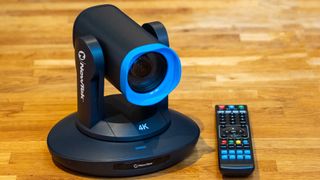 If ever proof were needed that broadcasting tech is within the reach of all, this is it. The camera supports NDI, the low-latency video over IP system, and indeed adds to it with NewTek's own NDI|HX protocol which can even transmit quality video over wi-fi. We also appreciated the tidiness that functioning PoE offers.
NDI components can all be downloaded for free for platforms like OBS, and when we tested the camera NewTek's software worked just fine in Chrome on Mac and PC (not on Safari, however). With a bit more time it's also possible to control the camera with a PlayStation controller, at least if you're using a Windows system, though there is a remote in the box too!
Sure, UHD (4K) adds a bit to the price compared to the, but the low-light quality the large (1/1.8-inch) Sony sensor achieves and the very long zoom range makes this a sensible choice. Studios will appreciate that all the desirable connectivity, as well as tally lights, are there too.
• Read our full review of the NewTek PTZ3 UHD
Best for remote control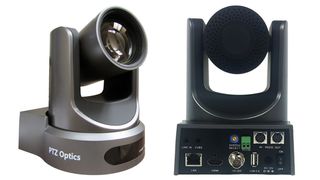 If you want a camera with a full range of connectivity and remote control options, including iOS and Android apps, the PTZ Optics SDI series (also available with 20x and 30x lenses) is the ideal choice.
These cameras have all the sockets you could want, and these work simultaneously. That means you can send HDMI to a nearby monitor for your talent while using 3G SDI or LAN streaming. You can also set the resolution and frame rate with a physical switch as you set up your broadcast.
The firm, whose name gives away its devotion to PTZ tech, is also known for its devotion to creative software development. So along with their Mac/PC app for camera control, they have a dedicated OBS plugin and make their system open source to help users create their ideal system. This, in turn, yields useful features that traditional broadcast brands might not have thought of, such as compatibility with Xbox controllers in lieu of expensive broadcast joysticks.
If you don't choose one of the near limitless controller connections, there is an IR remote in the box which has a very thorough range of options – including slow and fast zoom rockers, auto and manual focus, camera select, and the keypad you need to choose one of the 255 preset positions.
Best for studio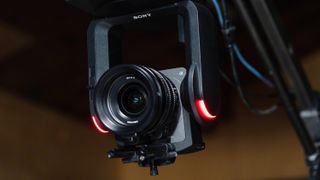 The FR7 takes high-end PTZ cameras into a new space with interchangeable lenses. It is a genuine game-changer for PTZ, sitting in a cinema range (and sharing a lot of spec with the Sony FX6). It even features standard 15mm rods for mountable accessories. The 10.3MP back-illuminated 35mm Exmore R sensor has ISO up to 409600, 627 phase-detection focus points, and a built-in variable ND filter.
If you want to zoom, you'll probably want Sony's FE PZ 28-135mm F4 G OSS (it has powred zoom). Sony takes pride in their web/tablet app, offering extensive control including programmed operation.
Output fully supports 4K thanks to a 12G SDI connection, but there are also LAN, HDMI, and dual MicroSD / CFexpress type A cards, just like the Sony FX6 camcorder.
Best for sports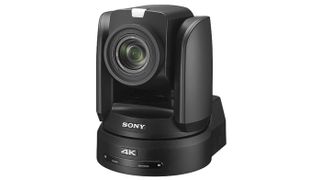 For event television – sports or otherwise – the BRC-X1000 has the chops to handle the situation. Not only can it shoot in real 4K but boasts a one-inch, back-illuminated Exmor-R CMOS sensor and a 9.3-111.6mm optical zoom with an aperture of ƒ/2.8 at the wide end. All this is, of course, remotely controllable, and the speed of pan/tilt and zoom are all adjustable.
The zoom isn't as long as some cameras here, and Sony's digital system – 'Clear Image Zoom Technology' – extends it, without abandoning quality, to 24x in HD or 18x in 4K. On the plus side, the camera is good in low light and has a menu-switchable ND filter.
The system can 'only' store 100 preset positions, but that should be more than adequate for most purposes. Broadcasters will also appreciate a front and rear tally light ('live' light) with adjustable brightness, the fact that Sony supplies user upgrades, and the IR remote, ceiling brackets, mounting screws, and cable clamps in the box. The only real irritation is the step up in price from the BRC-H800 (1080p version).
Best of the rest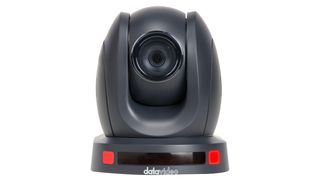 This onboard streaming encoder can encode two data streams to the cloud at once (though you need to drop down to 30fps). In addition, you have SDI and HDMI out, so you can operate in pretty much any creative environment, taking audio via the 3.5mm stereo line input if needed for convenient encoding. H.264 and H.265 with AAC, MP3 or PCM audio are all on offer, from 16KHz to 48KHz.
The low-noise 1 / 2.8-inch CMOS sensor has 20x optical zoom. This makes for great images as with two megapixels there are no superfluous pixels (though the 10x digital zoom extension is best avoided). Control is via industry-standard systems and there is a good movement range (120˚ tilt, 340˚ pan). If you don't opt for one of Datavideo – or compatible – control systems, there's also an IR remote in the box, as well as the ceiling mounts and UV filter.
This is a great choice for using with either RTSP (broadly better for localized streams) or RTMP (widely compatible and flexible), and you'll find the frame rate you need. Additionally, the styling is nicely subtle and, at under 55db, so is the motor noise.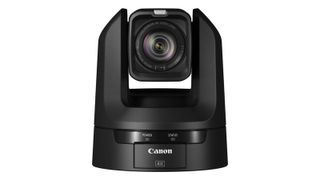 Canon's range of PTZ cameras all offer excellent autofocus (the N500 has dual-pixel focus and face tracking). This smaller version assists its hybrid AF with a distance sensor beneath the lens, for higher reliability than contrast AF. Given how few operators want to worry about focus, this is a crucial feature.
Unlike its bigger brothers with 1-inch sensors, the N500 and the new N700, the N300 is built around a 1 / 2.3-inch CMOS with stabilized 20x optical zoom. Digital can take that to 30x safely (or 300x for a blocky mess). The compact size might cost, but the 3G-SDI means live 1080P can be streamed, or 4K recorded at up to 30fps. We also like that NDI output is included in the package – not a license upgrade.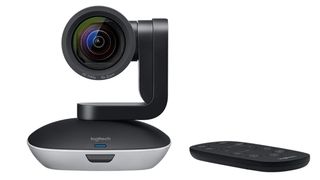 Perfect for a conference room of about 20 people, or perhaps a classroom, the Logitech PTZ Pro 2 Video Conference camera plugs into your computer's USB (Mac or Windows) via the generous 10-foot (3m) cable and provides a more flexible and (probably) better quality alternative than the system camera you're used to.
A simple remote control is included in the box, and the camera can be set with presets to move between (something it does more smoothly than Logitech's original PTZ Pro, though could still be better). Mac or PC users can also control PTZ & image settings via a downloadable app, and this gives the option of controlling from near or far.
It's worth noting that Logitech does have a pricier option, the 4K Rally which they would likely prefer you buy (it's near twice the price), but the PTZ Pro 2 is certified for Skype, Zoom, and many other popular systems – Logitech's devotion to certification is greatly appreciated, though of course, it stills works where any USB webcam will. With a Kensington lock fitting, this is also a good choice in less-than-secure locations.
See also Best Logitech webcams and best conference room cameras.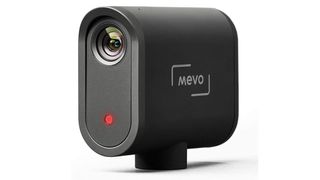 With a dedicated, and very friendly, phone app, the Mevo is controlled via a WiFi network, or your phone's hotspot, designed for live streaming on the go. It's not technically a PTZ camera, but the experience is somewhat like one. It is a follow-up to the 2018 Mevo Plus, meaning the manufacturers had a couple of years to listen to customer feedback and the result is a really polished product.
In terms of hardware, the tiny camera shoots either at the full 84˚ width or cropping in and tracks your face. At the same time, it records to its MicroSD card, so you've got a backup to edit with. You can take sound via your phone, a 3.5mm mic, or the in-built 3-microphone array which uses Fraunhofer upHear Spatial Processing.
In terms of operation, the app is not only easy to use and connect to standard streaming platforms (Facebook, Youtube, and RTMP), but offers extensive picture adjustments – either preset or manual. A paid subscription will allow you to stream to multiple platforms at once, and add live graphics.
If you're looking to take your streaming channels on the road, this device gives you the power to broadcast anywhere, wirelessly, with impressive sound quality. You can keep going for up to 6 hours on a single charge, too.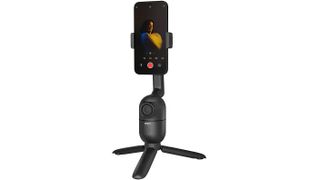 If you're a vlogger who has invested in a good quality phone, but doesn't quite have the budget for a production assistant or camera operator, the Obsbot Me is the solution; it turns your phone into a camera which can follow you. OK, not strictly meeting the tilt and zoom criteria (though there is always post-production), but this is still a very handy tool for to-camera shots.
We like that it folds small, yet opens to hold any phone (even a chunky iPhone Pro Max), and that you can use it with the standard camera software – no need for an extra app. The lens in the device is used to spot your high-five to enable and disable the tracking, but every other video feature so there is no need to pair or go through any other tiresome process – you can also switch devices easily (oh, and yes, there is a tripod mount).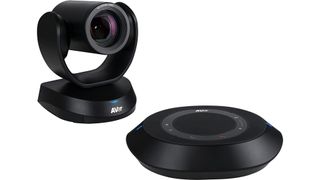 The VC520 Pro 2 is a dedicated conference room webcam system which can continuously track meeting participants and re-frame accordingly. It's designed for medium and large meeting rooms and has wide 340˚ pan and 120˚ tilt capabilities, though whether it will actually need that range at one or another end of a table is another matter.
Dynamic range benefits from the Sony low-light friendly 2-megapixel image sensor (the benefits of higher resolutions aren't always clear when zoom is used), while sound quality is an option in part left to you thanks to the ability to daisy chain speakerphones.
In terms of usability, this device will probably work best installed in your conference room but left with a trailing USB cable so you can rock up with a laptop and connect to your favored meeting platform, though LAN control is an option too. We did like that the subject tracking could cope with face masks in these times.
FAQs
What does PTZ mean?
PTZ stands for Pan-Tilt-Zoom. It is taken to mean a camera which has motors so can remotely be told to Pan (turn left and right), Tilt (turn up and down) and Zoom on a subject.
Do all PTZ cameras have an optical zoom?
No. The term PTZ is so well understood for remotely controlled cameras that, even where no zoom or a digital-only zoom is available, people often still refer to them as PTZ. On this list, for example, the Obsbot Tiny 2 has a digital zoom, though at least up until 2x you might not even spot it.
What are PTZ cameras used for?
PTZ (Pan, Tilt, Zoom) cameras are used in nearly every field – remote operation of a camera can be useful in TV studios, where operators are available to track the talent. They're also great for fitting in difficult-to-reach places on sports grounds. They can be designed to take use of AI that tracks the subject, with a range of uses from webcams that don't lose people as they move about to security cameras. Even the camera on drones can usually be tilted remotely! If you can think of it, someone will have built a PTZ camera to help.
How we test PTZ cameras?
As you'll see, we have reviewed many of the cameras on this list personally by connecting them to a home studio. What we're looking for is how quickly the camera can move from one subject to another in different lighting conditions, as well as how easy the camera is to set up using the kind of equipment most streaming broadcasters have available to them. We think being able to handle low light, as well as high contrast, are both important – low light is very likely when there is a lack of professional lighting, true in most situations, and high contrast might still happen in, for example, the theatre. Most full reviews will feature a video sample recorded using a platform like OBS, further simulating the experience of ownership.
Read more
Best webcams for home working
Best conference room webcams
Best 4K webcam
The best cameras for streaming
Best PoE cameras
Best NVR for CCTV
The best video-editing laptops
Best ring lights
Best video tripods
Best streaming services