The shift to working from home during Covid 19 saw a rise in premium (and pricey) webcams. Up-market offerings punched through the $200 and even the $300 barrier in a bid to offer home workers the very best in video and audio quality, with clever features, smart design and even artificial intelligence.
But who really needs all of that? Unless you are still on Zoom calls for hours every day and need to look your very best, or use a high-quality webcam like the Insta360 Link to record yourself, you likely only need the basics.
Logitech recognizes this, and so that's where the new Brio 100 comes in. This is a simple, compact webcam with 1080p Full HD video, a universal monitor mount, an integrated microphone and easy-to-use software. Is it all the webcam you'll ever need, for just $40/£45? Read on to find out:
Logitech Brio 100: Specifications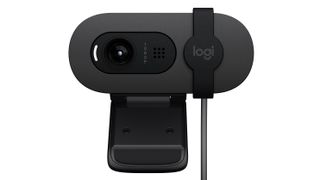 Resolution: 1920 x 1980 at 30 fps
Field of view: 58 degrees
Digital zoom: 1x
Inbuilt microphone: Yes, omni-directional
Autofocus: No, fixed focus
Privacy cover: Yes
Connection: USB-A, fixed cable
Color options: Black, pink, or white
Key features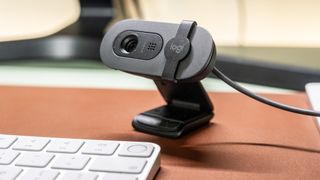 The Brio 100's key feature is its simplicity. After that, the headline act is a Full HD sensor that captures video with a resolution of 1920 x 1080 at 30 frames per second. There's also the option for 720p at the same frame rate, which could be useful for computers with less than 2GB of RAM and/or a slow internet connection.
The webcam also features a universal monitor mount and there's a privacy shutter that slides across the lens. This doesn't actually turn the camera off, but it stops the lens from seeing anything and acts as a handy extra level of personal privacy.
The integrated, omnidirectional microphone is designed to record up to a metre from the subject, the lens field-of-view is 58 degrees and the webcam comes attached to a 1.5-metre USB-A cable. Since the cable doesn't detach from the webcam itself, Mac users will need to use a dongle to hook it up to a USB-C port.
Build and handling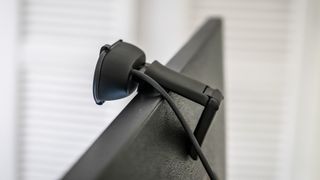 The Brio 100's all-plastic design lacks the premium feel of pricier webcams, but at this end of the market, such things really don't matter.
What actually matters is how the Logitech sits securely on top of your monitor, and we found it can even rest neatly on top of a monitor light bar. The lens cover moves with a nicely damped action, and so too do the hinges of the monitor mount. The Brio 100 cannot be separated from this mount, so there's no way to fix it to a tripod stand.
That said, the mount doubles as an adjustable stand of its own, so the webcam can be placed on your desk or a shelf (or any flat surface, really) if you prefer. The USB cable is fairly long, at 1.5 metres, but we'd prefer it to be detachable so a different one could be used if needed.
Performance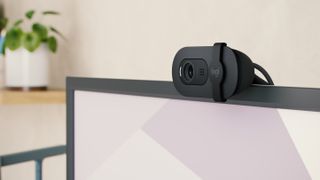 We were immediately impressed with the Brio 100's image quality. Sometimes budget webcams really struggle with their tiny imaging sensors, but right away the $40 Logitech looked great. It handles tricky exposure really well (I sit at a desk with a window behind me) and there's very little grainy in moderate lighting conditions.
The free Logi Options+ app lets you fine-tune a few parameters, including white balance, brightness, contrast, saturation and sharpness. For those wanting even more granular control, the app says the option to disable automatic exposure and manually adjust the shutter speed, IOS, and low light compensation is coming soon.
We found the best results came from a small increase to the brightness, contrast and saturation sliders, and a larger increase to the sharpness setting. We also played around with the new webcam options in Apple's macOS Sonoma, and found the Brio 100's footage looked great with the Portrait and Studio Light features enabled. Honestly, with Full HD results like this, the Brio 100 is all the webcam most people will ever need.
Audio performance isn't quite as impressive. While mostly fine for hearing spoken word, the microphone records a little on the quiet side and it seemed to pick up more echo than higher-quality microphones we've used in the same setting. But, again, for the price it's all perfectly acceptable.
Verdict
The Logitech Brio 100 is an impressive little webcam. The Full HD sensor does a great job of producing sharp footage with good exposure control and a decent amount of detail. Logitech's software lets you make useful changes to improve things even further, and while not fantastic, the microphone does an acceptable job.
We like the compact design of the Brio 100 and how it can attach to almost any monitor, or sit on a flat surface at a variety of angles. We would have preferred the USB-A cable to be removable – or for Logitech to use USB-C instead – and buyers should be aware that sliding the lens cover does not turn off the microphone or the camera but instead merely covers the lens, making your video black.
Overall, the Brio 100 does a great job of packing high-quality, Full HD video and acceptable audio into a small and affordable package. It's all the webcam most of us will ever need.
Other Logitech webcam reviews