The best 4K webcam offers the ultimate in picture quality for Zoom calls, streaming and more. Built-in webcams normally offer much lower resolution, and even some of the best webcams only stretch to HD quality. But with a 4K webcam, you'll get a much sharper and clearer picture even than that.
Before you get too excited, though, a word of caution. Most video call and videoconferencing services don't actually support 4K; well not yet, at least. However, the best 4K webcams also come with a host of other features, like HDR video or omnidirectional built-in microphones, that still make a dramatic different to the quality of your video.
And then there's streaming. If you're streaming over the likes of Twitch or YouTube, having one of the best 4K webcams will stand you in good stead. Many stream audiences can and do watch in 4K when the option is given to them – so why not provide it? With streaming being such a competitive environment right now, it will certainly help you stand out from rivals.
To help you out, we've gathered together the best 4K webcams below, for a range of purposes and a range of budgets. We'll explain what's unique about each one, and give you the facts and figures you need to make your choice.
The best 4K webcams in 2022
We'll keep it simple for you: the Logitech Brio Stream is the best 4K webcam on the market today for most people. Because while the 4K resolution is the show-stealer, the reason it gets our top spot is its superb HDR footage. Balancing out the shadows and the highlights, this camera can handle all sorts of tricky lighting situations. So if your video calls are continually disturbed by harsh light from a nearby window, this webcam will go a long way towards rectifying the situation.
You've also got options for three field-of-view settings: 90, 78 and 65 degrees, which allows you to experiment with different perspectives to find the one you prefer. Add to that dual omnidirectional microphones for improving audio quality, and you have a highly capable, do-it-all 4K webcam.
This isn't the cheapest on our list. And some other Logitech webcams do have more frame-rate options (this one doesn't have the 90fps options at 1080p, which you get on the standard Logitech Brio). But as long as those aren't deal-breakers, you've got a seriously capable 4K webcam that will suit practically any user. For more details, see our full Logitech Brio Stream review (opens in new tab).
• See also Best Logitech webcams
(opens in new tab)
Looking for the ultimate in image quality? Then the Dell UltraSharp HDR 4K Webcam is tough to beat. Equipped with a large 4K Sony Starvis CMOS sensor, it's capable of drinking in more light than an average webcam, making for a better-quality picture. And, like our number one choice above, it has HDR capabilities, making for a balanced image even in challenging light conditions, aided by internal software.
There's also AI-powered auto framing, a clever feature that automatically keeps you at the centre of the screen. Once again you have the choice between 65, 78 or 90-degree field of view. And the Dell UltraSharp HDR 4K Webcam also lets you delve into settings to fiddle with brightness, sharpness, contrast, saturation and more. This is also where you can control digital zoom or make adjustments to the autofocus.
The reason it's not our number one choice is that there's no built-in microphone. Dell clear thinks anyone who spends this kind of money on a 4K webcam will probably want to sort out an external one; if that's you, then check out our guide to the best microphone for vlogging. Meanwhile, to learn more about this webcam, see our full Dell UltraSharp (opens in new tab) review.
(opens in new tab)
No, you haven't accidentally clicked on another article. The Canon PowerShot G7 Mark III isn't a traditional webcam but a compact camera.
Yet it's hugely popular among YouTubers such as Joe Sugg, Alfie Deyes and Jo Vlogs for its 4K resolution, all-in-one shooting capabilities and smart streaming optimisation. And all that makes a perfect choice for anyone wishing to stream over YouTube, Twitch or similar platforms.
It comes with a 24-100mm equivalent lens, giving you a broad zoom range to work with. It has a 3.5mm mic port, so you can attach an inexpensive hotshoe mic and dramatically improve the quality of your audio. Plus Canon has released a firmware update that add automatic movie mode, which is ideal for vlogging as it gives you optimised autofocus and auto exposure.
Able to connect wirelessly, the PowerShot G7 X Mark III functions extremely well as a 4K webcam, and has plenty of other applications too. Note that there's no viewfinder, but if you're using it as a webcam, you're not going to need one. We find that the camera's face detection AF usually gets your face sharp, although you may need to tap on your face on the screen occasionally to get it going. For more details, see our Canon PowerShot G7 X Mark III review.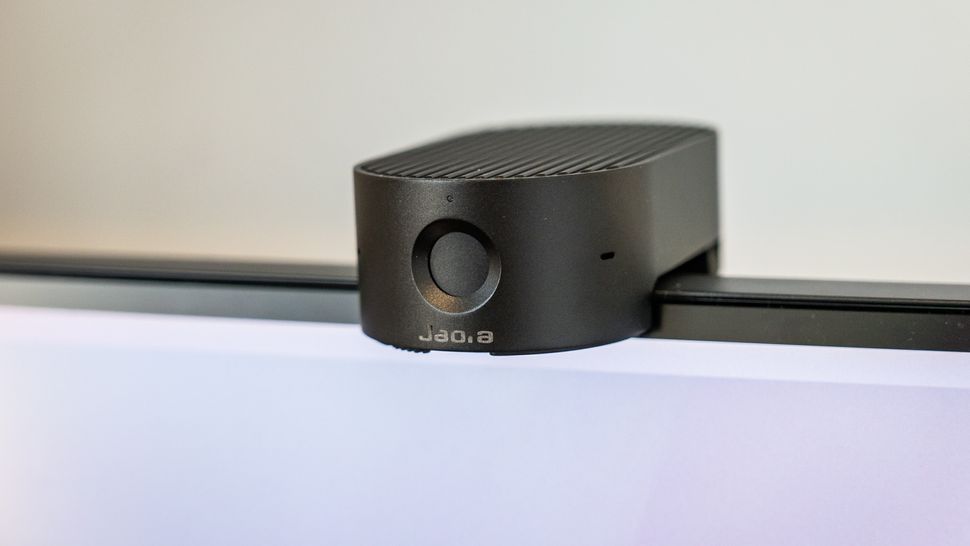 (opens in new tab)
Want a full view of a room, such as when you're streaming a physical meeting around a conference table? Then the Jabra Panacast 20 is our recommendation.
Its AI-powered zooming and panning means it automatically include everyone on the call, without the physical camera needing to move and distracting you. Plus, while most videoconferencing services don't yet support 4K, the high resolution on offer here means the camera can zoom in on someone (lossless up to 6x) and still produce a Full HD image.
The camera also uses AI to cleverly adjusts the lighting in dim and dark rooms. A triple-mic array means you get impressive sound quality, too. And overall this 4K webcam delivers some of the best video call quality we've ever seen.
While this is an expensive purchase, the build quality is excellent, and you get USB-C connectivity too. For more details, see our Jabra Panacast 20 webcam review.
(opens in new tab)
If you want to stream a room with more than eight people – a classroom for example – let us point you towards the Logitech Rally. Its proprietary RightSight technology automatically moves and adjusts the lens to frame meeting participants in rooms of all shapes and sizes.
In terms of image quality, it's at the top end of Logitech webcams, and optimises light balance to emphasise faces and render natural-looking skin tones, even in dim or backlit conditions. This webcam can be positioned on a table, mounted on a tripod, or secured to a wall with the included hardware.
Here's another good choice for streaming large groups and rooms. This webcam may be bulkier than the average, but it offers the kind of features and capabilities normally only found in more extensive web conferencing setups.
Yes, at 17 inches wide, it's going to take up a lot of space. But in return, you get a high-performance image sensor offering a consistent, low noise image across the entire field of view. Audio quality, too, is first-rate thanks to a sophisticated multi-microphone array clarity and rich sound from the powerful integrated speaker, which features acoustic suspension with a passive radiator. There's also automatic camera framing to ensure you're never out of shot.
At this high price, it's surely overkill for personal use, but for pro-level Microsoft Teams and Zoom calls, you'll struggle to find better video or audio quality.
(opens in new tab)
It might sport the looks of a classic camera, but the Mokose 4K USB Camera is very much geared for use with a computer or laptop. Its main target audience is broadcasters, and with so much live TV coming from people's kitchens and bedrooms during the Pandemic, we're guessing they've sold quite a few lately.
While it offers auto white balance, you'll generally need to do a lot of manual adjustments to get the perfect picture, so it's a good choice for someone with experience of 'proper' cameras, and who likes a fine degree of control. It comes with a 3m-long USB cable, and you can also connect up multiple webcams to the same computer. Note, though, it doesn't include a mic.
(opens in new tab)
Is crystal-clear audio is the most important thing for you? Then check out the Depstech 4K webcam, which comes with noise cancelling dual mics, that will pick up your voice and filter out background noise automatically. Its picture quality is pretty darned good, too, thanks to an 8MP Sony CMOS sensor and intelligent autofocus, making this webcam a great choice for streaming. It comes with a tripod and a flexible clip supporting 360 degrees horizontal adjustment. Alternatively if you'd prefer a more affordable model, and don't mind a small drop in video resolution, see our Depstech 2K QHD webcam review.
Guides to other home working and small office products:
The best headsets (opens in new tab)
Best wireless earbuds (opens in new tab)
The best ring lights (opens in new tab)
Best conference room webcams (opens in new tab)
The best cameras for streaming (opens in new tab)
The best all-in-one printer for home working (opens in new tab)
The best monitor for photo editing (opens in new tab)
The best photo-editing laptop (opens in new tab)
The best video-editing laptop (opens in new tab)
The best doorbell camera (opens in new tab)