The best 4K webcams are no longer out of reach in regards to price for normal people. And that means that you can benefit from Ultra HD video quality, whether you're streaming, video conferencing, or just on a video call with friends.
But what's the best pick for your money? Below, we reveal the best webcams that offer 4K quality, highlighting their key features and capabilities, and explaining which one's likely to suit you best.
Not looking to do a bunch of research? That's okay, we recommend the Logitech Brio Stream as the best of our top picks for its superb image quality and its ability to handle all sorts of tricky light situations. We loved how easy it was to install, the video quality, and all the extra features.
Whilst we haven't been able to review every product on this page, but we have fully tested all our top recommendations. Other products we have included make the cut because they are from a family of webcams we are familiar with, such as the budget Depstech 4K webcam, or offer unique features that may be important to some people (such as the audio on the Poly Studio P15 Personal Video Bar).
Regardless of what you're looking for, one of our top picks is sure to meet your video, streaming, or conferencing needs. Be aware, though, you are going to be limited by the service you're using. Many video conferencing services don't actually support 4K yet, including Zoom. However, that's only really a matter of time, as services like Lifesize already support 4K.
Just as importantly, 4K webcams also come with other pro features, such as HDR or omnidirectional mics, which will make a big difference in the here and now.
If you're a streamer, meanwhile, having one of the best 4K webcams is a must, as 4K is already supported by both Twitch and YouTube. And with streaming being so competitive right now, this will certainly help you stand out from rivals.
4K webcams - our top picks
The best 4K webcams in 2023
Why you can trust Digital Camera World Our expert reviewers spend hours testing and comparing products and services so you can choose the best for you. Find out how we test.
Best 4K webcam overall
We'll keep it simple for you: the Logitech Brio Stream is the best 4K webcam on the market today for most people. Because while the 4K resolution is the show-stealer, the reason it gets our top spot is its superb HDR footage. By balancing out the shadows and the highlights, this camera can handle all sorts of tricky lighting situations. So if your video calls are continually disturbed by the harsh light from a nearby window, this webcam will go a long way toward rectifying the situation.
You've also got options for three field-of-view settings - 90, 78, or 65 degrees - which allows you to experiment with your framing, so you can show more or less of the room behind you. Add to that dual omnidirectional microphones for improving audio quality, and you have a highly capable, do-it-all 4K webcam.
This isn't the cheapest on our list. And some other Logitech webcams do have more frame-rate options (this one doesn't have the 90fps options at 1080p, which you get on the standard Logitech Brio). But as long as those aren't deal-breakers, you've got a seriously capable 4K webcam that will suit practically any user.
For more details, see our full Logitech Brio Stream review
Best autotracking 4K webcam
Obsbot has established itself as the experts in smart tracking - webcams that follow the person speaking round the room. The Tiny 2 is a third-generation product, and the best yet, with a larger 1/1.5-inch dual-ISO imaging sensor capable of snappy focusing as well as all the AI tricks well-established. The key advantage over a standard webcam is the motorized pan-tilt head, and a digital zoom, that can crop in to ensure your face fills the frame - even if you move.
Thanks to the larger sensor, if you're exclusively using horizontal format video, it outperforms the Insta360 Link which previously sat in this spot on the list. It also boasts features like hand tracking and Obsbot can also sell a dedicated remote control.
The neatly organized but extensive app offers a lot of functionality, including beauty modes and blurred backgrounds if you're so inclined, though it's possible to use the dynamic gesture controls to handle most operations. Check our full Obsbot Tiny 2 review.
Best 4K webcam for quality
Looking for the ultimate in image quality? Then the Dell UltraSharp HDR 4K Webcam is tough to beat. Equipped with a large 4K Sony Starvis CMOS sensor, it's capable of drinking in more light than an average webcam, making for a better-quality picture. And, like our number one choice above, it has HDR capabilities, making for a balanced image even in challenging light conditions, aided by internal software.
There's also AI-powered auto framing, a clever feature that automatically keeps you at the centre of the screen. Once again you have the choice between a 65, 78, or 90-degree field of view. And the Dell UltraSharp HDR 4K Webcam also lets you delve into settings to fiddle with brightness, sharpness, contrast, saturation, and more. This is also where you can control digital zoom or make adjustments to the autofocus.
The reason it's not our number-one choice is that there's no built-in microphone. Dell clearly thinks anyone who spends this kind of money on a 4K webcam will probably want to sort out an external one; if that's you, then check out our guide to the best microphone for vlogging.
For more details, see our full Dell UltraSharp review.
Best for vertical video
The Insta360 Link webcam is expensive, and it enjoyed a few months as the Rolls Royce option here. Its gimbal design and AI tracking tech mean the lens rotates to follow you wherever you go, with automatic zooming and framing, but that's something the Obsbot Tiny 2 can match – and it has a bigger image sensor too.
The 1/2-inch image sensor isn't bad, though, and where this does stay ahead is for social media streamers wanting to work in the vertical format, since the camera itself can be rotated. You can control the camera with three simple hand gestures: one to enable AI tracking, one to zoom in/out, and one to enable Whiteboard Mode.
You get two noise-canceling mics. And the desktop software allows you to manually adjust brightness, exposure, gimbal position, and more. For many people, these pro-level features will merely be overkill, but if they prove useful to you, the Insta360 Link webcam may well be worth its premium price.
For more details, see our full Insta360 Link review
Best budget 4K webcam
The Depstech 4K webcam, which comes with noise-canceling dual mics, will pick up your voice and filter out background noise automatically. Its picture quality is pretty darned good, too, thanks to an 8MP Sony CMOS sensor and intelligent autofocus, making this webcam a great choice for streaming.
It comes with a tripod and a flexible clip supporting 360 degrees of horizontal adjustment. Alternatively, if you'd prefer a cheaper model, and don't mind a small drop in video resolution,
For more details, see our full review of the similar Depstech 2K QHD webcam
Best 4K webcam for meeting rooms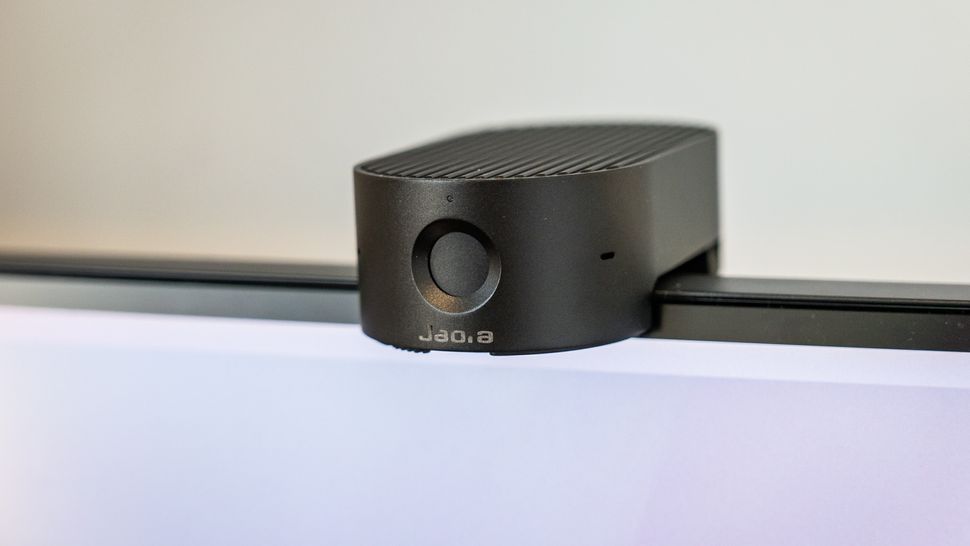 Want a full view of a room, such as when you're streaming a physical meeting around a conference table? Then the Jabra Panacast 20 is our recommendation.
Its AI-powered zooming and panning means it automatically includes everyone on the call, without the physical camera needing to move and distracting you. Plus, while most videoconferencing services don't yet support 4K, the high resolution on offer here means the camera can zoom in on someone (lossless up to 6x) and still produce a Full HD image.
The camera also uses AI to cleverly adjust the lighting in dim and dark rooms. A triple-mic array means you get impressive sound quality, too. And overall this 4K webcam delivers some of the best video call quality we've ever seen.
While this is an expensive purchase, the build quality is excellent, and you get USB-C connectivity too.
For more details, see our Jabra Panacast 20 webcam review.
Other 4K webcam options
The world has more than its share of dubious quality webcams built into computers, some very small, so there will always be a need for alternatives. The Obsbot Meet 4K is a really rational and balanced choice. Unlike the Obsbot Tiny 2, it does not have a motorized pan-tilt head, so not so well suited to those who prowl around while talking. Even so, it offers a good quality AI-controlled camera and the option of 4K.
Content creators will struggle to find a better device for streaming, especially at this price. The settings afford the ability to work with different kinds of lighting, including pretty gloomy rooms. Our test was created using the 'Record' function of OBS – a popular streaming platform – and the fact Obsbot's control software cause no issues is not to be sniffed at.
The microphone was a little quiet, but most apps allow this to be adjusted or streamers may well be using another anyway. Our only real issue was the slight sluggishness of some settings adjustments, but these are rarely an issue in day-to-day use. It's also a shame it doesn't include a nice case like its sibling, but it is a good bit cheaper. That said with no exposed moving parts it can travel safely, and we'd definitely want it in our kit bag.
For more details, see our full Obsbot Meet 4K webcam review
The first thing you notice about the Poly Studio P15 is that it's huge, measuring 425 x 65 x 78mm. But what you get in return are three beamforming mics that provide great audio for the people listening to you, as well as large speakers that provide great sound performance at your end too.
The picture is great, too, with a high-performance image sensor offering a consistent, low noise image across the entire field of view. We also like the inclusion of USB ports, which you can use to charge other devices. Other benefits include a privacy shutter, and a 90 degree field of view.
A good choice for streaming large groups and rooms, this webcam may be bulkier than the average, but it offers the kind of features and capabilities normally only found in more extensive web conferencing setups. This includes automatic camera framing to ensure you're never out of shot.
Because of its size and weight, this is not the best 4K webcam for anyone who's on the move a lot, or who has a small laptop. And for most people, it's going to be overkill. But if you're working with big teams in an office environment, and sound quality is important to you, it has a lot to offer.
If you want to stream a room with more than eight people – a classroom for example – let us point you toward the Logitech Rally. This is a PTZ camera with proprietary RightSight technology automatically moves and adjusts the lens to frame meeting participants in rooms of all shapes and sizes.
In terms of image quality, it's at the top end of Logitech webcams and optimizes light balance to emphasize faces and render natural-looking skin tones, even in dim or backlit conditions. This webcam can be positioned on a table, mounted on a tripod, or secured to a wall with the included hardware.
FAQs
Is it worth getting a 4K webcam?
If you have a good internet connection, it is possible to conduct 4K video calls, but 4K cameras have two other uses. A higher resolution opens up the possibility of cropping into the subject digitally without a loss of detail – possibly automatically using artificial intelligence or AI – so your face fills the screen. The other use is for live streaming/broadcasting - where platforms such as YouTube already support 4K.
How much better is 4K than 720P?
A typical webcam on a webcam captures video at 720P - which produces images that measure 1280x720 pixels (so less than one megapixel). A 4K webcam captures video at 3840 x 2160 pixels (or just over 8 megapixels). So from a resolution point of view, a 4K webcam is over 8x better.
Other video resolutions offered by webcams are shown in the following table:
Swipe to scroll horizontally
| Name | Pixel dimensions | Other names |
| --- | --- | --- |
| 4K | 3,840 x 2,160 | Ultra HD, UHD |
| 2K | 2,560 x 1,440 | - |
| 1080P | 1,920 x 1,080 | Full HD |
| 720P | 1,080 x 720 | Standard HD |
How do you test 4K webcams?
We test cameras in the most appropriate context – if a product skews toward conferencing, we'll arrange a call over a good connection. If it skews toward streaming, will spend more time on that. One thing is for sure though, we'll make sure we look closely at the picture options in both natural and artificial light, to get a sense of the quality on offer. We will also check the sound quality to see if you'll want to use the microphone!
Many of our reviews include sample recordings, which we will either make using the software supplied or – if the camera is sold with streaming in mind – using a tool like OBS.
Other useful guides:
The best headsets
Best wireless earbuds
The best ring lights
Best conference room webcams
Best Logitech webcam
The best budget webcam
The best laptop webcam