When buying one of the best Fujifilm cameras, you're picking from three categories. There are the X-mount mirrorless cameras, with a mixture of models for beginners, enthusiasts and pros. Then there are the premium Fujifilm compact cameras with fixed lenses, offering a sublime shooting experience in a slim package. Lastly, there are the GFX medium format cameras that are designed to make large-sensor shooting into something portable and affordable.
The retro-styled mirrorless X series has carved out a dedicated fanbase, with cameras boasting a winning combination of tactile, dial-based controls and sublime image quality. One of the great strengths of Fujifilm's cameras is how good images tend to look straight out of camera – while they do shoot RAW, the JPEGs from Fujifilm X cameras look fantastic, with punchy colours and tremendous details.
This is all augmented by another feature that's unique to Fujifilm cameras – the film simulation modes. Accessible via the menus, these digital filters are designed to simulate the look of classic film stocks, like Provia, Acros and Velvia.
Fujifilm specialises in cameras with one of two sensor sizes – APS-C and medium format. The mirrorless and fixed-lens X cameras all have APS-C sensors, providing a generous upgrade over a smartphone or small compact while allowing the bodies to stay smaller and more affordable than pro full-frame cameras. The GFX cameras, meanwhile, have medium-format sensors, which are significantly larger than full-frame. Providing incredible dynamic range and detail, these are perfect for photographers demanding the utmost in image quality.
No matter whether you're out for a camera suitable for total beginners, a pro-level model with all the latest features, or a great vlogging camera bursting with video tech, there's a Fujifilm camera that will fit the bill. We've kept this list up to the date with the latest and greatest of the absolute best Fujifilm cameras you can buy right now.
The best Fujifilm camera in 2022
X-mount mirrorless
Unlike the higher-level X series cameras, the Fujifilm X-S10 doesn't include as many external exposure control dials but considering its weight and build quality, we can let that slide. The Fujifilm X-S10 is the ultimate all-rounder with IBIS (in-body stabilization), a fully articulated screen and excellent handling. Some Fujifilm users may be disappointed to find out the shutter speed button has been replaced with a mode dial but this camera has so many other appealing qualities it shouldn't matter too much. The Fujifilm X-S10 might just be the best APS-C camera on the market right now in terms of performance, build quality and price point which is why we have it at the number one spot.
Read more: Fujifilm X-S10 review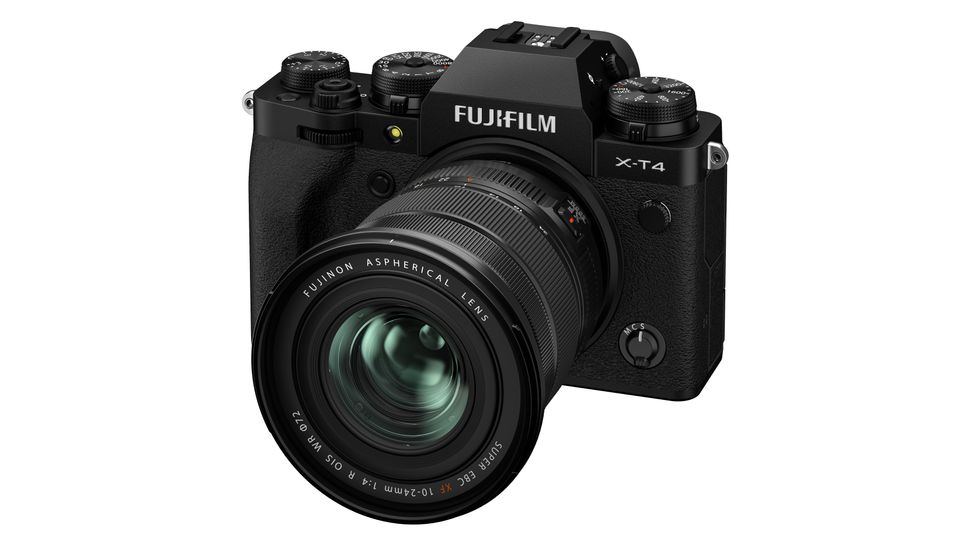 The Fujifilm X-T4 is a powerful APS-C sensor camera that suits the needs of both videographers and photographers alike. Expanding on the already impressive Fujifilm X-T3, the X-T4 also features 6.5 stops of IBIS, an improved shutter that lasts longer and can achieve higher burst speeds plus an updated battery so you can shoot for longer. Like the X-T3 which was released in 2018, it has the same 26.1MP X-Trans sensor, super-fast autofocus and the capacity to shoot 4K video. It does come in at a higher price point than the X-T3, but with all the improvements we think it's definitely worth it if your budget will stretch.
Read more: Fujifilm X-T4 review
The Fujifilm X-T30 has been one of the firm's most popular cameras for quite some time, packing bits and pieces of pro-level tech into a body that is sized and priced for a more casual user. This X-T30 II is not a huge upgrade on the original X-T30, instead it's a minor refresh, with a larger screen and inherited autofocus technology from the flagship X-T4. It's clearly designed to mollify those who have been champing at the bit for an X-T40, and it should just about manage that. Capable of creating gorgeous-looking images, especially with the various film simulation modes, the X-T30 II is a hugely pleasurable camera to use. It's not much of an upgrade on the original X-T30, which is still widely available, so if it's a little beyond your budget, that camera might be the better option.
The Fujifilm X-T200 is the perfect entry-level camera for people that want something that produces high-quality images but won't break the bank. The X-T200 features several improvements on the original Fujifilm X-T100 including 4K video at 30p rather than 15p and faster autofocus. It has the same 24.4MP APS-S CMOS sensors as the X-T100 which is more than capable of taking high-resolution images for print. With a slightly bigger, fully articulated screen and a quicker 8fps in burst mode, the X-T200 certainly has a lot of appeal. You can purchase the camera either as body-only or as a kit with the XC15-24mm F3.5-5.6 OIS PZ kit lens. Both cameras use Fujifilm's W126S battery but it's worth noting the X-T200 has a shorter battery life than the X-T100 so a spare will be handy. This would be a perfect choice for anyone who wants to buy their first Fujifilm camera and start their photographic journey.
Read more: Fujifilm X-T200 review
At first glance, the Fujifilm X-E4 might seem very similar to the X-T4 but in reality, it's quite a different camera. While the X-T4 is aimed at professionals looking for a decent all-rounder, the X-E4 is more aimed at enthusiasts or travel photographers who want something compact and portable but with the handling of a traditional camera. The X-E4 features the same sensor and focussing system as the X-T4 but it doesn't include IBIS. Unlike the X-T4, the X-E4 is a rangefinder-style camera which, a bit like Marmite, some people love and some people hate. The X-E4 comes in a kit with the Fujifilm XF 27mm f/2.8 lens which not only looks and feels well made, it also delivers high-end performance. The X-E4 comes in either black or silver and it works best with Fujifilm's prime lenses.
Read more: Fujifilm X-E4 review.
Styled on a classic rangefinder camera but featuring the latest digital technology, The Fujifilm X-Pro 3 is aimed at people who want a retro camera with modern features. The X-Pro 3 includes the latest 26.1MP X-Trans sensor, improved autofocus and a unique screen design. Instead of having a screen that always shows an image, it has a screen that folds flat against the body and using a small digital screen imitates film packet slots on the back of film cameras. The hybrid electrical/optical viewfinder makes it stand out from other Fujifilm cameras as it offers a fully electronic mode, an optical mode with electronic overlays and a digital rangefinder mode. The Fujifilm X-Pro 3 comes in black, Dura black or Dura silver. The Dura models come with a surface-hardening technology called Duratect which is applied to achieve strong scratch resistance so it will look brand new for longer. Released in 2019, the Fujifilm X-Pro3 has retained its high price point, otherwise, it might appear higher in the list. This is certainly a camera that you would buy if you're looking for something a little more specialist.
Read more: Fujifilm X-Pro3 review
Compact cameras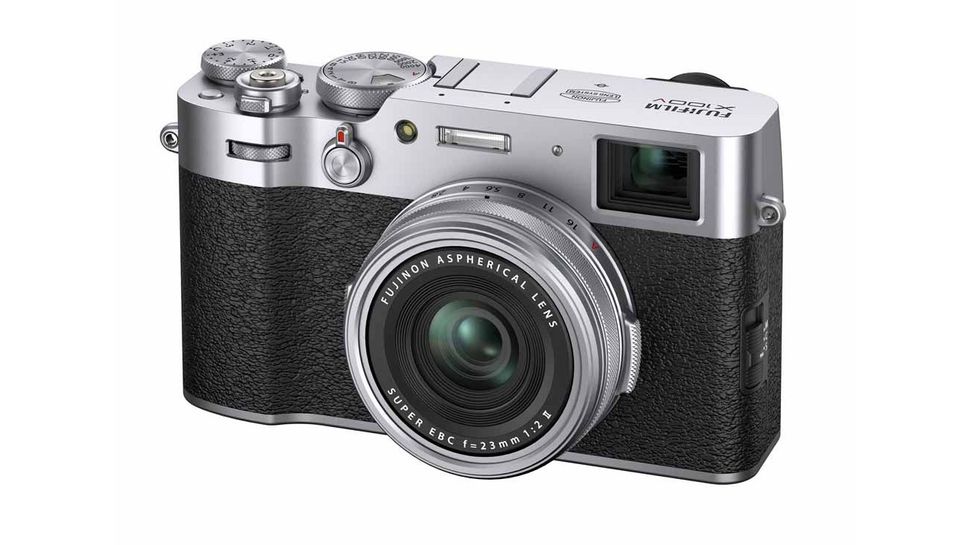 Fujifilm's original X100 was the camera that sparked people's obsession with Fujifilm's retro-styled modern cameras. Five models later, the Fujifilm X100V is still a very popular choice for those who want a premium camera without the faff of changing lenses. With a street-friendly fixed lens equivalent to 35mm, it makes it the perfect camera for street photographers or portrait photographers alike. It possesses the same exceptional build quality of all Fujifilm cameras in a small, pocketable version that makes it ever so portable. It has the same 26.1MP X-Trans sensor as the X-T4 and the same hybrid viewfinder as in the X-Pro 3. The X100V might just be the most advanced, APS-C fixed lens camera on the market and certainly aimed at enthusiasts but its slick design and up-to-date features don't come cheap.
Read more: Fujifilm X100V review
The Fujifilm XF10 might just be Fujifilm's most underrated camera. While it doesn't come with a viewfinder, it would suit anyone who prefers to shoot in live view. It features a 24MP APS-C sensor and a versatile 28mm equivalent f/2.8 lens which covers a wide range of subjects. It's small enough to slip into a jacket or even trouser pocket which adds to the desirability of this small but mighty camera. Choose from either champagne gold with a brown leather group or black with a color-coordinated grip. While it doesn't feature the exposure control dials you might expect from Fujifilm cameras, it does include a mode dial and a quick menu button. For the price, it's a fabulous camera that for whatever reason seems to have slipped under people's radar.
Medium format
Fujifilm revolutionised the world of medium format with its mirrorless GFX series of comparatively small and relatively affordable large-sensor cameras. The GFX 50S II is perhaps the best distillation of the formula yet, cramming a gorgeous 51.4MP sensor into a body that's actually portable. What's new with this model though is the 6.5-stop image stabilisation system, improved over the other GFX cameras and further expanding the camera's real-world usability. This also enables the inclusion of a Pixel Shift Multi-Shot mode, which combines16 RAW images to create huge 200MP files. The GFX 50S II has a burst rate of just 3fps, and can only shoot Full HD video at 30p, but Fujifilm has correctly divined that nobody is buying this camera for its action-shooting or video capabilities. It does what it's designed to do and does it exceptionally well.
Read more: Fujifilm GFX 50S II review
While the GFX 50R is soon to be discontinued following the announcement of the new GFX 50S II, above, it's still a cracking camera that deserves to be on the list. The GFX 50R is modeled on a rangefinder-style camera and features exposure control dials and customizable buttons. The large, medium format sensor delivers insane image quality that continues to impress long after you've first used it. The GFX 50R is so appealing because it's one of the cheapest medium format cameras on the market and is three-quarters of the price of the GFX 50S. It's still bigger and bulkier than the X-series models but for anyone who's working primarily in a studio and needs to print large scale, it's more affordable than other brand equivalents.
Read more: Fujifilm GFX 50R review
Fujifilm is doing something for medium format photography that no other brand has managed. It's made the luxury of having a 100MP sensor more affordable while maintaining incredible image quality, fast autofocus and a high-end build. The GFX100S has a more compact body than the original GFX 100 but doesn't compromise on sensor resolution or in-body stabilization. Somehow, Fujifilm has managed to make a camera that delivers everything the original GFX100 could deliver, only in a smaller body and at not much more than half the price. It's the kind of camera wizardry we live for and there's no surprise it made it into our top ten.
Read more: Fujifilm GFX 100S review
More buying guides