The GoPro Hero 10 Black launched in 2021 and enjoyed a five-star reception – and is still topping the best action cameras of 2022 list, and bettering the Hero 9 Black with its updated processor, smoother performance, and improved connectivity. Now, both the Hero 9 Black and Hero 10 Black can enjoy a battery boost and easier access to key controls with GoPro's nifty battery grip, the GoPro Volta.
For anyone looking to buy a new GoPro, the Creator Edition has also been announced, marrying a Hero 10 Black with a Volta, a Light Mod and a Media Mod. That means in addition to a battery grip tripod, the Bundle also packs an incredibly bright LED light and upgraded audio and connectivity – clearly targeting vloggers and YouTubers.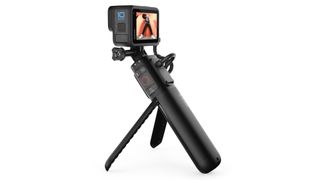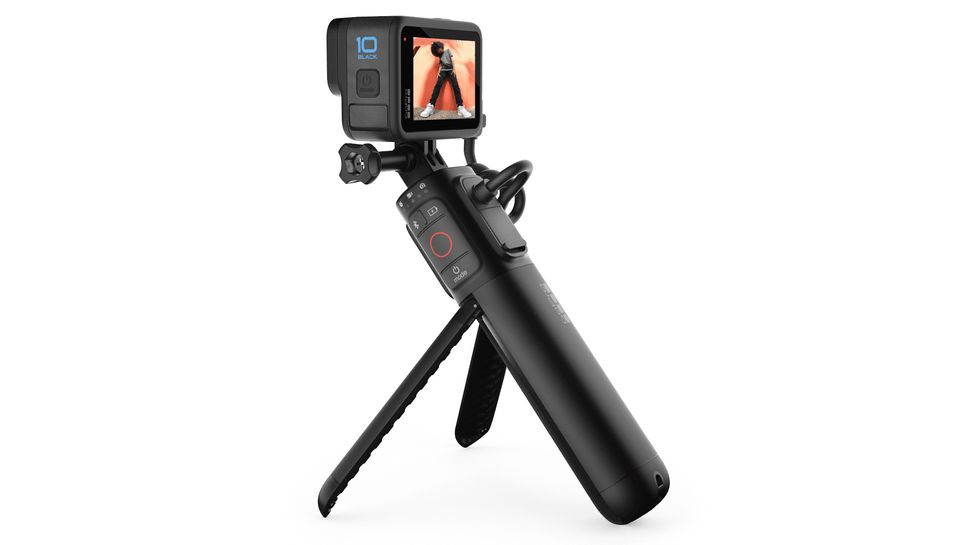 The Creator Edition bundle costs around $580 / £560 with an existing GoPro Subscription, or $530 / £510 with a new GoPro subscription. No membership? You'll be paying an eye-watering $785 / £760 – roughly the same price as buying all the elements together.
If you want to pick up the Volta on its own, expect to pay $90 / £84 with a GoPro subscription, or $130 / £120 without one. Given the fact that the Volta doesn't unlock new functionality, is it worth such a considerable chunk of change, or would you be better off with an old-school, low-cost action cam grip?
Creator Edition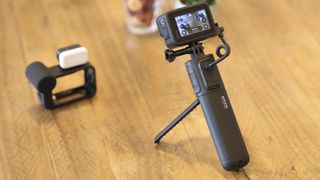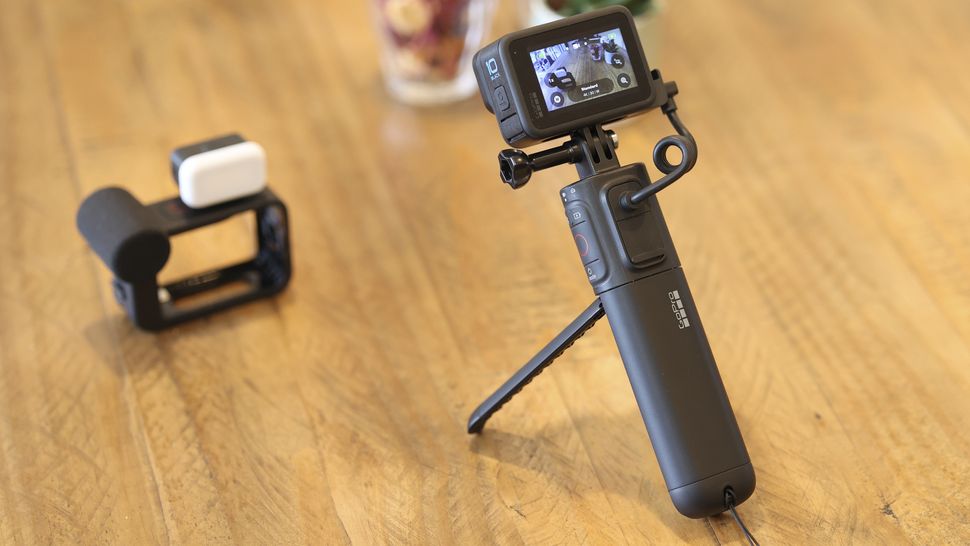 We tested out the full Creator Edition, featuring the Volta, mods, and Hero 10 Black camera – this is clearly how GoPro envisages the Volta being used in action.
Starting with the Media Mod, this casing which connects to the camera's USB-C port adds a mini-boom mic and three ports to the Hero 10 Black – one USB-C port, a micro HDMI port, and a microphone jack. It also sports two cold shoe mounts, so works, and wind muffling foam.
Mini and mighty, the GoPro Light Mod shines at up to 200 lumens and packs at least an hour of use at max brightness. Combined with the GoPro Volta, which acts as a tripod and grip with easier access to controls like record and mode switch, GoPro's bundle compensates for action cameras' inherent weaknesses – mediocre sound recording quality and poor low light performance.
Design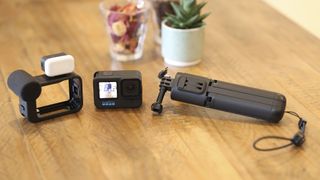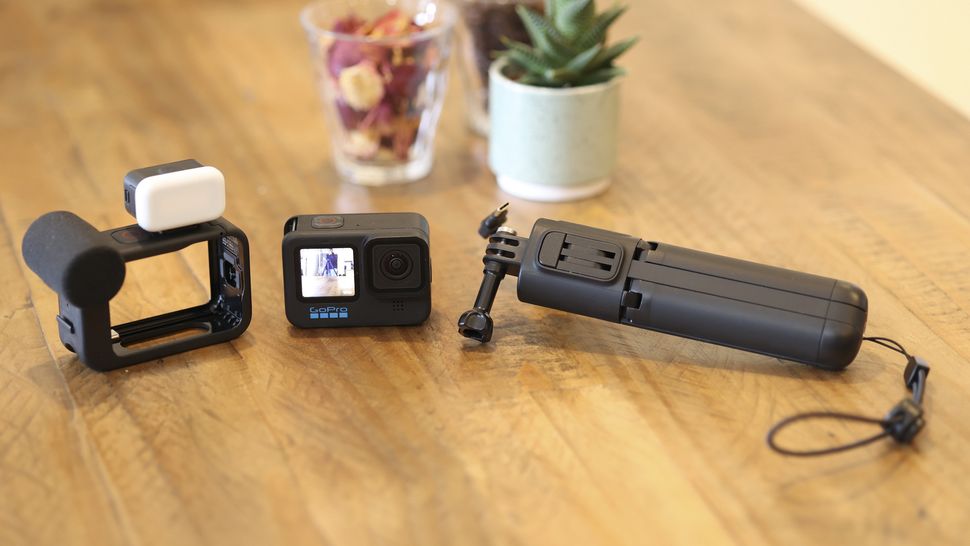 On first impression, the GoPro Volta is pretty simple – a grip with some controls on it. It's weatherproof, but not waterproof, and it also renders your GoPro undunkable if connected via the Volta's cable.
Flip open the Volta's legs and it levels up into a tripod, plug in the USB-C connector and it's a power bank, and switch it on to activate touchscreen-free control over your action camera, and wireless remote functionality. The Volta can even be mounted onto a traditional action cam grip or a tripod making it supremely versatile.
Going into a bit more detail, you can mount any GoPro (or any action camera) onto the Volta, however, it will only charge those with a USB-C port; and only the GoPro Hero 9 and 10 can be controlled by the buttons on the Volta.
The Volta's short USB-C cable has a tight coil that prevents any excess cable from clumsily getting in the way of controls. The grip also comes with a replacement battery door for the Hero 9 and 10 that exposes the USB-C port, so it can charge and be used at the same time. As for charging the Volta, there's a hidden USB-C port that lives under a flap below the coiled cable. It's a shame the cable couldn't be unplugged and replaced with a stopper for full waterproofing.
The fact the camera mount swivels is the Volta's saving grace. The coiled USB-C cable is fiddly to plug in and maneuver around, but a twist here and there means whether you have the Media Mod hooked up or just the GoPro, it's a workable system.
Performance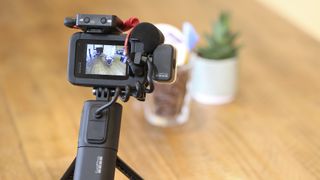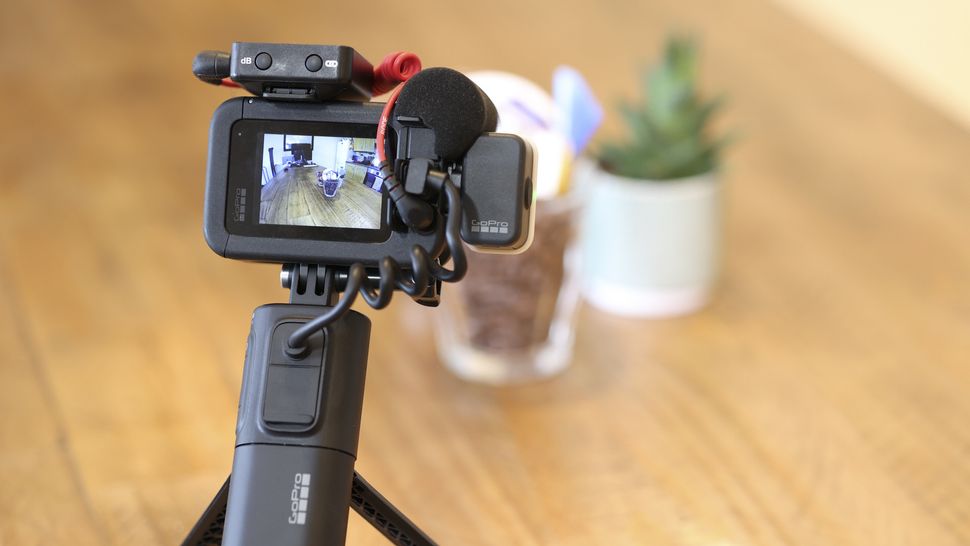 One of the handiest features of the Volta is the fact its remote function is both wired and wireless (up to 98 feet). Of course, if you've ever used a GoPro you'll know that your smartphone or tablet can double up as a wireless remote, but the Volta's much hardier and less fiddly than a pricey glass and metal touchscreen phone.
There are buttons on the Volta's side: Bluetooth pairing, batteries status, record, and mode/power. These don't give you granular control over your camera but do cover the basics. The Volta will also start up your GoPro from cold, and a strip of LED lights indicates the grip's battery status as well as the mode your camera's in – making remote shooting less of a guessing game.
With a 4,600mAh battery, the Volta packs roughly 2.7 times the capacity of a standard Hero 10 battery. That results in an extra 200 percent battery life with the grip versus without the grip, which is significant.
GoPro Volta: verdict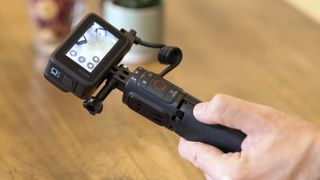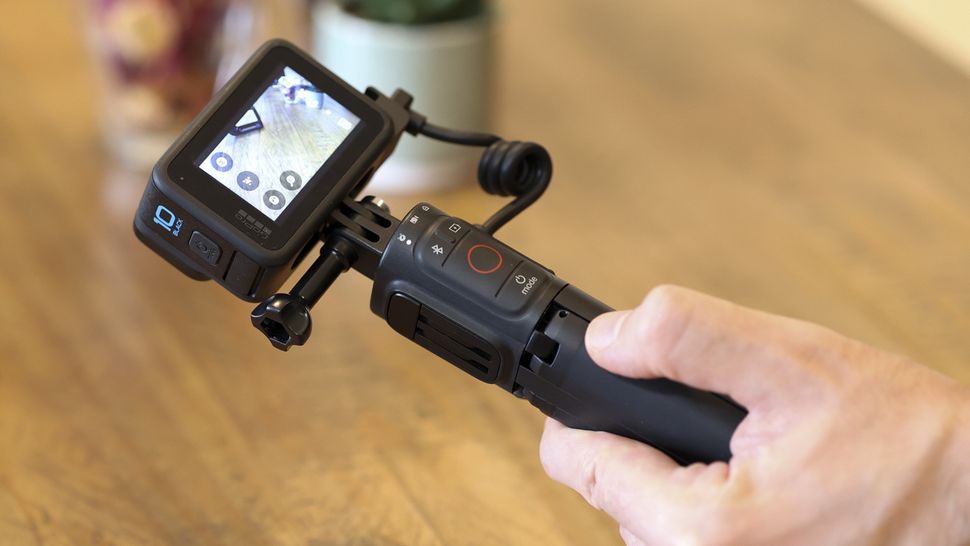 If you have a GoPro, use a grip, always carry extra batteries, and like using your smartphone to remotely control your camera, the Volta could be the streamliner you need to simplify your action cam kit bag. Standalone, it seems expensive, but it's fully featured and, despite a few firmware upgrade glitches, works well when out and about – even if we did find the cable fiddly and would have loved it to be waterproof.
Anyone looking for a new action cam setup, the Creator Edition is also a logical option. A bundle of bits, it matches GoPro's super-steady Hero 10 Black with boosted sound recording via the Media Mod and a powerful LED Light Mod. Matched with the Volta's tripod/grip/remote shutter/battery multi-function, the action camera is fast elevated to an all-around miniature video maker's rig.
See also
Best action cameras