Our search for the best camera bag continues with the Gitzo Adventury. As the suitably outdoorsy name suggests, if you live in walking boots and eat Kendal Mint Cake like it's going out of fashion, this is probably the bag for you.
The Adventury stars on our best camera backpack in 2020 buyer's guide, and it's easy to see why. This premium rucksack is built specifically for use on the trail, and boasts ample storage for both camera gear and hiking essentials. It features a wealth of compartments, and the internal dividers can be removed so that the Adventury doubles as a generic hiking backpack, too.
You can choose between 45L and 30L variants. We tested the latter, which measures 30.9 x 18.9 x 48cm (12.2 x 7.48 x 18.9 inches) and weighs 2.05kg (4.52 lbs). The camera insert alone measures 23 x 16 x 37.9cm (9.06 x 6.3 x 14.96 inches) and is able to hold two DSLR bodies (one with a 200mm lens) on one row of dividers and four smaller lenses, nestled upright, on the other.
Features
Plenty of camera bags feature oodles of space within the main compartment, but offer very little room elsewhere. And yet hikers carry their fair share of equipment: first aid kit, spare clothes, waterproof, snacks, maps and more. Thankfully, the Adventury is teeming with additional pockets and compartments.
A standout feature is the sizable roll top, which you can expand or retract depending on your requirements. This alone has enough space to store most hiking essentials and doesn't encroach on the gear compartment. Generous side pockets flank the bag and a small but deceivingly roomy pouch that bears the Gitzo logo is situated near the top. Its easy access and size makes it the perfect place to store your wallet, phone and a folded map.
You gain access to the main compartment via the padded backrest, which folds out to reveal pockets for a 13-inch laptop (15-inch on the 45L variant) and a tablet. A zipped mesh flap protects the main compartment, too, so you can access your laptop without any fear of expensive gear tumbling out.
The Adventury is also loaded with other features. Straps enable you to attach a tripod at the sides or front of the backpack, and chest and waist straps help support heavy loads. You'll even find a small emergency whistle and yet more straps on the base, with which to attach a bedroll.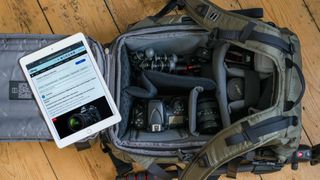 Usability
The Adventury's padded back support is comfortable and the thick shoulder straps feel durable, even when using just one to support a heavy load. Clips and other plastic elements feel tough enough for use in the field and the slider on the chest strap is a nice touch, making it easy to adjust.
Visit the Lake District and rain is almost a certainty. Weatherproof materials are a hiking essential, and the Adventury doesn't disappoint. Not only is it covered in water-repellent fabric, but external zippers are coated to help prevent leaks. The base of the rucksack is coated, too, which is helpful if you're working on damp ground. And if it gets too wet, you can use the included rain cover, which can be stowed away in its own pouch when not in use.
The expandable roll top is a great addition, because the additional storage is there should you need it. If you don't, you can simply roll it up securely and forget about it. Some might consider the mesh flap that covers the main compartment unnecessary, as you essentially have to undo two sets of zippers to reach your camera gear.
However, if you don't want to use it, you can simply tuck it beneath the main compartment insert and it won't bother you again. The insert itself fits snugly within the bag and is further secured via a pair of loops and toggles. If the rucksack wasn't customizable enough already, the multi-link strap can be stowed in its own dedicated pocket.
There's very little not to like about the Gitzo Adventury. Its thick straps and wealth of pockets and compartments might prove too bulky for some, but this is a bag that's built for hardcore landscape or wildlife photographers. If you're looking for a rucksack that's built to withstand life on the trail, look no further.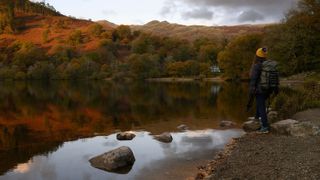 Verdict
The Gitzo Adventury is the ideal companion for landscape and wildlife photographers who need to carry more than just their camera gear. A sizable roll top provides ample room for hiking essentials, which not every outdoorsy rucksack provides. Add to that a sturdy, comfortable build and suitable weatherproofing, and both 30L and 45L variants come highly recommended for rambling photographers.
Read more:
The best camera bags and cases
The best messenger bags for photographers
The best camera backpacks