Tokina has been producing some great prime lenses recently, and also expanding into offering lenses for more mirrorless mounts. But the Japanese optical camera is probably best known for its wide-angle zooms. The new Tokina atx-i 11-20 mm f/2.8 CF is essentially an update of the existing Tokina AT-X 11-20mm f/2.8 Pro DX - offering a wide-angle zoom for crop-factor DSLRs. Again the lens will be available in both Canon EF and Nikon F mounts - and again marks itself from its rivals with its wide, constant f/2.8 aperture.
The lens is one of a number of new lenses on the Tokina roadmap for 2020 to help celebrate the company's 70th birthday; full details of this wide-angle zoom emerged in a report from German website fotomagazin.de.
The lens provides an equivalent focal length range of 16.5-24mm on a Nikon DX DSLR, and a range of 17.6-25.6mm on an APS-C sensor Canon EOS DSLR. The range is useful for architecture and for landscapes, but the previous lens has also proved popular for underwater and extreme sports.
The first lenses in the new atx-i range - the Tokina atx-i 100mm f/2.8 Macro and Tokina atx-i 11-16 mm f/2.8 were launched last year.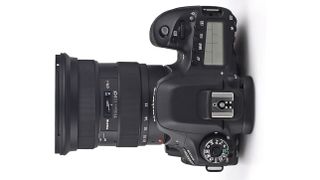 Specifications & pricing
Lens mounts: Canon EF, Nikon F
Autofocus: Yes
Full frame: No
Image stabilizer: No
Maximum aperture: f/2.8
Optical construction: 14 elements in 12 groups
Angle of view: 104° - 72°
Aperture blades: 9
Minimum focus distance: 0.28 m
Filter size: 82 mm
Lens length: 94.3mm (Canon), 91.8mm (Nikon)
Weight: 570 g (Canon), 550 g (Nikon)
Once again the 11-20mm uses an unusual push-pull clutch mechanism that allows you to switch from autofocus to manual focus operation.
Most of the changes to the new design are cosmetic, with a major change to the external appearance of the zoom. But there is, however, a new water-repellent anti-reflective multi-coating, which is said to improve light transmission and minimize reflections – as well as making the surface easier to clean. The Nikon fit also gets a new Silent Drive autofocus motor.
The lens is due to go on sale from July for a reported cost of €600 (approximately $675/£540).
Lens buying guides
Best wide-angle lens in 2020
The best fisheye lenses
The best lenses for landscape photography
The best tilt-shift lenses
The best Canon lenses
The best Nikon lenses