Over recent years, Tokina has become something of a wide-angle specialist. Its popular 11-16mm lens for APS-C format cameras dates back to 2008. A Mk II edition was launched back in 2013. This more recent 11-20mm ultra-wide zoom extends the focal length range significantly, and makes it an attractive option – not least because of its fast f/2.8 maximum aperture. It is available in both Nikon F and Canon EF mounts.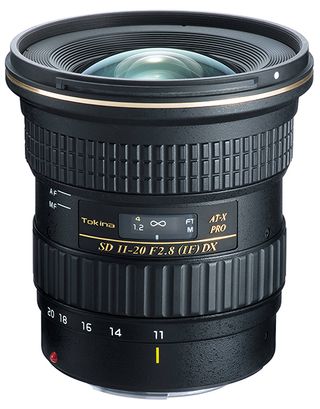 Features
This Tokina 11-20mm extends the overall zoom range of the well-respected 11-16mm versions, while still maintaining a constant-aperture design, delivering f/2.8 at all focal lengths. One of the things that made the original 11-16mm lens so popular was its combination of sturdy build and good optical performance at an attractive selling price.
The 11-20mm feels similarly robust and features a weather-seal ring on its mounting plate. The Tokina has better build quality but unfortunately lacks the image stabilization that is present in its Canon and Nikon equivalents.
An up-market optical design includes two all-glass moulded elements and three SD (Super-low Dispersion) elements. At 560g, the Tokina is nearly two and a half times heavier than the Canon 10-18mm and the Nikon 10-20mm.
This is partly because of the metal rather than plastic mounting plate, but also due to the forward optical elements having a larger diameter, to enable the f/2.8 aperture compared with the Canon's f/4.5-5.6 variable rating. As such, the filter thread is also larger, at 82mm compared with the Canon's 67mm.
By contrast, the Tokina has a more basic electric motor with the company's trademark 'One-touch Focus Clutch Mechanism'. This enables you to switch between autofocus and manual focus by snapping the focus ring forward or backward. Either way, you need to be careful not to nudge the ring accidentally, inadvertently switching between auto and manual focusing. On balance, we prefer the manual override facilities.
Sample image gallery
Lab tests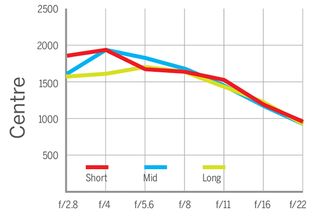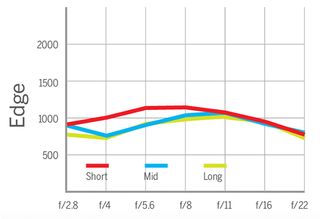 Centre sharpness is impressive even at f/2.8 and corner sharpness is pretty good for a wide-angle zoom.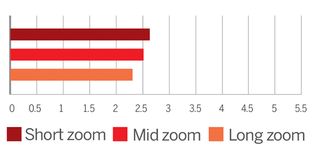 Amounts of Lateral chromatic aberration towards the edges and corners of the frame are average for this type of lens.

Barrel distortion is a little noticeable at the short end of the zoom range but negligible at or near 20mm.
Performance
The Tokina is impressively sharp, even when shooting wide-open at f/2.8, at the short end of the zoom range. During our tests, however, sharpness was let down by inconsistent autofocus accuracy. The autofocus system is quick considering it's based on an electric motor, but is still rather noisier than in the competing Canon, Nikon, Sigma and Tamron lenses. Levels of colour fringing are typical for this type of lens but distortion is negligible at the long end of the zoom range
Specifications
• Full-frame compatible: No
• Effective focal length (Canon): 17.6-32mm
• Effective focal length (Nikon): 16.5-30mm
• Image stabalizer: No
• Elements/groups: 16/11
• Minimum focus distance: 0.27m
• Max magnification: 0.12x
• Manual focus override: No
• Focus limit switches: No
• Internal focus: Yes
• Filter size: 82mm
• Iris blades: 9
• Weather seals: Yes
• Supplied accessories: Hood
• Dimensions: 89mm x 92mm
• Weight: 560g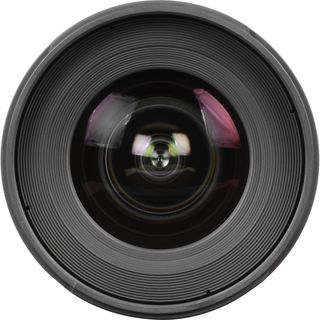 Verdict
This Tokina lens is well built and delivers wonderful image quality. The f/2.8 constant aperture is a bonus but autofocus accuracy proved inconsistent in our tests. Overall, it's a sterling buy at the price.
Features: 3.5/5
Build & handling: 4/5
Image quality: 4/5
Value: 4/5
Overall: 4/5
Best lens buyers' guides:

The best wide-angle lens
The best Nikon wide-angle zoom lenses
The best Canon wide-angle zooms
The best Fujifilm lenses
The best Sony lenses
The best Micro Four Thirds lenses for Olympus or Panasonic cameras
The best 50mm lenses
The best 70-200mm lenses
The best budget telephoto lenses
The best 150-600mm lenses
The best lens for street photography
The best lenses for wedding and event photography