At long last, the eagerly anticipated Canon EOS Rebel T8i – which was announced five months ago – finally has some limited availability.
A number of cameras were affected by the current coronavirus outbreak, but none have been delayed as much as the Canon EOS Rebel T8i. Canon's newest DSLR was announced the day before Valentine's Day, but immediately was almost impossible to actually buy.
Indeed, the camera has been so hard to find that even we have yet to lay our eyes or hands on one – and we usually receive review samples from a separate allocation that's reserved specifically for the press.
Fast-forward to today and, while the camera is no longer as rare as a unicorn sighting (though some retailers are still awaiting stock with no ETA), the Rebel T8i is now in stock at a number of outlets.
In the USA the camera is being listed as available by a number of sellers, though only with the 18-55mm kit lens; the body only option goes out of stock in the blink of an eye (even at Canon USA it reverted to "on backorder" as we were writing this article!). B&H are among the retailers that have the kit in stock: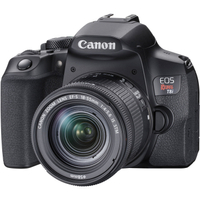 The Canon EOS Rebel T8i is the successor to two separate bodies: the one-off Canon EOS 77D (like a T6i but with small top LCD plate) and Canon EOS Rebel T7i, both launched in early 2017.
The 24.1MP DSLR will feature upgrades in the form of a faster 7fps continuous shooting speed and a Digic 8 processor, along with Intelligent Tracking (iTR) AF and the metering sensor found in the Canon EOS 90D – a setup that's ideal for fast-moving sport and wildlife subjects, and also offers face detect.
Another key improvement is the addition of 4K video up to 25fps (along with 1080p up to 60fps), with 5-Axis Movie Digital IS for smooth, controlled footage. Now that it's finally becoming available, it should offer a worthy update for many DSLR users.
B&H is a US retailer that may ship to other regions. If you're looking to purchase this product from another country, please ensure you double-check shipping costs and availability, as well as compliance with local tax and import laws.
Read more:
Canon EOS 850D / Rebel T8i announced: will replace both 800D and 77D
The best Canon camera: Canon's DSLR, mirrorless and compact cameras
The best DSLR: DSLR cameras for beginners, enthusiasts and pros