The Canon EOS 800D (also sold as the identical EOS Rebel T7i) is one of a pair of Canon DSLRs launched in early 2017. As well as the Rebel T7i/EOS 800D there's also the more enthusiast-orientated EOS 77D. Both use Canon's 24MP APS-C Dual Pixel CMOS AF sensor, and offer the same continuous shooting rate and ISO range. But where the EOS 77D offers more hands-on control for serious enthusiasts, the 800D cuts back on the complication to appeal more to novices.
Both cameras seemed quite pricey when they were launched, and they don't look a lot better even at today's prices. They'd have to be cheaper still to make it on to our list of the best Canon cameras, and the plain fact is that the newer Canon EOS Rebel SL3/EOS 250D is a more likeable camera (and shoots 4K video) at a lower price.
• Update: As of 2021, the Rebel T7i/EOS 800D is officially discontinued. You might be able to find old stock here and there at reduced prices, but we think you're better off going for the Canon EOS Rebel SL3/EOS 250D instead. There is a new EOS Rebel T8i/EOS 850D, but we think it costs plenty for a pretty average set of features by today's standards.
The EOS 800D is a good camera for beginners who want a little bit more power and potential than the cheapest cameras can offer, but if you're looking for the best DSLR, you might want to look elsewhere. And even if you're just looking for the best camera for beginners, there's a lot of strong competition here too.
Even so, the EOS 800D / Rebel T7i offers a decent enough mix of features, specs and performance, so let's take a closer look.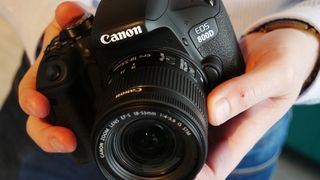 Canon has given the EOS 800D a decent autofocus system, going from the 19-point AF system in cheaper, older models to the 45-point autofocus of the EOS 80D and 90D. The 800D may be designed for beginners, but it packs some of Canon's latest imaging technology.
This includes a Digic 7 processor, a higher ISO range (up to ISO 25,600 without expansion), 6fps continuous shooting and a resonable buffer capacity of 27 raw files – or as many JPEGs as your memory card can hold.
There's also a modest boost to the video recording performance: the 800D doesn't offer 4K video, but it can shoot full HD at 60/50fps for half-speed slow motion at full video resolution.
The 800D is more frugal with its power than its predecessor, the EOS 750D, but still only offers up to 600 shots on a single charge. That easily beats a mirrorless camera like the Fujifilm X-T20, but isn't that great for a DSLR these days.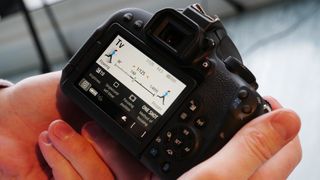 The EOS 800D does get faster, quieter smaller kit lens, the EF-S 18-55mm f/4-5.6 IS STM. This impressed us a lot when we tried it at Canon's press launch event – although it was unavailable for this review, which was carried out with the existing EF-S 18-55mm f/3.5-5.6 IS II lens instead.
The EOS 800D offers some convincing improvements over its predecessor, then, but it's got tough competition from other brands. The Nikon D5600 offers similar user-friendliness at a lower price, the brilliant Fujifilm X-T20 is barely more expensive, especially now it's being discounted after the launch of the X-T30, and you can get the Sony Alpha 6000 at great knock-down prices. All of these cameras have 24-megapixel sensors too.
Specifications
Sensor: 24.2mm APS-C Dual Pixel CMOS AF (22.3 x 14.9mm)
Focal length conversion on lens: 1.6x
Memory: 1x SD/SDHC/SDXC; UHS-I compatible
Viewfinder: Optical pentamirror, 95% coverage
Max video resolution: Full HD 1920 x 1080
ISO range: 100-25,600 (51,200 expanded)
Autofocus: 45, all cross-type
Max burst rate: 6fps
Screen: Vari-angle 3-inch touchscreen, 1,040k dots
Shutter speeds: 30-1/4,000 sec, Bulb
Weight: 532g (body only with battery and card)
Dimensions: 131 x 100 x 76mm (body only)
Power supply: Li-ion battery (supplied), 600 shots
Build and handling
Technically, the 800D is very impressive, but in the flesh it's mildly disappointing given its price. In classic EOS style, the body is nicely contoured and easy to grip, with few sharp corners, but the plastic finish feels a little cheap.
Corners have been cut with the viewfinder too, which uses a cheaper 'pentamirror' design rather than a classic pentaprism. In practice, it's clear and bright, and you're unlikely to notice any difference.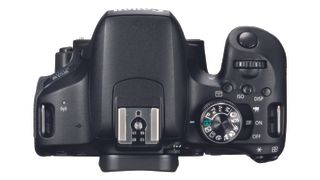 One of the 800D's key features is Canon's new guided user interface, which uses easy-to-understand graphics and information to explain the effects of different camera settings. For example, when you're using the Tv (Shutter Priority) mode, the screen shows a scale with slower, 'flowing' shutter speeds on the left and faster 'frozen' speeds on the right; as you turn the dial, a caption below indicates the situations where the current speed might be used.
This interface is both attractive and informative, and you can disable it in favour of a regular menu system once you feel you don't need it.
The vari-angle touchscreen display works really well. It gives you the flexibility to shoot at all sorts of awkward angles – and the 800D's responsive Live View performance with Dual Pixel CMOS AF makes it something you might use all the time rather than just keeping for emergencies. Touch control on camera screens isn't always good, but the 800D's is light, reliable and responsive – just about perfect, in fact.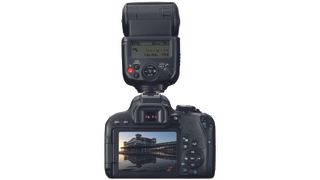 The single-dial control system might prove an irritation for more experienced Canon users, but the 800D does have a large number of external buttons for adjusting everything from the ISO setting to the drive mode, AF point selection and Picture Style.
The Bluetooth and Wi-Fi connections are easy enough to set up and use via the Canon Camera Connect app. You need the Wi-Fi for camera control, however, and if you're using an iOS device that means connecting manually to the camera's Wi-Fi network each time you want to use it, since Apple's operating system won't let the Bluetooth connection launch the Wi-Fi connection automatically. (Nikon has the same issue with its Bluetooth/Wi-Fi SnapBridge system.)
Performance
The 800D's autofocus is fast and reliable, both in regular viewfinder shooting, which uses the 45-point phase detection AF sensor and in Live View, which uses the Dual Pixel CMOS AF system. This proved crisp and mostly positive, even with the older non-STM kit lens.
The results from the 800D's exposure system are more variable. It places a lot of emphasis on the area under the active autofocus point: this means that even a small reframing of your shot can produce a big shift in the exposure.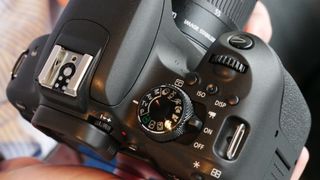 You notice this most in high-contrast scenes such as sunsets, where the camera will veer from exposing for the foreground to producing a silhouette, depending on where the AF point is. More experienced photographers will quickly learn to find their way around this, but novices may well end up wondering why they're not getting the same exposure twice, when the scene itself hasn't changed.
The auto white balance system performed perfectly, though; we left it set to Auto throughout the test. If you shoot raw, of course, you can correct it later.
The in-camera JPEGs are crisp and colourful, but you need to be wary of blown highlights, not least because the Evaluative metering is so sensitive to the position of the autofocus point. The raw files reveal very good dynamic range, however.
The image quality at the maximum ISO 25,600 setting is substantially reduced, as you'd expect, but if you need to grab an image at all costs, the results are really quite acceptable. In fact, you can shoot in conditions so dark the camera's autofocus struggles to find anything to lock on to.
Lab tests
We use Imatest, DxO Analyzer and resolution charts to test cameras for their signal to noise ratio (the amount of noise in the images) and dynamic range (their ability to capture detail in very bright and dark areas). We also pick three rival cameras to test them against – in this case, the competing Nikon D5600, Fujifilm X-T20 and Canon's own EOS 250D/Rebel T7i.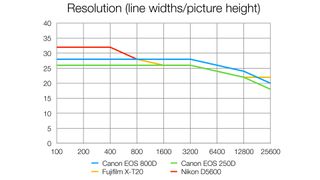 Resolution
In this comparison, the Nikon D5600 comes out on top, no doubt helped along by the absence of a low-pass filter over the sensor. The Canon EOS 800D and Fujifilm X-T20 come out even with a slightly lower figure, just ahead of the EOS 250D.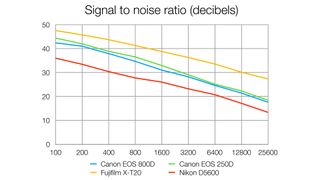 Signal to noise ratio
The Fujifilm X-T20 is a clear winner here, showing the lowest noise levels right across the ISO range. The Canon EOS 800D and EOS 250D tie very closely in second place, as we'd expect from cameras with largely the same sensor. The Nikon D5600 shows more noise in our lab tests, which we've seen before with Nikon DSLRs – though it's not so easy to see in real-world images.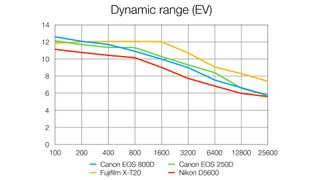 Dynamic range
The Fujifilm X-T20 is a narrow winner for dynamic range but both the EOS 800D and EOS 250D are very good, and leave the Nikon D5600 trailing slightly in fourth place.
Verdict
The EOS 800D's features offered little to complain about at the time of its launch, but they look weaker today, mainly because of its lack of 4K video. Otherwise, it's responsive and versatile, and the image quality is good. Physically, it's less impressive. It's small and light, but also feels plasticky. The price puts it in a tricky spot – if you want a beginner's camera, you don't need to pay this much, and if you've got this much to spend, there are better cameras around. Right now, the newer Canon EOS 250D/Rebel SL3 is both cheaper, smaller and – with its ability to shoot 4K video – just a better camera.
Read more:
• These are the best Canon cameras right now
• Looking for the best DSLR? Here are our top recommendations
• We choose the best cameras for beginners