Sony has released a firmware upgrade for the much-celebrated A9 camera, making a few changes across the board and fixing a couple of issues.
Read more: Sony A9 review
The headline change concerns the autofocus system, which should please the majority of users who rely on the camera for its speed. Specifically, autofocus tracking is said to have been enhanced, allowing users to better keep up with moving subjects while using continuous AF. The update also promises improved AF-C stability when zooming in on subjects, when the camera is paired with a Sony E-mount lens.
Read more: Why should you update your camera's firmware?
Given that the A9's prowess with fast-moving subjects was one of its strongest assets – as we noted in our review – this update should make it an even more tempting prospect for photographers who work in those kinds of fields.
The update also adds the option to apply IPTC metadata to all files using Sony's IPTC Metadata Preset software, which means that settings information, custom titles and descriptions can be embedded in images. Additional information can also include the photographer's details and copyright restrictions.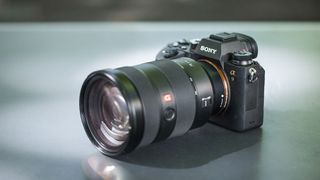 The update also adds extra features for image protection. The Protect Image function can be assigned to a custom key, which is also the case on the recently released A7R III model. Wired LAN MAC addresses are now displayed within the metadata, and serial numbers can also be inserted if desired.
Read more: Sony A7R III review
The update also delivers a few more general fixes and tweaks for operational stability, and this includes a correction to a known issue concerning erroneous warning of overheating. You can download the v2.00 firmware upgrade from Sony's website now
Read more: The best Sony a9 deals