When Sony knocked Nikon out of second place position last year, many within the camera industry wondered what this meant for the future of camera manufacturing. Was this a sign that Sony was on an upwards trend, destined to go toe-to-toe with the biggest camera manufacturer in the world, Canon?
Well, possibly not. In positive news for Nikon fans, Sony has been knocked back out of its hard-won number two spot by a swift Nikon resurgence fueled by the release of the Nikon Z50.
• Read more: Best Nikon cameras
According to site BCN Retail (Google-translated), at the end of 2019, the sales of digital cameras with interchangeable lenses in Japan experienced a year-on-year decrease of 81.8% overall, partly due to a tax increase in October. While Canon had 30% of the market share, it was unable to maintain the momentum it picked up from the launch of the Canon EOS R and Canon EOS RP in 2018. Even the launch of the Canon EOS 90D wasn't enough to revive its sales of single-reflex cameras, which were halved in the last week of December compared with the previous year.
However, while both Sony and Nikon were up year-on-year, Nikon is the clear hero in this story. With the introduction of the Nikon Z50 into its mirrorless camera line-up, Nikon increased its mirrorless sales to 248.9% in the last week of December. Their SLR cameras also managed to maintain a reasonable 98.8%, which is roughly the same as the previous year. In even more encouraging news, the number of interchangeable lenses sold increased to 110.5%.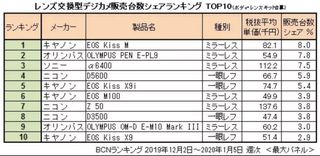 Interestingly, the top ten cameras sold in Japan last year were:
• Canon EOS Kiss M (Canon EOS M50)
• Olympus PEN E-PL9
• Sony A6400
• Nikon D5600
• Canon EOS Kiss X9i (Canon EOS 800D / Canon EOS Rebel T7i)
• Canon EOS M100
• Nikon Z50
• Nikon D3500
• Olympus OM-D E-M10 Mark III
• Canon EOS Kiss X9 (Canon EOS 200D / Canon EOS Rebel SL2)
While the market in Japan functions differently to the western market, it's certainly a great insight into how well the three big camera manufacturers are faring. Canon leads the way with four cameras featuring on the list, with Nikon just behind with three. Interestingly, there are two Olympus cameras and only one Sony (albeit quite high up the list).
With camera sales proving to be quite shaky over the past few years, we're always interested in how the market performs. It's great to see some positive news for Nikon, and we look forward to seeing how it capitalizes on its success in 2020.
Read more
Best Nikon lenses: expand your Nikon DSLR with these lenses
Best Sony camera: from Cyber-shots through to Sony Alphas
Best Sony lenses: top lenses for Sony mirrorless and Alpha cameras