The EOS M100 has clearly got Instagramers, Facebook fans and smartphone snappers firmly in its sights. Canon is pitching this as a compact and stylish camera to have with you all the time and one designed to make the switch from smartphone to camera as effortless as possible. It has a touchscreen display with on-screen instructions and help for beginners, and a 180-degree upward flip that actives its selfie mode.
It looks as if Canon plans to roll out its latest 24.2-megapixel Dual Pixel CMOS sensor across the whole of its EOS M range, as this is the latest camera to get this imaging unit, so although this camera might be aimed at the beginner market, it doesn't skimp on tech. This sensor incorporates the company's latest on-sensor phase-detection autofocus technology for fast and smooth autofocus, and not just for stills but for video too.
With a DIGIC 7 processor and an ISO range of 100-25,600, the M100 should be able to get good shots in low light, which is perfect for interior travel shots, restaurants and parties. It can also shoot continuously at 6.1fps, so it can capture the occasional action sequence too.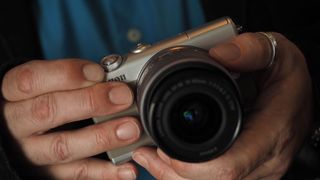 Build and handling
The EOS M100 is quite nice to handle and use, but it's clearly aimed at novices. On the top, the minimalist mode dial offers no real hint that there is a proper camera inside. There's no built-in electronic viewfinder, nor any mention so far of an add-on unit. The M100's LCD display looked bright and clear when we tried it out indoors at Canon's launch event, but it remains to be seen how it fares in the glare of bright sunlight.
With very few external controls, the M100 relies heavily on its touch-sensitive interface for adjusting the camera controls. This works well and it will feel friendly and familiar if you've come straight from a smartphone.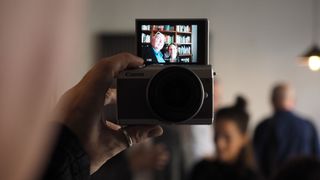 The selfie mode is fun, but with the camera held at arm's length, the screen is smaller than a smartphone's. It's not really a problem, but worth pointing out. What's also worth pointing out, of course, is that selfies taken with the M100 will be at the camera's full resolution and far higher quality than the snaps taken with a smartphone's front-facing camera. We also look forward to trying out Canon's Wi-Fi and Bluetooth LE connectivity to see how easy it really is to transfer pictures to a smart device for sharing.
Performance
The EOS M100's 49-point Dual Pixel CMOS AF felt snappy in good light, but slowed noticeably when the lighting was dimmer, though the indoor test conditions were pretty dark. The M100 does have a pop-up flash on an arm which extends from the top plate, but with this camera's ISO 25,600 maximum, you'll probably get better and more atmospheric results without the flash, even in dimly-lit interiors.
Fitted with Canon's 15-45mm kit lens, the M100 certainly feels small and neat, for an APS-C format camera. The lens is extended by pushing a spring-loaded lever and then twisting the barrel, though – it's not powered electrically.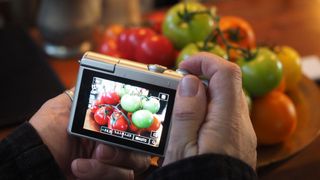 We weren't allowed to take any image samples away with us because the cameras available at the launch were pre-production models, but if past experience with Canon's Dual Pixel CMOS AF sensor in other EOS models is anything to go by, the picture quality should be very good.
Early verdict
The EOS M100 is another perfectly competent mirrorless EOS M model from Canon, and another attempt by a camera maker to target Instagram and Facebook fashionista who may be more familiar with smartphones than cameras.

The use of Canon's 24-megapixel Dual Pixel CMOS AF sensor is a bonus because we've already seen how effective this is in other Canon cameras, including the flagship EOS M5 and the EOS 80D from Canon's DSLR range, but this does push the price up for what is otherwise a pretty basic sort of camera.
The flip-up screen and selfie mode is perfect for this market, and the on-screen help for novices will help them step up from a smartphone into interchangeable-lens photography, but the simplicity of the controls and the lack of a viewfinder could make the EOS 100D a bit of a dead end later on, when novices are ready to take on some more challenging techniques.
The EOS M100 is by no means the cheapest route into interchangeable lens photography, but Canon will be hoping that for Instagramers and smartphone upgraders it is the most appealing.