The Nikon D3500 is the latest version of Nikon's entry-level DSLR. It's effectively an update to the evergreen Nikon D3400, a starter DSLR that's been a long-term favourite. There haven't been many changes, and it's unlikely you'd want to upgrade your old D3400 (or D3300 before it) to the new D3500, but this refresh is enough for Nikon to take the number two spot in our best camera for beginners list.
The D3500 isn't just Nikon's cheapest and simplest DSLR, it's also its lightest, weighing just 415g, body only, and that's with the battery and a memory card. It will usually come with a lightweight 18-55mm AF-P kit lens which has a retracting mechanism to make it more portable when it's not switched on. It's not quite as small as a mirrorless camera, but it's light, fast enough and cheap enough to prove that there's life in the DSLR design yet.
This camera is designed specifically for beginners, with simplified controls and a built in Guide Mode to help new users learn the basics. But it's also compatible with a wide range of Nikon lenses, from Nikon and third-party makers, and has a good enough specification to please enthusiasts as well as beginners. So is this one of the best cheap cameras you can get? You bet.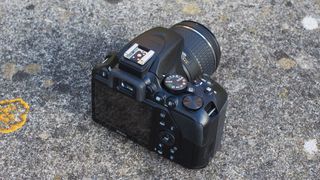 Nikon D3500 specifications
Sensor: 24.2MP APS-C CMOS 4, 23.5 x 15.6mm
Image processor: EXPEED 4
AF points: 11-point AF, 1 cross-type
ISO range: 100 to 25,600
Max image size: 6,000 x 4,000px
Metering zones: 420 pixel RGB sensor
Video: 1920 x 1080 at 60p, 50p, 30p, 25p, 24p
Viewfinder: Optical pentamirror, 95% coverage
Memory card: SD/SDHC/SDXC UHS I
LCD: 3.0-inch fixed, 921K dots
Max burst: 5fps
Connectivity: Bluetooth
Size: 124 x 97 x 69.5mm (body only)
Weight: 415g (body only, with battery and memory card)
Nikon D3500 features
Inside, the D3500 has a 24.2-megapixel APS-C sensor. It might be a beginner-level camera, but that's just about as high as APS-C cameras to. It also has an unusually good 5fps continuous shooting speed, where most rivals in this price bracket can only manage 3fps.
Nikon does not use in-body stabilization in its DSLR cameras, but many Nikon lenses, including the AF-P 18-55mm lens bundled with this camera, come with Nikon's VR (Vibration Reduction) system.
You don't get 4K video capability with this camera, but it can shoot full HD 1920 x 1080 video at up to 60/50fps. You don't get Wi-Fi, either, but built-in Bluetooth does let you transfer images to your smart device and, in this latest model, fire the shutter remotely using your smartphone.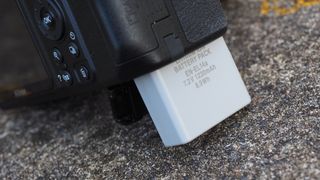 Nikon says it's upgraded its sensor and EXPEED image processing system to give improved speed, detail and colours. It's also uprated the battery life, quoting a pretty amazing 1,550 shots on a single charge – that's four or five times more shots than you'd expect to get from a mirrorless camera.
The D3500 does shoot raw files, as you'd expect, but these are 12-bit only, rather than the 14-bit raw files captured by models further up the Nikon range. Will you notice the difference? Probably not, as even a 12-bit raw gives a much wider tone and colour range than regular JPEGs, and for the users this camera is aimed at, the differences are likely to be academic.
READ MORE:
The best Nikon lenses in 2018
The best Nikon DSLRs in 2018
The best camera for beginners in 2018