UPDATE: After an 11th hour postponement, Sony will finally announce its much-anticipated new camera tomorrow.
Sony originally announced that the announcement would take place on 07 July, but delayed it at the last minute for undisclosed reasons. Now, exactly 20 days later, Sony has confirmed that the announcement will take place on 27 July at 10:00 EDT / 15:00 BST / 19:00 AEST.
• Read more: Best Sony cameras
There's plenty of speculation on the YouTube live stream page as to what the camera will be, with everything from a Sony A7 IV to a new RX on people's wish list. However, the most on-the-nose wish comes from user RK Bullet: "Launch whatsoever, but don't postpone this time 🙏"
All will be revealed, fingers crossed, tomorrow…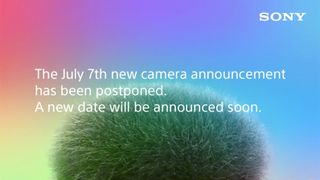 UPDATE (05 Jul 2021): Sony has postponed its announced camera announcement, and will announce a new date for the announcement soon. Confused yet?
Last week, Sony announced that a new camera would be announced on Wednesday 07 July. Today, however, it has announced that this announcement has been postponed, and that it will announce a new announcement date soon.
"The July 7th new camera announcement has been postponed," reads the YouTube live stream holding page. "A new date will be announced soon."
And if you click the link to the original announcement announcement on Sony's Alpha Universe Website, you reach a dead page that gleefully tells you, "You did it! You reached the end of the universe!"
The reason for the postponement isn't clear (though could well have to do with all the global component shortages), though at this point we're pretty sick of announcement announcements and would rather that manufacturers just showed us an actual product instead of all these teasers.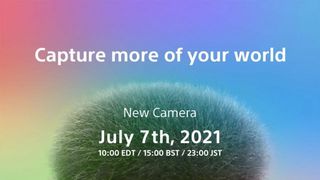 ORIGINAL STORY (01 Jul 2021): Save the date! Sony will be announcing a new camera next week, and promises that it will enable you to "capture more of your world", so you might want to mark this one down in your diary.
Sony announced that the announcement will take place on 07 July at 10:00 EDT / 15:00 BST / 19:00 AEST, but unsurprisingly shared little else in the way of details – aside from the rather abstract image above.
"Get ready to capture more of your world," teased the manufacturer on the Alpha Universe website. "A new Sony camera announcement is coming on July 7, 2021 at 10:00 AM Eastern Time / 7:00 AM Pacific Time. Stay tuned to alphauniverse.com for all of the details."
At the same time, the manufacturer launched a holding page on YouTube that will live stream the announcement when it takes place. Speculation (slash wishful thinking) among the early commenters spans everything from the Sony A7 IV to a Sony A1 II. Yes, some people already want a new version of the Sony A1 that was only announced less than five months ago!
Obviously an A7 IV is a far more likely candidate than an A1 II, as the venerable Sony A7 III is very much due a replacement having been launched back in 2018 – and there have certainly been a lot of rumors flying about that camera.
Still, wishful thinking aside, what can we glean from this pre-announcement announcement? B&H has launched a holding / pre-order page, where the new camera is listed as "Sony Alpha Camera" and "Sony New Camera #BeAlpha". So if there was any doubt, it does appear that this will be a part of the Alpha system.
Stay tuned next week as we'll be bringing you live coverage of the announcement as it happens!
Read more:
Sony A1 review
Sony A7 III review
Sony ZV-1 review
Best Sony lenses