Sirui has launched another affordable anamorphic lens, the Sirui 75mm f/1.8 1.33x Anamorphic, giving filmmakers the ability to shoot great telephoto images where the subject really stands out in the frame. Like other Sirui products, the lens is being launched on Indiegogo, giving supporters access to some great early bird deals on this and other Sirui lenses.
The Sirui 75mm f/1.8 1.33x Anamorphic is the fourth lens in the company's lineup, joining the 24mm f/2.8, 35mm f/1.8 and 50mm f/1.8 1.33x anamorphic lenses, which together cover most traditional lens lengths for filmmaking and which, if bought together, would still cost less than many traditional anamorphic cinema lenses.
• Read more: Best anamorphic lenses
The Sirui 75mm f/1.8 1.33x Anamorphic lens offers the same characteristic stretched oval bokeh and streaked flares that Sirui's other anamorphic lenses have become known for. Its anamorphic look combined with the wide f/1.8 maximum aperture, 13-blade iris and 1.2m close focus distance offers beautifully blurred backgrounds and excellent foreground separation for stunning portrait shots.
The Sirui 75mm f/1.8 1.33x Anamorphic lens has a 1.33 squeeze aspect ratio, meaning that the oval-shaped anamorphic elements create a 33 per cent increase in the horizontal field of view when compared to a regular spherical lens.
Designed for Micro Four Thirds and APS-C cameras that shoot standard 16:9 video, this means that when the final image is desqueezed 1.33 times in post production, you end up with an ultra-wide cinemascope 2.4:1 aspect ratio.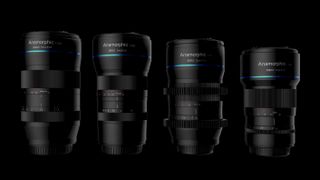 The lens is available in Sony E, Nikon Z, Fujifilm X, Canon EF-M and Micro Four Thirds mounts. Solidly constructed of metal, it still weighs just 795g (1.75lb) (in Micro Four Thirds mount) and is between 130.4mm and 134.1mm long depending on the mount chosen. It has a 67mm diameter filter thread and non-rotating lens front that allows for easy attachment of screw-on variable ND filters or polarizers.
The Sirui 75mm f/1.8 1.33x Anamorphic lens is available to pre-order on the Indiegogo crowdfunding platform at a Super Early Bird price of US$669 / £475 / AU$860. Super Early Bird orders are estimated to ship in early June 2021.
SIRUI has successfully launched five crowdfunding campaigns on Indiegogo so far, including the Sirui 24mm f/2.8 1.33x anamorphic lens, with a total of almost 10,000 backers.
Editor's note: As with all crowdfunding campaigns, there is no guarantee that the product will make it to fruition, be delivered on time or match initial promises or specifications. Backing crowdfunded products is done at your own risk.
Read more
Best cameras for video
Best cinema cameras
Best Micro Four Thirds lenses
Best cameras for vlogging