The Samsung Galaxy S20 family is official. Launched alongside Samsung's second foldable smartphone, the Galaxy Z Flip, the Galaxy S20, S20 Plus and S20 Ultra bring new camera systems to the entire line. Ditching dual apertures in favor of big pixels and high resolutions, the S20 and S20 Plus's telephoto cameras climb up to 64MP, while the S20 Ultra's main sensor is a Xiaomi Mi Note 10-sized 108MP.
All three flagships from the Korean tech giant carry forward much of what made past Samsung Galaxy's top-tier phones - curved glass fronts and backs, metal frames and IP68 water and dust resistance. That said, more on the specs later - we know why you really came here - to find out more about those stratospheric telephoto cameras.
Samsung Galaxy S20-series cameras
Starting with the entry point to the new Galaxy-line, the Samsung Galaxy S20, and its main 12MP camera features an f/1.8 aperture and 1.8 micron pixels. Surprisingly, Samsung opted for the phone's highest resolution camera to power the telephoto experience rather than the main snapper, combining a 64MP sensor combined with a 3x zoom lens. Both the main and telephoto cameras feature optical image stabilisation, while the 12MP ultra-wide camera doesn't.
While the camera setup around the back of the Galaxy S20 Plus is almost identical to that of the S20, the Plus also includes a time of flight (ToF) camera, grabbing more accurate artificial depth. It still packs that 3x zoom 64MP sensor, which, coupled with Samsung's hybrid tech it terms 'Space Zoom', delivers a 30x telephoto focal length.
Finally, the Samsung Galaxy S20 Ultra. Loaded up with more than 200 combined megapixels, it's a resolution beast. Its primary camera is made up of a 108MP Samsung ISOCELL sensor combined with OIS and an f/1.8 aperture lens. Rather than shoot pictures at sky high resolutions though, the phone employs nona-binning, combining 9 pixels into one. This produces 12MP images that Samsung says are as good as smartphone images get.
The Ultra also features a 48MP telephoto camera with a periscope lens and a roughly 10x optical zoom, a new record breaker on a phone, not to mention a 100x Space Zoom. Finally, all three phones share the same ultra-wide snapper, and the S20 Plus and Ultra both share a ToF sensor.
All three phones capture 8K video, snapping 33MP stills mid-recording which we haven't seen before – perfect if you're not sure whether to shoot or snap. There's also a new manual video mode, and a feature that shoots across all the rear cameras simultaneously.
What else do I need to know?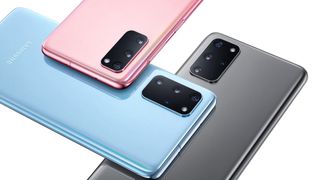 The S20-series is powered by the Exynos 990 chipset in its global variant, though this may be different from other regions, with the US version of past Galaxy S devices running with Snapdragon processors. Additionally, the S20 and S20 Plus pack 8-12GB RAM, while the Ultra climbs all the way up to 16GB, the highest we've ever seen on a smartphone.
For more on specific models, read our hands-ons with all three, and if you're itching to get your hands on Samsung's latest Galaxy smartphones to put that totally over the top sounding Space Zoom to the test, you can pre-order it now, though you'll have to wait until 8 March to pick one up.
Read more
Samsung Galaxy S20 hands-on review
Samsung Galaxy S20 Plus hands-on review
Samsung Galaxy S20 Ultra review
The best camera phones