The Samsung Galaxy S20 Ultra is an obvious stab at Huawei and its Mate 30 Pro. Until now that phone had, on paper, the most advanced camera around.
The Samsung S20 Ultra's camera capabilities are impressive: it has a 100x zoom and a 108-megapixel main sensor – in fact, it has 208 megapixels in total across its cameras, and can even capture 8K video. And like the entire Galaxy S20 family, it gets 5G.
The Samsung Galaxy S20 Ultra's variety of camera skills is more notable than the power of those that have attracted the most attention, though.
Meet the hardware
Why you can trust Digital Camera World Our expert reviewers spend hours testing and comparing products and services so you can choose the best for you. Find out how we test.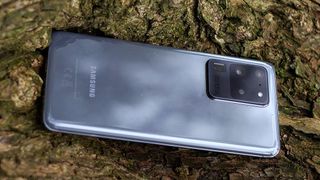 Its 108MP camera is one of the best examples of this. Such a high megapixel count may blow a few minds, but this is not even the first phone to have such a high-resolution sensor. The Xiaomi Mi Note 10 was, and does not cost nearly as much.
This is a Samsung-made sensor rather the still-more-common Sony kind. It's a large 1/1.33-inch chip that employs pixel binning to capture 12-megapixel stills as standard.
All three of the primary rear cameras take 12-megapixel photos. But only one has native 12MP resolution, the ultra-wide. Most phones with wides and zooms use distinctly lower-quality hardware for these extra cameras, but the wide has relatively large 1.4 micron sensor pixels. This is one of the main benefits of a phone this expensive: few corners cut.
The Samsung Galaxy S20 Ultra's zoom has a 48-megapixel sensor with the same kind of "periscope" lens setup as the Huawei Mate 30 Pro. Some lens elements are arranged perpendicular to the phone's back to let the thing fit into something only 8.8mm thick.
Space Zoom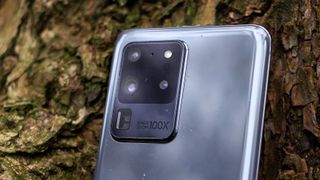 If you've looked into this phone at all, you will have seen talk of its 100x Space Zoom images. However, the "zoom" itself has an optical magnification factor of around 4x. Anything beyond that (and there's a lot beyond) also makes use of digital zoom, even if it is smarter than the classic 'crop-and-blow-up' kind.
The Samsung Galaxy S20 Ultra's camera app enables you to scroll smoothly from the 0.5x ultra wide to the crazy 100x magnification. And this is a feat in itself, given it involves jumping between three separate cameras on the fly.
Alternatively, there are a bunch of preset focal length shortcuts.
This is one of the best multi-lens arrays in a phone. Not only is the optical range better than almost all, the quality of the hardware is a huge factor as well. You don't get the sense of a dramatic drop in fidelity when using the wide, and shots look very pleasing – not just up to the 4x "native" zoom level but up to 10x.
Samsung calls these 10x shots Hybrid Optic zoom, perhaps because the phone can crop into the sensor at this level and still have 12 million pixels with which to construct the image. However, the presets beyond this, 30x and 100x zoom, start to look very soft and stodgy. Indeed, 100x images are categorically poor, and are best used to show off the mad-sounding feature without letting your camera-savvy friends actually look at the results.
A useful zoom
Superzoom bridge camera makers need not worry, any more than they already do at least. However, Samsung has put some great work into making these very extended focal ranges easy to use.
Try to take an image handheld with a real 100x zoom and you'll fail; natural handshake will see the frame pinball around almost uncontrollably. The Samsung Galaxy S20 Ultra artificially stabilizes this so that, while a 100x shot takes some conscious effort, you do not need a tripod. A handy focal point guide also pops up in the corner of one screen, showing the scene at roughly 5x, so you don't have to hunt for your subject.
Samsung has failed to achieve the magic superzoom images that some prospective buyers may hope for when spending over a $1000 / £1000 on a phone. But it certainly hasn't failed in the execution of this zoom feature when realistic image quality expectations are applied.
Such shooting scope also makes the Samsung Galaxy S20 Ultra one of the most fun-to-use phone cameras ever made. The ability to capture good results at 0.5x, 1x, 5x, and 10x is enough to impress, and makes travel and street photography a real joy.
Image quality
How is the actual image quality? While there are classic Samsung processing traits of over saturation, mildly overbearing noise reduction smoothing and edge sharpening (with the telltale white outlining of some objects visible down at pixel level) the Samsung Galaxy S20 Ultra takes some of the best phone images around.
Automatic HDR processing retains highlights and usually avoids dull-looking images even on glum, overcast days. Focusing is generally very quick, too. We noticed the occasional small bout of focus-seeking on occasion when altering the zoom (despite on-sensor PDAF), but it is generally reliable. Some others who have had the chance to use the Samsung Galaxy S20 Ultra early on have reported major issues with AF, but we haven't seen them.
We do think there are improvements to make to the handling of low light scenes, though. At night you can either continue to shoot as you would normally, or use the dedicated Night mode. Just like Huawei's, this mode takes several seconds to shoot the image, constructing a composite made of many frames.
It usually takes 5-8 seconds. But when the Samsung Galaxy S20 Ultra senses it is completely still it may have up to 28 seconds, in our experience.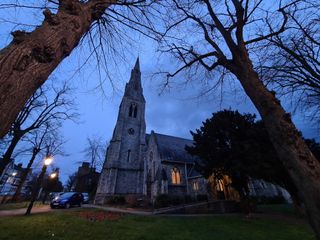 Auto mode night shots are inconsistent; 1x zoom images can look fuzzy and indistinct for such a high-end phone, with obfuscation of textures and fine detail. Then again, sometimes they are fine. That the ultra-wide seems to put in a more consistent performance at night (using Auto) suggests that there are more tweaks to make here.
However, the dedicated Night mode is excellent, with superb detail retrieval and clearly enhanced dynamic range. This mode can be used at up to 10x zoom, too. The Night mode is much more effective than anything Samsung has come up with to date. Next time we'd like to see it speed up a bit, as 5-8 seconds is quite a while to wait for a single frame in some situations.
Sample images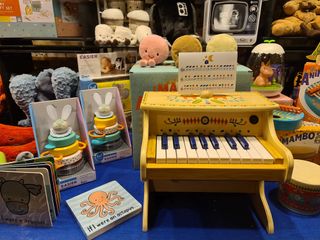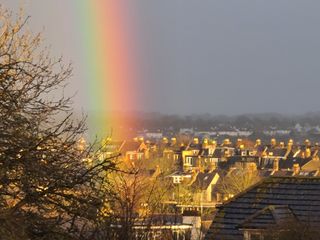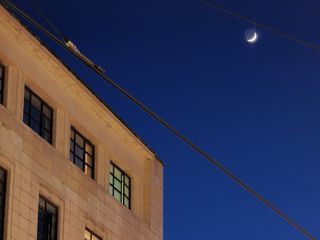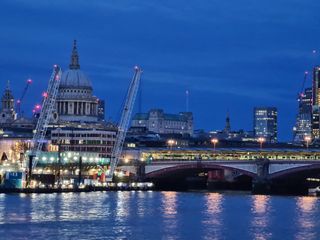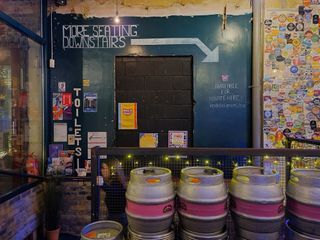 Single Take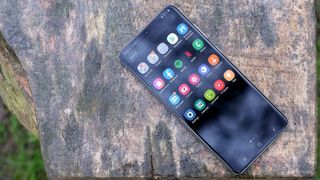 The Samsung Galaxy S20 Ultra has another new mode called Single Take. This mode captures several stills and small videos, and it decides which to take based on what's in the scene. During one walk through the park, for example, part of what we ended up with was a soundtracked video of the amble, and another video with some more dramatic sped-up parts. Plus a few photos.
Single Take is probably of most use when your subject is something unpredictable, like a dog or child.
The Samsung Galaxy S20 Ultra also has a camera more-or-less dedicated to the background blur Live Focus mode. This is where the phone blurs out the background to bring your subject into sharper relief, and you can use it for both stills and video. Live background blurring in video? This has been done before, but is a good way to show off your latest phone's tech as it is relatively rare.
A time of flight sensor is employed for Live Focus. This is a dedicated depth-mapping camera that works a little differently to the standard kind, which use parallax difference (comparing its view to that of the primary camera) to separate what's near and far. A ToF camera measures the time it takes for an emitted signal, perhaps IR or laser, to return to the sensor, allowing for fast and relatively accurate (if not usually particularly high-res) depth maps.
The Samsung Galaxy S20 Ultra's depth images are not the best around, though. While the bokeh effect is charming, the phone tends to struggle with complex subjects, over-simplifying their edges. It is great for portraits, though.
Video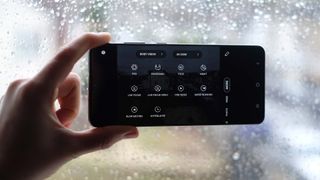 Video is strong, too, again primarily for the breadth of abilities on offer. You can shoot at 8K resolution, 4K with software stabilization or 1080p with "Super" stabilization (the Super part is optional). Super Steady uses the ultra-wide camera but shoots with a similar field of view to the main one, leaving the large periphery border for motion buffering.
The mode to use depends on your usage. While 8K is quite the technical feat, and looks extremely detail-packed for phone footage, you'll only want to use it on a tripod. It appears to use, at most, optical stabilization, and motion also causes a lot of blurred frames in the final video.
Ultra-stabilized footage has an almost GoPro-like level of judder smoothing, but the quality is reduced significantly compared to standard 4K capture. It is much softer.
Stabilization using the most conventional video capture modes is much less impressive, but it's still reasonably effective. We did also see some blurred frames when walking along while shooting at 4K during the day – so don't sell your GoPro Hero8 Black just yet.
The Samsung Galaxy S20 Ultra also has very pronounced, but not class-leading, slo-mo. It can shoot at up to 240p, which is 10x slower than real-time. Some phones go up to 960p, but this is at 1080p resolution.
In all, while there are no areas in which the Samsung Galaxy S20 Ultra seems a true revolution in phone camera tech, its collation of the best bits of progress reached over the last couple of years makes it a hugely versatile phone camera.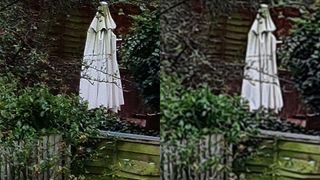 You can also capture 12MP RAW images and JPEGs at 108MP, which tells us that the hardware is made from the ground up for pixel-binning. The difference between 108MP and 12MP images suggests that there's more to the ultra-high resolution mode than just a multi-frame mash-up, though.
The 108MP images have much less of Samsung's characteristic processing look, and far greater fine detail. This is not just the kind of extra detail that could be extrapolated through algorithms or "AI", either. For example, in one 108MP image you can see brickwork largely obscured by trees; in the 12MP images, it's simply an orangey block.
Other features
The camera is the Samsung Galaxy S20 Ultra's most remarkable element. Its screen has also attracted some attention, as it has a 120Hz refresh rate. The display's image is refreshed at twice the normal rate, allowing for much smoother-looking scrolling in Android.
However, after living with the phone for a while now, we're not sure that it is worth the battery sacrifice – and Samsung seems to question it, too, as the Galaxy S20 Ultra is set to 60Hz refresh as standard.
At 120Hz the phone struggles to make it through busier days of use. Even at 60Hz the battery life is relatively poor, considering the 5,000mAh battery capacity. We've used phones with 5,000mAh batteries that last close to two days of real-world, reasonably demanding use. The Samsung Galaxy S20 Ultra does not even get close to that kind of stamina, although it has usually reached the basic standard of being alive by bedtime. Usually.
This is likely, in part, down to the processor of the UK Samsung Galaxy S20 Ultra. UK variants have an Exynos 990 processor, while US models have the Snapdragon 865 chip instead.
Why do we think this is relevant? Because it was in previous years. Snapdragon's top processors have been more power-efficient than Samsung's for some time now. We also noticed some minor slowdown in a couple of Android's most demanding games, although gaming performance is still very good and these little slip-ups may be zapped with a software update.
The Samsung Galaxy S20 Ultra's 6.9-inch screen is a great medium for all kinds of content gobbling, from gaming to checking out your photos. It's large, bright has a very high resolution of 3200 x 1440 pixels. The phone is set to 1080p resolution as standard, to save battery, but can be increased to 1440p as long as you keep the refresh to 60Hz. There are two color modes, too, which boil down to "vivid" and "natural" display characters.
Unlike some of the Chinese rivals, such as the OnePlus 7T, though, the Samsung Galaxy S20 Ultra has a punch hole rather than a motorized front camera. It leaves a little black hole at the top of the screen, which Samsung calls "Infinity-O". It may brand this as a feature, but when you watch a film it's clear this is just a mildly annoying black blob in the picture.
The camera it holds is, much like the rest, excellent. It's a 40-megapixel sensor that makes extensive use of pixel binning. Selfies taken in bright light are extremely, even worryingly detailed, but the target resolution clearly dips with the light level. The resolution of the final image does not, of course, but the clarity of details like skin pores diminishes, without too much of a dip in image brightness.
Pixel binning is not magic, and similarly impressive results can be achieved with larger photo sites. But this is a very good selfie camera.
Still interested? The other factors are a mishmash of positive and bad parts. The Samsung Galaxy S20 Ultra does not have a headphone jack. But it is water resistant to IP68. It has a solid stereo speaker array, but the base model only has 128GB storage. This is low for an Android at the price, and is indicative of how much of the budget was put into the camera array.
This is one of the very best phone cameras around. And perhaps the most versatile one that doesn't have serious caveats in the UK and US, like Huawei models that no longer have Google app suite support.
Verdict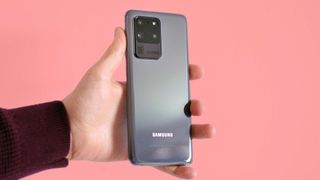 The Samsung Galaxy S20 Ultra would seem less impressive than it does if Huawei phones had not suddenly become far less appealing to western buyers back in 2019. Samsung has caught up with serious zoom hardware, improved its low-light mode, and was already a leader in maxing-out video stabilization.
The 8K capture is more limited you might hope, the 120Hz screen mode is best avoided for most, and the 100x zoom works better on paper than in reality. But this camera is still a blast to use, and perhaps the most versatile you can find in a phone.
The cost is restrictively high for many. But the hardware is a league above that of the Galaxy S20 and S20 Plus, with zooming that offers good-looking results at up to 10x.
Read more
Hands on: Samsung Galaxy S20 review
Hands on: Samsung Galaxy S20 Plus review