Ricoh's macho-cam has has been in for a spray job – and now it is red! The new WG-60 waterproof camera is a minor refresh of the existing WG-50, and the main difference is it is now available in red, rather than orange. The tough, underwater zoom compact camera can still be bought in black if the bright colors are not your thing.
It is rather disappointing as updates go – the camera still does not offer 4K video shooting, for instance, and it still has a below-par 270k dot LCD screen.
• Read more: Ricoh WG-70 camera leaked images and info
However, the core features of this commando-cam are still pretty impressive by normal camera standards. The WG-60 is still waterproof to a depth of 14m - and can stay at that depth for up to two hours, for instance.

The camera is also shockproof, and apparently can be dropped from a height of 1.6m and still keep on clicking. Perhaps most impressive, the WG-60 can still bear a 100kg weight on top of it without cracking under the pressure.
The compact camera itself maintains a 16 megapixel resolution, and a built-in 5x zoom lens. A digital zoom lens can also be engaged - to give you a focal length that is equivalent to over 1000mm in old money.
The most clever party trick of the lens is that it can focus down to just 1mm in its microscope mode – although resolution is then restricted to 2MP. And don't worry about the camera casting a dark shadow over your miniature subject when you are so close – six little LED lamps shine a light to keep your images evenly illuminated. These lights can also work as an impromptu torch – helping define this as the Swiss Army knife of cameras.
Another neat feature that has been retained is the Handheld Night Snap mode, which automatically captures several images of the same lowlight scene to produce a single, blur-free composite image. This is in addition to the camera's normal Pixel Track shake reduction system.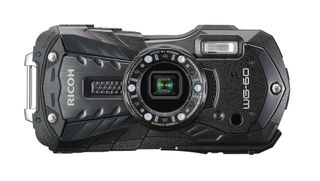 Ricoh WG-60 – key features
Resolution: 16MP
Sensor size: 1/2.3in CMOS
Movie resolution: Full HD at 30fps, Standard HD at 30 or 60fps
Lens: 5-25mm f/3.5-5.5 (equivalent to 28-140mm)
ISO range: 125-6400 (auto and manual)
Shutter speeds: 1/4-1/4000sec
LCD screen: 2.7in 230k dots
Memory: SDXC card slot
Dimensions: 61.5x122.5x29.6mm
Weight: 193g (with battery and card)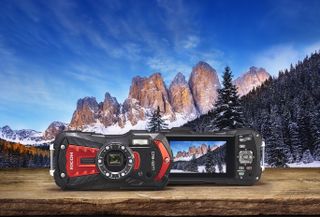 Ricoh RG-60 – price and availability
The Ricoh WG-60 is sold in a bundle with a case and floating strap, and carries a suggested retail price of £249.99.
Read more:
• Best waterproof and underwater cameras in 2018
• What's the difference between weatherproof and waterproof cameras?
• The best action cameras in 2018