Love continuous light, but miss the power you get from flash? Then Prime Day is your lucky day, as the Rotolight Aeos is down to just £599 – a whopping £300 off its regular £899 asking price.
We've seen plenty of Prime Day camera deals, but this is by far the best saving we've seen on non-camera photography kit. Great for photography and videography alike, the Aeos even packs in high speed sync with no recycle time!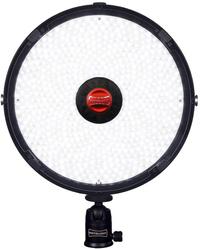 Rotolight Aeos | was £899 | now £599
Save £300 A continuous LED that packs serious power, the bicolor Rotolight Aeos delivers 5750 lux of illumination and even offers high speed sync – with zero recycle time!
Continuous LED lighting offers many benefits over flash, since it gives you WYSIWYG shooting results – something that makes a perfect pairing with the electronic viewfinders and Live Views offered by mirrorless cameras.
Bicolor output means you can balance the illumination with whatever natural or artificial light exists in your location, the continuous lighting is perfect for straightforward photography or excellent video coverage, and the high speed sync kicks out 250% power for when you need serious punch!
Read more:
Amazon Prime Day deals
Best LED light panels
Best photography lighting kits