UPDATE 21/07: The Nikon Z 70-200mm f/2.8 was originally meant to arrive on 14 February 2020, but due to production difficulties caused by coronavirus the lens was indefinitely delayed with little word on when we could expect its arrival. However, we've now had confirmation from Nikon USA, which lists the shipping date as late August. This will line the lens up nicely with the two new Nikon Z teleconverters that have recently been announced.
Nikon USA says: "When the When the teleconverters are used with the NIKKOR Z 70-200mm f/2.8 VR S (availability scheduled for late August), the focal length on the telephoto end is extended to 280mm (1.4x) or 400mm (2.0x) producing a significant expansion of this telephoto lens' shooting range."
You can preorder the Nikon Z 70-200mm f/2.8 at B&H for $2,596.95 and Wex Photo Video for £2,399.
ORIGINAL STORY:
Every mirrorless camera system needs a good lens range to back it up, and while the Nikon Z5, Nikon Z6 and Z7 are terrific cameras accompanied by some terrific native Z-mount lenses, there are some surprising gaps in the lens range, including – amazingly – any full frame telephoto zooms of any description.
At the moment, while Nikon Z 50 owners can get the rather good APS-C Nikkor Z DX 50-250mm f/4.5-6.3 VR lens, full frame Nikon mirrorless camera owners will need to use the Nikon FTZ adaptor and existing DSLR lenses for longer range subjects, and that's surprising given that it's more than a year ago that these full frame mirrorless cameras were first announced.
But this will change when the Nikkor Z 70-200mm f/2.8 S hits the market in just a few weeks, and it will be the first of a number of longer lenses revealed in the Nikon Z lens roadmap, including a 24-200mm superzoom, 200-600mm super-telephoto and 100-400mm S-line telephoto zoom. The Z 70-200mm f/2.8 S had originally been promised for 2019 on this roadmap.
Construction and specs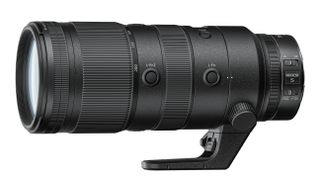 The new Nikkor Z 70-200mm f/2.8 will have 21 optical elements in 18 groups, including no fewer than six ED (extra low dispersion) elements and two aspherical elements. It will have an internal zoom mechanism and no focus breathing (especially important for video), and Nikon's high spec 'S-line' build quality.
Externally, there will be an OLED data display and two function buttons offering access to 21 different camera functions. The minimum focus distance changes with focal length, which isn't ideal, ranging from 0.5m to 1m. The filter thread is a surprisingly modest 77mm, and the new lens is almost 200g lighter than Nikon's DSLR version, weighing in at 1,360g without the tripod collar attached. The dimensions are 89mm (width) x 220mm (length).
The Nikkor Z 70-200mm f/2.8 S will be available early spring 2020 at an anticipated price of $2,599 / £2,399.
Read more:
• These are the best Nikon lenses to get
• The Nikon mirrorless system explained
• Here's the latest Nikon Z lens roadmap