The arrival of the Nikon Z 50 has caused a stir all on its own, but Nikon's new camera also comes with two new DX (APS-C) format Nikkor Z lenses.
Alongside Nikon's flagship APS-C mirrorless camera, the Nikon Z 50, also come two shiny new DX format lenses. The camera's 'kit' lens is the Nikkor Z 16-50mm f/3.5-6.3 VR pancake zoom, which enables you to get a full-frame equivalent focal range of 24-75mm. However, if you're a sports, wildlife or portrait photographer, then you'll be most excited for this Nikkor Z DX 50-250mm f/4.5-6.5 VR.
This telephoto zoom lens gives you a 35mm equivalent focal range of 75-375mm, which makes this a fantastically versatile piece of kit that's perfectly suited to the Nikon Z 50. The Z50 is being sold as a twin-lens kit that gets you both of these new zoom lenses
• Read more: Nikon mirrorless cameras and lenses
Build and handling
While the variable aperture of f/4.5-6.3 doesn't exactly blow us away, there are a few interesting specs that definitely catch our eye. The first is the in-lens vibration reduction, which allows you to shoot at shutter speeds up to 5 stops slower than otherwise possible. This somewhat acts as a soothing balm for the slow variable aperture, as this will help you capture sharp shots even in low light.
Meanwhile, the Nikkor 50-250mm f/4.5-6.3 also has a minimum focusing distance of just 0.5m. Paired with the narrow focal length range that the 50-250mm f/4.5-6.5 boasts, this will enable you to capture closer subjects without worrying about missing your focus.
When you want to travel far and wide for your photography, the last thing you want to do is lug a load of heavy kit around. Luckily, the Nikkor Z 50-250mm f/4.5/6.3 is nicely compact when contracted and weighs just 405g.
However, a super light build does come at a price. The 50-250mm appears to be made from plastic, rather than metal. While plastic lenses don't have the reputation for hardiness that metal lenses do, the reality is that this telephoto zoom lens wouldn't be so spectacularly light if it wasn't made this way.
All in all, despite the plastic build, the 50-250mm f/4.5-6.5 felt reassuringly sturdy – despite its light weight. The control ring and zoom ring were both pleasant to use and there was no stiffness when extending or retracting the zoom lens.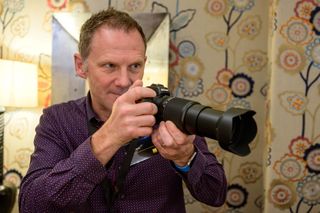 Another exciting aspect of both the 50-250mm and the 16-50mm is the control ring. While this is automatically set to manual focus, you can also set it to control other aspects of your photo as well. Just like the Nikkor Z lenses for the full frame Z 6 and Z 7 cameras, you can adjust your exposure compensation and aperture. This is particularly good for videographers, as the stepless control ring is perfect for adjusting aperture while shooting.
However, in an exciting development, these two new Z 50 lenses will also enable you to change your ISO with the control ring as well. We can see this proving particularly popular for photographers who are capturing swiftly changing light conditions.
However, while we appreciate the expanded ability of the control ring, it's actually the source of one of our only complaints about the 50-250mm. Simply put, it's pretty small! While the zoom ring is nice, wide, and easy to use, the control ring can be a bit fiddly to find. However, this is only a tiny niggle – and would likely be resolved as soon as you got used to using the lens.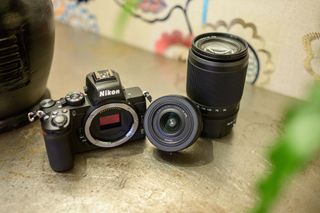 Performance
Like the Nikkor Z 16-50mm kit lens, this lens offers fast, silent autofocus. It takes perhaps half a second to travel from minimum to maximum focus distance, but that's still pretty quick, and a pretty extreme focus change you rarely need in real life. For more normal focus adjustments, this lens is very quick indeed.
Nikon's VR image stabilization system is firing on all cylinders too. In our testing we were able to get a good hit rate of sharp shots at 1/30sec and even 1/15sec at the maximum 250mm zoom setting (375mm equivalent) – that's impressive, and a reminder that in-lens optical stabilization can be just as good as (maybe even better than) in-body stabilization systems.
The lab results are impressive too. The Nikkor Z DX 50-250mm f/4.5-6.3 VR won't match a pro lens for resolution, especially at longer focal lengths, but it certainly outperforms its price point, and with the added benefit of the effective VR system, this is a much better telephoto zoom than we'd expect for this money. It is, however, MUCH better value as part of the Nikon Z 50 twin-lens kit than when bought separately.
Lab tests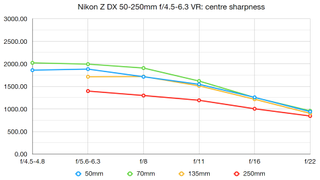 Resolution (centre)
Centre-frame sharpness is very good up to 135mm and up to f/8. Sharpness is more average at 250mm, though this is what we've come to expect from a relatively low-cost telephoto zoom lens. To put these scores in context, though, they're 10-20% better at all focal lengths than Nikon's AF-P DX 70-300mm f/4.5-6.5G ED VR - the equivalent lens for Nikon DSLRs.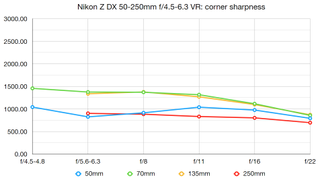 Resolution (corner)
Corner sharpness is not bad in the middle of the zoom range at 70mm and 135mm but disappointing at either end of the focal range. On the plus side, with most telephoto shots you're interested in what's in the centre of the frame, not the edges.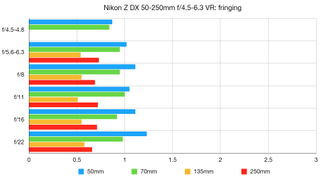 Color fringing
Fringing is just about noticeable at the edges of frame, but more so at shorter focal lengths. In real-world shooting aberrations should be negligible.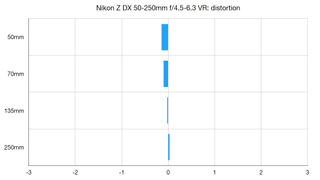 Distortion
The Z 50-250mm produces almost no distortion at any focal length, which is very impressive, though the Z system uses digital as well as optical corrections to optimise lens performance, so we're not necessarily seeing this lens's true optical output – but then neither will its users.
Verdict
All in all, the Nikkor Z DX 50-250mm f/4.5/6.3 VR is a great little lens that will be perfect for enthusiasts looking to make the jump into mirrorless, or content creators excited to leave their smartphones behind for a longer zoom range.
The versatile focal length range means that you can capture anything from portraits, to sports, to wildlife without skipping a beat. Meanwhile, the plastic build means that this lens is so lightweight you might find yourself checking the end of your camera to make sure it's still there.
As with any low-cost telephoto zoom, there are performance compromises, notably a drop in sharpness at longer focal lengths and towards the edges of the frame. Nevertheless, for its price this is very good amateur-orientated telephoto zoom with a cost/performance ratio that's well above the average.
Read more
• Best Nikon camera: Nikon DSLRs, mirrorless and compact cameras
• Best Nikon Z7 deals
• Best portrait lenses for Nikon: portrait lenses for DX and FX DSLRs and Nikon Z