Update (20/8): Just three days ahead of the official announcement, Nikon has released another teaser video for its new mirrorless camera. The video features professionals' impressions of the new system, along with a number of new glimpses of the model itself.
Comments from those featured include:
"It feels just like a DSLR, but physically it's totally different because it's so lightweight."
"It's so reliable and I'm always able to capture the most spontaneous moments."
"Really great that I can still use all of my F-mount lenses on this new camera."
"If we zoom in, you're still super sharp."
Naturally, these are soundbites that point to specific merits, rather than any full critical evaluation of the new model, although these imply that whatever we see will have a responsive autofocus system, potentially fast burst shooting and a high-resolution sensor, all in a lightweight body.
The video also shows that the camera will have a touchscreen, something we would have assumed but did not know for sure until now, and also gives us a first look at the F-mount adapter that was announced a few weeks ago. See it all for yourself below.
Update (16/9): Nikon has released a new teaser video today, this time focusing on lenses. It states: "As we embark on our next 100 years, these lenses are a new symbol of Nikon's quest for optical perfection."
While the video does not reveal any new lenses as such, the focus on the company's Noct-NIKKOR 58mm f/1.2 will fuel existing rumours that the company is developing an f/0.95 version for the new system. Watch the video below.
Update (9/9): Nikon has released a third video teaser (below), along with a new image of the camera's body and the caption: "Nikon has pursued development of the perfect camera for many years. This new system further embodies Nikon's spirit of manufacturing without compromise."
The new image (top) shows a front command dial, while heavy manipulation in Photoshop (below) reveals A, S and M exposure modes on a mode dial, and a '35' figure on the lens. A hotshoe can also be seen above the viewfinder, while a small panel just above it in the image appears to be an LCD screen.
Update (2/8): Nikon has now given us a better idea of what the new camera will look like, courtesy of a video (below) that highlights the evolution of its lens mounts over the past 100 years. The company has already stated that the new model will make use of a new lens mount, and this appears to be designed with 11 contacts.
Up until a couple of weeks ago, we didn't have any solid information on exactly what Nikon would be doing now that it had officially called time on its mirrorless 1 series. We had an abundance of rumors and masses of speculation on a new full-frame mirrorless system, together with opinions from all corners as to what Nikon should or shouldn't do, but even those with the greatest expectations would admit that very little substance lay at the heart of it all.
Now, thanks to a teaser videos, a microsite and various images released by the company, we are (a little) wiser. So what do we know? And what specs can we rule out? Here's what we know about Nikon's new full-frame mirrorless camera, together with the best rumors and our expectations.
Nikon mirrorless camera: Z6 and Z7?
Nikon Rumors is reporting that there will be not one but two cameras, named the Nikon Z6 and Z7.
It believes that one model will be a high-resolution option with a 45MP sensor, and the other will have a lower-resolution 24MP sensor.
It doesn't state where this rumour has come from, and also makes it clear that the rumours may not be accurate, and that the final details could obviously be different. That said, if the reports of a Z-mount are to be believed, these names may well be accurate.
Nikon mirrorless camera: Brand new full-frame sensor
Much of the first teaser video is spent focusing on light, and its role in creating images. Indeed, the video's caption states:
"Countless rays of light come together, forming an image at the end of their long journey. Nikon's ongoing mission heading into the future: to guide light into forming superb pictures."
At one point it can be seen hitting what appears to be a sensor. With this feature being highlighted in this way, it would be strange if the company would then choose to use something we'd seen before.
The more obvious reason for developing a new sensor is that, were the company to stick with a full-frame design it has already used, it wouldn't have sensor-based phase detect AF pixels. This in turn would place the camera at a disadvantage to rivals such as Sony and Fujifilm, which have used hybrid phase- and contrast-detect AF systems inside recent models to deliver better performance, particularly where tracking moving subjects and focusing during video are concerned.
Read more: Nikon D850 review
Current rumors suggest that this will be a 45MP sensor, which would match the chip inside the D850, although rumours of a 24MP alternative model have remained strong. By releasing both models, the company would be able to cater for two audience, one needing high resolution, and another camp that could benefit from the various advantages of keeping pixel count more modest.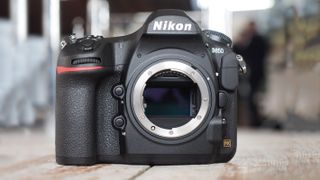 If you're thinking that releasing two models at the same time is a little far fetched, it's worth remembering that that's exactly how the mirrorless 1 series began, with the 1 J1 and 1 V1. Nikon also has a lot of catching up to do with Sony, who has three separate A7-series models, each with a different sensor, in addition to its sports-focused A9.
Read more: Sony A9 review
Nikon mirrorless camera: Zoom lens with 24mm wide-angle start
It isn't too easy to make out what kind of lens was mounted on the new body from the teaser videos, nor the images, although Nikon has now confirmed that the model will be equipped with a new mount, and also that it will be compatible with F-mount lenses via an adapter.
Nikon ensured this was the case with its 1-system cameras, just as Canon did the same with its EOS M mirrorless system. By doing this, early adopters will have the opportunity to use the camera with a much broader range of lenses than Nikon would be able to supply right now. As is the case with any new system, it will take some time to build up a full arsenal of optics, so anything that can help ease the transition for those already invested in Nikon's current system is an obvious move.
Read more: The best mirrorless cameras right now
The news of a fresh mount shouldn't come as too great a surprise for a new system, particular as what could be seen from the lens in the image above is that it isn't one we've seen used before on any Nikon body. This new image, however, provides some additional key information.
First, we can see two rings around the barrel. This indicates that this is a zoom rather than a prime lens, as a prime lens would only require one ring (for focusing). The shape of the front is also consistent with that of a zoom lens.
The other thing we can spot is the figure '24', which is a classic start for a zoom lens designed for a full-frame camera. 24-70mm is the obvious assumption here, but there's no guarantee that Nikon will stick to convention. Perhaps we'll have something longer (24-105mm) or shorter (24-50mm).
Nikon mirrorless camera: New lens mount
The only mirrorless camera we've seen so far that used the same mount as its DSLR counterpart was the Pentax K-01, and the fact that the system never grew past that one model gives you some idea of how good an idea that was.
The whole point of designing a new system is that you unshackle yourself from whatever has come before, and craft it to suit the needs of the today's photographer. Nikon has confirmed that the new model will indeed make use of a new mount, saying:
"We are pleased to announce the development of a full-frame, Nikon FX-format, mirrorless camera and NIKKOR lenses that features a new mount. The mirrorless camera and NIKKOR lenses that are in development have enabled the pursuit of a new dimension in optical performance, with the adoption of a new mount."
Nikon Z mount?
While there seems to be little actual evidence to back up the claims that this will be called the Z mount, the ever-increasing number of letters swallowed up by other modern systems does at least give this idea a little more credibility.
The newer rumour that there will be two new cameras, one called the Z6 and the other the Z7, make this name more likely.
Nikon mirrorless camera: At least two lenses at launch
As the quote from Nikon above makes clear, it's unlikely that the new camera will only launched with a single lens. Nikon knows that for any new system to be taken seriously, it can't delay bringing glass to market as this obviously lessens its appeal until more options arrive.
If we look at how Nikon launched the previous 1 system back in 2011, we see that the announcement included not only two cameras – the 1 J1 and the 1 V1 – but four separate lenses too:
1 Nikkor VR 10-30mm f/3.5-5.6
1 Nikkor VR 30-110mm f/3.8-5.6
1 Nikkor 10mm f/2.8
1 Nikkor VR 10-100mm f/4.5-5.6 PD-Zoom
What further supports this idea is that the shape of the lens in the teaser image does not match up with the one we saw in the teaser video.
The lens in the video has a more bulbous front by comparison, and it appears to only have a single ring around its barrel, which points to a wide-aperture lens with a fixed focal length, potentially a moderate telephoto lens. The one in the image, however, has a more streamlined barrel and a different front, so we would expect both options to materialise at launch.
35mm lens?
As mentioned above, the most recent teaser image showed the figure '35' when the image was brightened in Photoshop. Does this mean we're to expect a 35mm lens? Perhaps, but it's not a certainty.
It's the classic standard focal length for a full-frame camera such as this one, so it would be a logical lens to release from the start. That said, it's entirely possible that '35' is simply there to indicate an intermediate focal length on another lens, such as a 24-70mm lens.
What do we reckon? We reckon it would be a good lens to kick off the range along with a zoom, because, at this point, we're not not expecting anything more exotic like an ultra-wide lens or a super-telephoto optic. So, our money is on one 35mm prime lens and a standard zoom.
Nikon mirrorless camera: Electronic viewfinder
The shape of the camera in the image released makes it clear that new body will sport a viewfinder; its rear lens and eyecup are clearly visible.
There's little chance of it being anything but a straightforward electronic viewfinder. As Fujifilm's Hybrid optical/electronic technology proves, optical viewfinders are not entirely absent from mirrorless models, but the shape of the body and viewfinder hump suggests Nikon won't be attempting anything similar.
The last electronic viewfinder that we saw on an interchangeable-lens Nikon camera was the optional unit that could be mounted inside the Nikon 1 V3, and this had a 2.36million-dot panel at its heart.
2.36million dots is, however, now fairly commonplace. While viewfinder resolution is not quite the most critical feature, to give the series the best start possible, we would expect Nikon will follow the likes of Panasonic and Leica and include an EVF whose inner panel contains at least 3.6million dots.
Nikon mirrorless camera: Tilting LCD screen
Nikon has, of course, purposefully made the camera in the teaser video difficult to make out, but one feature that's clearer than most is the LCD screen.
It appears to be particularly large for its body, and as 3.2in is the standard we've come to expect on the company's DSLRs, it seems only right that this it would be at least as large here too. This would also give the camera (or cameras, should there be two) a slight edge over Sony's full-frame mirrorless cameras, all of which currently use 3in LCDs.
Could it be larger? Go any larger than this and you start to compromise just how small the camera can be made. Some models do now offer 3.7in LCD screens, and using something similar here would create an immediate wow factor. That said, 3.2in is a safe bet, and would no doubt keep the camera's price a little lower too.
Look towards the rear of the camera in the image below and you'll see that the LCD screen does not fit flush with the back of the body. There is a definite separation between the two, which suggests that the LCD screen will move in some way, rather than be fixed in place.
This is perhaps to be expected, as the company has incorporated LCD screens that move in one way or another in almost all of its most recent enthusiast- and professional-level models.
What else can we see here? There is a small protrusion on the side of the screen, which indicates that the screen is more likely to have an up-down tilting mounting mechanism akin to the one on the D850, rather than the vari-angle design common to models like the D5600. A screen with a side hinge would have very little use for such a protrusion, unless, of course, it's designed to move in two different ways, as on models like the Fujifilm X-T100 and Pentax K-1 Mark II.
Nikon mirrorless camera: 4K video
With its DSLRs, Nikon only started to include 4K video recording with the D500 and D5 that were announced at the start of 2016, but the company has actually included the technology on the mirrorless 1 J5 released a year before this (albeit in a slightly underwhelming 15p flavour). Since then, the feature has worked its way into more affordable models, including its KeyMission series of action cameras.
When you consider that the company is today packing the feature inside affordable compacts like the COOLPIX W300, there seems to be little reason to doubt it will make the cut here. The only reason it may choose not to do so if there is some technological barrier, or if it's simply not aimed at a user likely to take advantage of the feature, which we saw with the release of the video-less Df DSLR.
Nikon's current 4K offering is very respectable. On the D850, the camera is able to capture 4K UHD footage using the full width of the sensor – great for retaining those wide-angles – and frame rates stretch from 24p through to 25p and 30p settings. 4K 60p footage, as Panasonic currently offers, would be welcome to see, although quite how much extra effort Nikon makes here depends on exactly what kind of user it's targeting with the model. Assuming it's going for a more general audience, what it currently offers will no doubt suffice.
Nikon mirrorless camera: Mode dial
One thing we spotted on the most recent shared image is that the camera appears to have a mode dial. This isn't unusual in itself, but it has not traditionally been a part of Nikon's professional level offerings, rather a feature confined to cameras further down the chain.
What we can see from this image are the letters M, A and S, which no doubt correspond with Manual, Shutter Priority and Aperture Priority options. They seem fairly well spaced out, so we don't expect too many other options here, though no doubt this will be joined by a Program option, and potentially customisable 'U' options too.
While it's hard to make out much else, the centre of the dial does appear to catch the light differently from the remainder. This is likely to be a button that locks and releases the dial, a feature that Nikon has incorporated into the D7500 among other cameras.
Nikon mirrorless camera: Price and release date
How much will the new Nikon mirrorless camera cost? These things are often decided at the last minute, and obviously vary from territory to territory, so right now we're very much limited to speculation.
A lot will no doubt depend on the sensor. Cameras with high-resolution sensors tend to command higher prices than those with more restricted pixel counts, so if we assume the camera will sport a 45MP (or similar) sensor, it will no doubt be at the pricier end of the scale.
Nikon's D850 was released with an RRP of $3,299.95/£3499.99, while the Sony A7R III, which is expected to be the camera's closest rival, came onto the market at $3200/£3456. No doubt there are some significant R&D costs to recoup, but these figures give you some idea of what we should expect.
Japanese magazine Nikkei stated that the new full-frame mirrorless camera from Nikon will be announced on 23 August 2018, and this now appears to have been confirmed by a countdown timer on its microsite.
Read more: The best Nikon DSLRs right now