Now that the long-awaited Canon EOS R5 and the more affordable EOS R6 are official, it's highly likely we're going to see some remarkable price drops on Canon's older full-frame mirrorless cameras.
We're already beginning to see that happen at some Aussie retailers, with both Amazon Australia and Digital Camera Warehouse discounting the original EOS R down by AU$300.
Admittedly that's not a big bargain but buy the snapper from Digital Camera Warehouse and you'll be eligible to score a bonus Visa gift card with AU$250 available via redemption directly from Canon.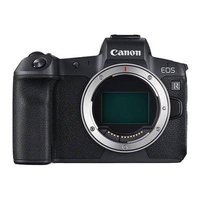 Canon EOS R (body only) | AU$2,799 (RRP AU$3,199; save AU$300)
It's not a huge discount but when you buy "eligible" Canon products from authorised dealers, you'll be able to redeem a bonus gift card from the manufacturer. The EOS R is one of the eligible products and Digital Camera Warehouse is an authorised retailer, so save AU$300 on the body and pocket the extra savings that will come in the form of the redemption offer from Canon. You have until August 31 to claim the gift card.
Australia-only offer
This is not a bad offer for stills photographers looking to upgrade from an older camera or go full-frame mirrorless, particularly since the new EOS R5 costs a pretty penny and the EOS R6 isn't as affordable as the EOS R either.
The advantage the EOS R has over the brand-new R6 is its higher resolution 30.3MP sensor, which will likely suit landscape photographers more than the latter's 20MP sensor.
You're not going to get the blitzing burst speed the R6 boasts, but the EOS R has excellent image quality and Canon's colour science has always been pretty darn good.
4K video capabilities are onboard for anyone who needs it, but there is a crop factor to take into account here. However, at this price, it's easy to forgive the EOS R's few flaws.
For more information on how you can redeem the bonus gift card, head to Canon's promotions microsite.
Digital Camera Warehouse is an Australian retailer that does not currently offer international shipping.
Not in Australia? Take a look at the offers below for the best deal in your location.
Read more:
The best Canon RF lenses
The best mirrorless cameras in 2020
The 50 best camera accessories
The best memory cards for your camera